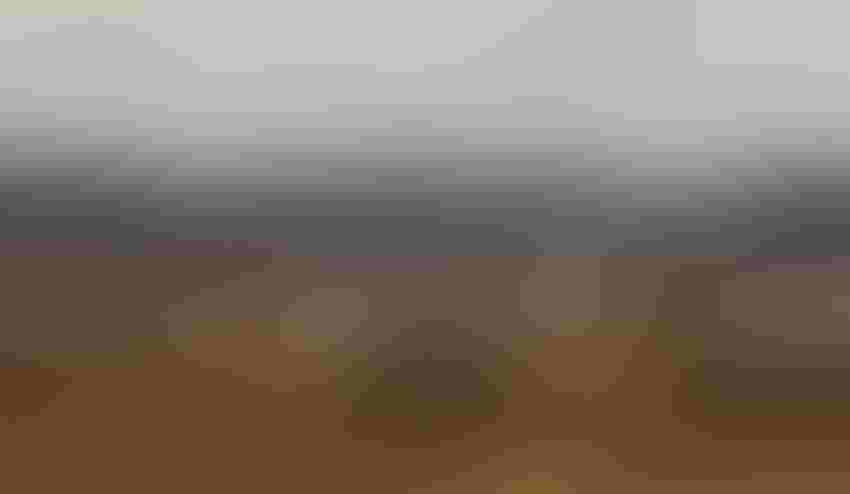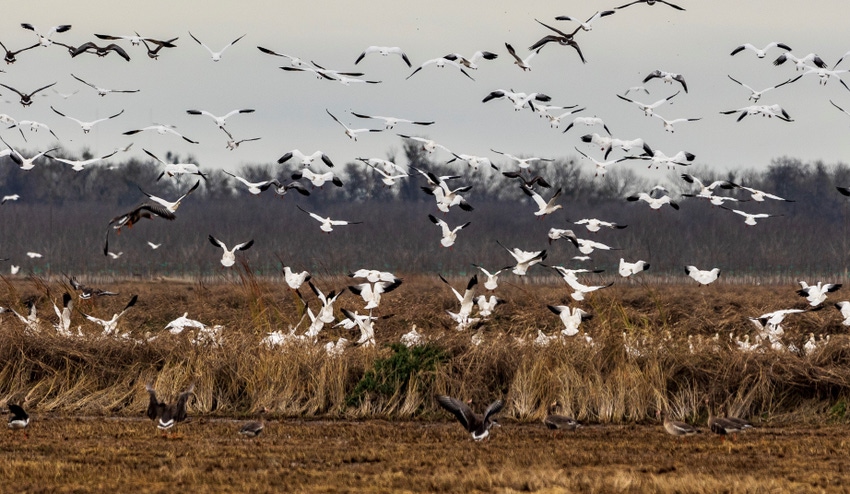 Ducks and geese thrive on rice ground in California's Sacramento Valley.
Todd Fitchette
Cases of highly pathogenic avian influenza are showing up in Western states after devastating poultry farms in the Midwest and East, where at least 7 million chickens and turkeys have been culled so far this year.
Authorities in Wyomiing and Colorado announced in late March they'd confirmed HPAI in wild snow and Ross's geese and in several mixed non-commercial flocks. Earlier in the month, a dead bird found in British Columbia was confirmed to have been infected with the European strain H5N1, raising suspicions that the disease may be present in the Pacific Flyway.
The latest discoveries have prompted Colorado's Agriculture Commission to announce an emergency rule suspending all poultry events in the state, including sales and swaps. The rule began March 31 and will last for 90 days, unless renewed or ended at an earlier date by vote of the commission and a recommendation of the state veterinarian.
Related: HPAI confirmed in Pacific Flyway region; West on alert
"Commingling of birds presents a high risk of disease introduction and transmission and the Department of Agriculture is temporarily suspending all poultry events in our state to help minimize the possibility of highly pathogenic avian influenza affecting backyard and commercial poultry," said Colorado State Veterinarian Dr. Maggie Baldwin. "Colorado poultry owners should immediately increase their biosecurity protocols to protect their flocks, including limiting exposure of domestic birds to wild birds and other poultry flocks and limiting introduction of new birds into flocks."
Baldwin's office will hold an informational webinar on Wednesday, April 6, from 5 pm to 7 pm to provide more information about highly pathogenic avian influenza and what flock owners should do to protect their birds. Anyone can register for this free webinar and attendees can submit their questions in advance through this form.  
Birds euthanized
In Iowa alone, the spread of HPAI led to the euthanasia of nearly 6.3 million birds in the first three weeks of March. That includes more than 5 million at one egg-laying farm, according to Nexstar Media. The disease is in more than 20 other states from Nebraska and South Dakota to Maine, the USDA reports.
Of the affected birds nationwide, about 10-12% are broilers – chickens that are raised as meat – and the outbreak isn't expected to impact production or chicken meat prices, the National Chicken Council's Tom Super told Nexstar. About 3% of the egg-laying chicken population has been affected, and the flu outbreak has contributed to rising egg prices in the runup to Easter.
After agriculture departments in the Intermountain West started urging poultry producers to step up biosecurity measures and asked backyard flock owners to promptly report dead birds, Colorado ag and parks officials teaming with the USDA's Animal and Plant Health Inspection Service confirmed HPAI in wild geese in Sedgewick County on March 17.
Related: Western agencies warn of Midwest's avian flu
In Wyoming, HPAI was confirmed in mixed-species backyard flocks March 30 in Johnson County and March 31 in Park County. The discoveries come as the Oregon Department of Agriculture says it is working to prevent avian flu from infecting commercial flocks on the West Coast after a dead bald eagle was found in British Columbia 
Indicators of HPAI in avian flocks are incidents of high death loss among flocks, nasal discharge, decreased appetite or water consumption, and lack of coordination in birds, explains the Utah Department of Agriculture and Food. Avian influenza is frequently spread through migratory waterfowl, and these birds often do not show any symptoms.
HPAI detections do not present an immediate public health concern, the ODA notes. No human cases of these avian influenza viruses have been detected in the United States.
Biosecurity measures
Here is what flock owners can do, according to the Colorado Department of Agriculture:
Increase biosecurity: It is extremely important for poultry owners to increase biosecurity measures to protect their birds from HPAI. The USDA Defend the Flock website has helpful resources for keeping poultry healthy in any operation. Commercial poultry producers can use this toolkit to assess their biosecurity practices and preparedness. 
Monitor flocks: Monitor your flock for clinical signs of HPAI, including monitoring production parameters (feed and water consumption, egg production) and increased morbidity and mortality. Any changes in production parameters that could indicate HPAI should be reported. 
Report disease: It is important for veterinarians and producers to report any suspicious disease events in poultry flocks to your state veterinarian's office.
Subscribe to receive top agriculture news
Be informed daily with these free e-newsletters
You May Also Like
---