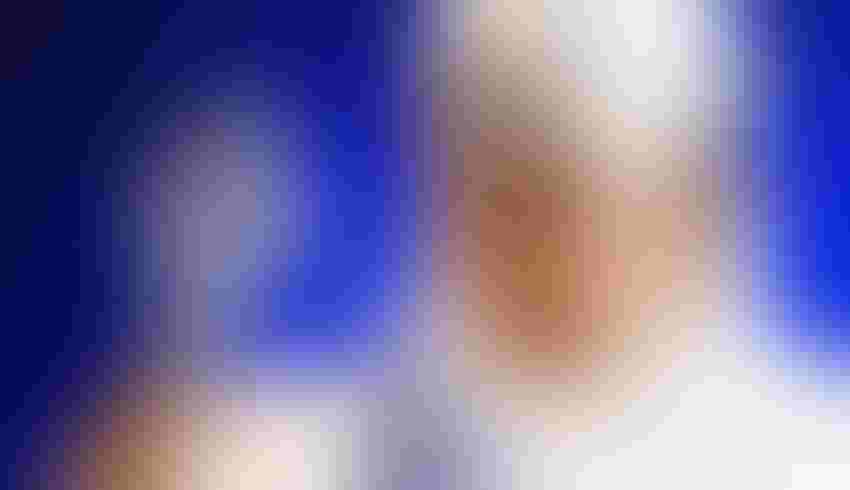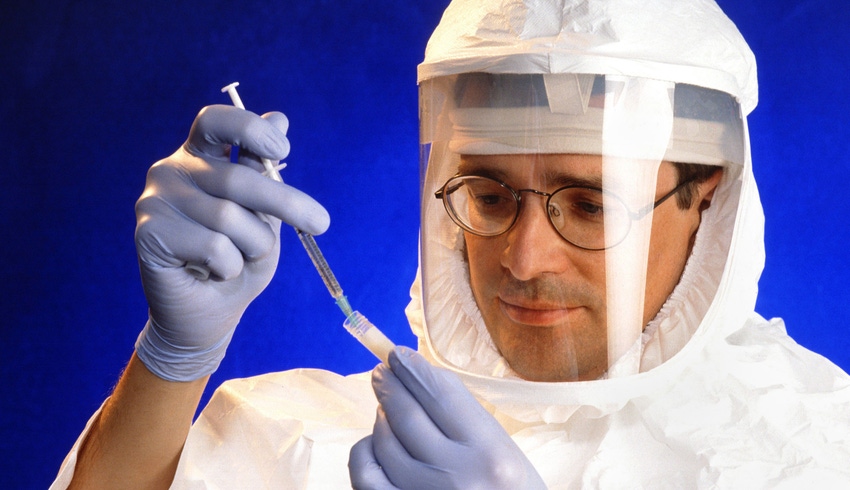 In a laboratory at Athens, Ga., ARS veterinarian David Swayne prepares an avian influenza virus inoculum for a chicken vaccine study.
USDA ARS
The Oregon Department of Agriculture says it is working to prevent highly pathogenic avian influenza from infecting commercial flocks after a dead bird found in British Columbia was confirmed to have been infected with the European strain H5N1.
The World Organization for Animal Health (OIE) recently confirmed a bald eagle found dead in western Canada tested positive for the illness that has been hitting poultry operations in the Midwest and along the East Coast.
The find in B.C. was the first avian influenza discovering in the Pacific Flyway since 2015, when several outbreaks infected flocks in Washington state.
"The best protection for birds are owners who practice effective biosecurity," said Dr. Ryan Scholz, Oregon's state veterinarian. "We must be vigilant and strict with our biosecurity practices especially for backyard flocks, as well as educated on when and how to report potential avian influenza deaths. Our preparation could reduce the risk of infection among poultry and prevent or limit the impact of HPAI introduction in Oregon."
Related: Western agencies warn of Midwest's avian flu
ODA is working closely with USDA's Animal and Plant Health Inspection Service, other federal partners, neighboring states, and commercial poultry producers to prevent the introduction of HPAI into Oregon's poultry flocks. ODA is asking for the public's help in detecting HPAI in backyard flocks.
The efforts come as agriculture departments in the Intermountain West are urging poultry producers to step up biosecurity measures as the presence of highly pathogenic avian influenza has so far been confirmed in 16 states including both backyard and commercial flocks with new detections announced every week.
HPAI indicators
Indicators of HPAI in avian flocks are incidents of high death loss among flocks, nasal discharge, decreased appetite or water consumption, and lack of coordination in birds, explains the Utah Department of Agriculture and Food. Avian influenza is frequently spread through migratory waterfowl, and these birds often do not show any symptoms.
HPAI detections do not present an immediate public health concern, the ODA notes. No human cases of these avian influenza viruses have been detected in the United States.
Related: U.S. egg prices rise as deadly bird flu strikes ahead of Easter
Here is what flock owners can do, according to the Colorado Department of Agriculture:
Increase biosecurity: It is extremely important for poultry owners to increase biosecurity measures to protect their birds from HPAI. The USDA Defend the Flock website has helpful resources for keeping poultry healthy in any operation. Commercial poultry producers can use this toolkit to assess their biosecurity practices and preparedness. 
Monitor flocks: Monitor your flock for clinical signs of HPAI, including monitoring production parameters (feed and water consumption, egg production) and increased morbidity and mortality. Any changes in production parameters that could indicate HPAI should be reported. 
Report disease: It is important for veterinarians and producers to report any suspicious disease events in poultry flocks to your state veterinarian's office.
Subscribe to receive top agriculture news
Be informed daily with these free e-newsletters
You May Also Like
---