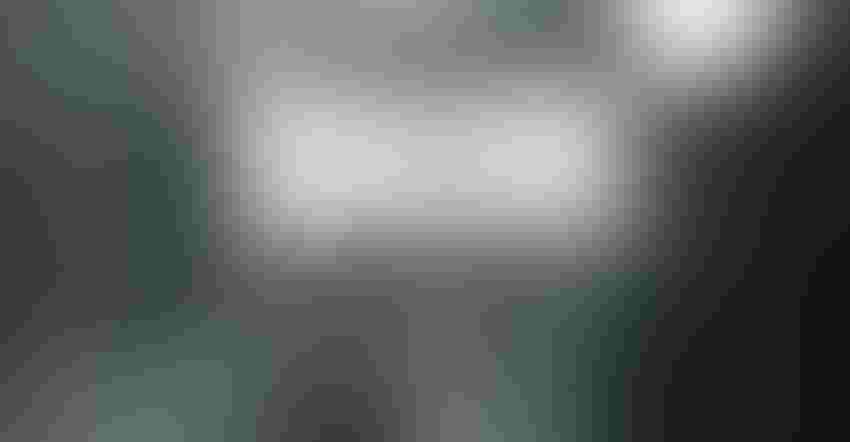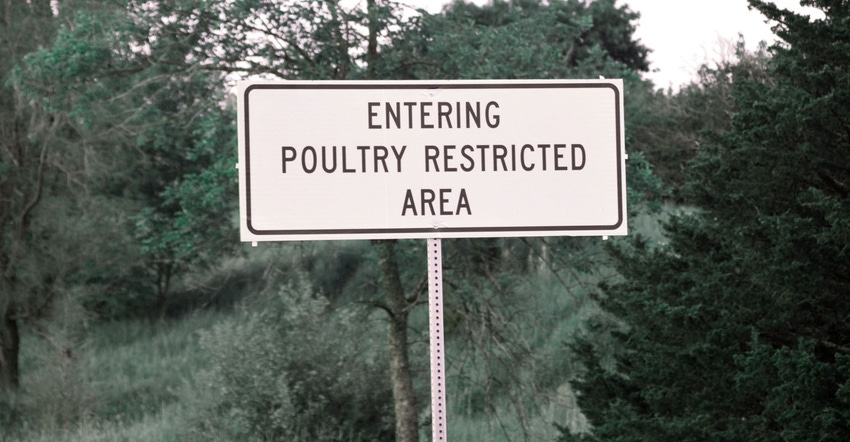 AVIAN INFLUENZA: During the high-pathogenic avian influenza outbreak in 2015, signs were posted by high-traffic areas to make travelers aware of where they were entering.
Jennifer Carrico
The spread of high-pathogenic avian influenza across Iowa has led to the euthanasia of nearly 6.3 million birds in the first three weeks of March. Officials hope this disease won't devastate Iowa's poultry industry the way it did seven years ago.
In 2015, HPAI led to the euthanization of 34 million birds. The dominoes fell from there: 8,500 jobs were lost, and Iowa's poultry industry faced a total economic loss of $1.2 billion. Iowa leads the nation in egg production, with more than 60 million chickens, and is seventh in turkey production, with about 12 million turkeys across the state.
But poultry producers were resilient.
"It didn't take long for Iowa turkey producers to make up the loss of 1 million birds from HPAI in 2015, and flocks grew back by early 2016," says Gretta Irwin, executive director of the Iowa Turkey Federation. "However, the economic losses lasted longer."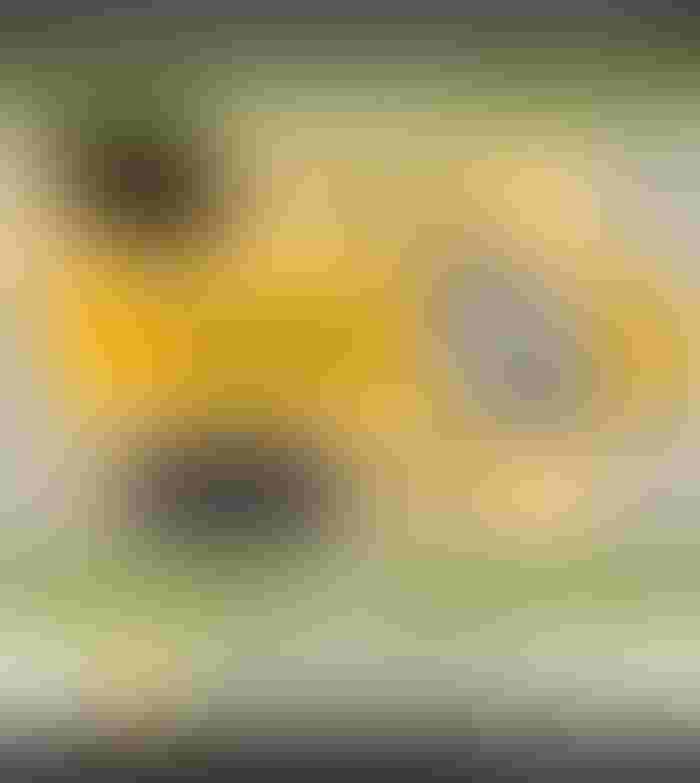 Iowa Secretary of Agriculture Mike Naig says USDA protocols will help support the affected poultry producers through indemnification for the animals, and monetary support to compost birds on-site, as well as cleaning and disinfecting the facilities. The total impact economically and emotionally on these producers will be more long-term.
HPAI spreads rapidly
Avian influenza is a viral disease of poultry and other birds, according to Yuko Sato, Iowa State University Extension poultry veterinarian and associate professor at the Iowa State College of Veterinary Medicine. The virus has two primary types — low-pathogenic avian influenza and high-pathogenic avian influenza. The low-pathogenic strain causes mild respiratory symptoms, while the high-pathogenic strain spreads more rapidly and has a high fatality rate.
Symptoms of HPAI include coughing, sneezing, nasal discharge and swollen sinuses. Affected birds can also show diarrhea, flock huddling, decreased food and water consumption, and neurological symptoms such as lethargy and depression.
Iowa's state veterinarian Jeff Kaisand says this year's virus shows a strong indication of being spread from wild birds and not from site to site. When the virus is introduced into the domestic flocks, birds are showing signs immediately. Once there is a positive test, officials work quickly with the owners to determine what kind of depopulation methods they will use. In all of the 2022 cases, no bird remains have been removed from the site for disposal.
The first case in 2022 was reported on March 1 in a Pottawattamie County backyard flock, and 42 birds were euthanized. Losses continued to grow with a March 6 case at a Buena Vista County commercial turkey operation of 50,000 birds. On March 10, a commercial chicken layer operation in Taylor County euthanized nearly 1 million birds with HPAI. Another case in Buena Vista County hit a commercial chicken layer operation of 5.3 million birds on March 17. On March 20, another smaller backyard flock of 50 birds was euthanized in Warren County. A commercial turkey flock of 54,000 birds was affected in Buena Vista County on March 23. On March 26, an outbreak in a 250,000 commercial chicken operation with 250,000 pullets in Franklin County was reported. Additionally, 1.5 million commercial laying hens in Guthrie County and a 28,000-bird commercial turkey operation in Hamilton County were affected on March 29.
Biosecurity is important
Good biosecurity is the key to prevention of HPAI and other diseases. Irwin says the main takeaway from the 2015 outbreak was the need for more or better biosecurity by workers; thoroughly disinfecting feet; and using designated footwear in the barns as well as coveralls, to prevent bringing the virus into the facilities.
Sato says biosecurity does not look the same for everyone, as avian influenza can be spread from infected birds or infected equipment. "Good biosecurity means keeping the outside out and the inside in. Proper sanitation of people and equipment is important," Sato says.
After the 2015 outbreak, the Iowa Department of Agriculture and Land Stewardship increased the number of meetings and tabletop exercises about foreign animal disease prevention. Having a plan in place is important with any disease outbreak. Irwin says these drills have helped prepare the different animal industries for this outbreak. "The response of getting team members on the farm has been so much faster this time, which is key in making decisions for the producers," Irwin adds.
While IDALS is the main department dealing with these specific cases, it also works with USDA to determine how the birds will be disposed of, and the Department of Natural Resources to be certain the disposal will not affect the land or water quality.
Migratory birds cause spread
The main concern with the spread of HPAI comes with the seasonal migratory bird movement. "We have some major concerns with wild birds spreading HPAI to the domestic flocks," Naig says. "These cases are not unexpected. We continue to work with USDA and other partners to implement the plan we have developed since the outbreak in 2015, in order to help protect the health of Iowa's poultry flocks."
The National Poultry Improvement Plan is another way the federal and state poultry industries have worked together to prevent diseases. Through this, producers must pass biosecurity training and audits to keep them from dealing with the devastation of HPAI. Poultry producers also have premise identifications enrolled with the state of Iowa that are used in communication during such disease outbreaks.
Irwin and Sato stressed that poultry and poultry products are safe to eat. Proper food handling and cooking to an accurate internal temperature is always important. HPAI does not present an immediate public health concern. No human cases of these avian influenza viruses have been detected in the United States.
Reporting sick or dead birds seen in a poultry flock or in the wild is important to help prevent further spread of this highly contagious, viral disease, which can affect all types of birds. Wild birds often will not show signs of sickness but are still a host to spread avian influenza.
On March 23, IDALS announced an order cancelling all live bird exhibitions at fairs and other gatherings of birds due to HPAI. The order also prohibits live birds from being sold or transferred at livestock auction markets, swap meets and exotic sales. The IDALS order began immediately and will remain in effect until 30 days has passed without a confirmation of a new infection of HPAI in domestic poultry in the state of Iowa.
"Protecting animal health and Iowa's agriculture-based economy remain our top priorities," Naig says. "As HPAI continues to impact poultry flocks across the state and nation, it is essential that we take every possible step to reduce the risk of spreading the virus. Biosecurity remains our best line of defense."
All bird owners should practice good biosecurity, and limit visitors and movement on and off the farm. Preventing contact between domestic birds and wild birds is important, and reporting sick birds or unusual deaths to officials is a must to stop the spread of this virus.
Subscribe to receive top agriculture news
Be informed daily with these free e-newsletters
You May Also Like
---