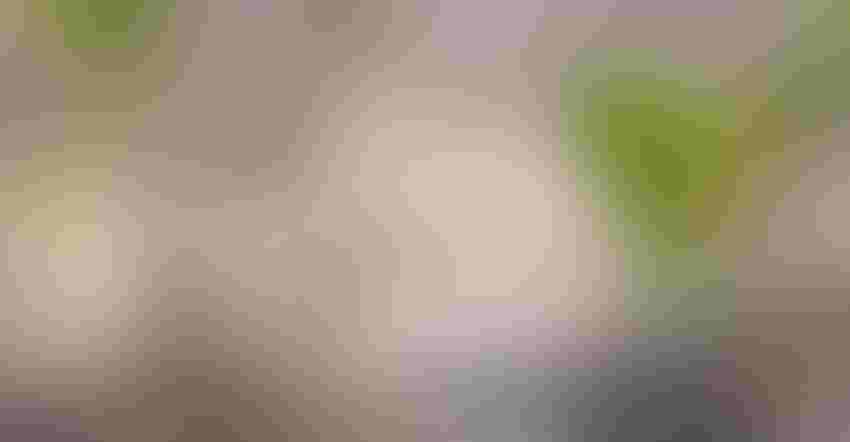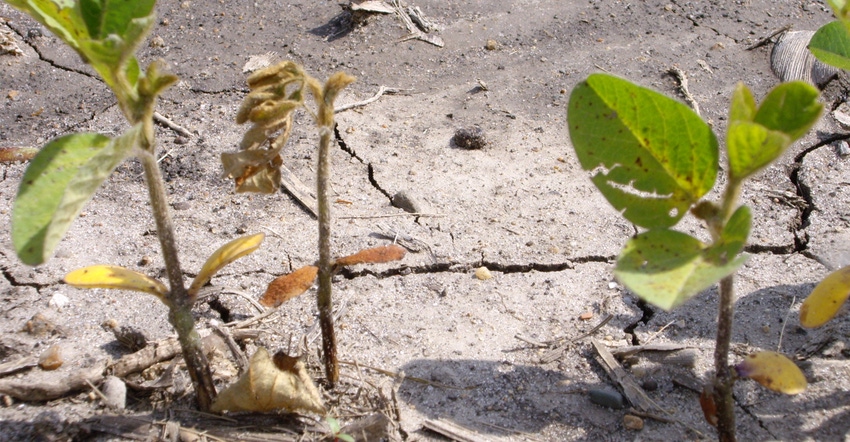 PLANTING EARLY? The prime culprit with soybean seedling diseases is saturated soil conditions, coupled with cold temperatures, leading to slow emergence.
Questions and answers. Sometimes the process is simple, sometimes not so much. Asking my black labs if they want to play fetch is pretty straightforward. If somebody asks about scouting for a disease or pest, a bit more information is exchanged, but it's still straightforward. I can even be relatively concise if I've had a couple of practice runs with the information (usually with my labs). The process can even become a little bit automatic or routine.
Other questions are almost routine but not quite. These can be more challenging. Take, for example, "How do I look in this outfit?" It's agronomic equivalent is: "Should I be treating my soybean seed?" For the agronomy query, it's not uncommon to get a conversation running with my favorite response, "It depends." 
There are differing viewpoints on bean treatments. If you inadvertently use that same automatic reply to the outfit question, it will start a conversation — and it might require you to start running, too.
Even if we had more definitive yes-no answers for some seed treatments, we'd still get into deep water fairly fast based on the sheer number of options available for beans these days: inoculants, fungicides, insecticides, nematicides, nutrients, biostimulants, other biologicals, flow additives, and various active ingredients, rates and mixtures across these categories. It's nearly a $10 billion industry, so good luck keeping up. We can't hit them all in a fair and balanced manner.
But just because we can't hit them all, the stakes are too high to skip the topic. My latest seed price sheet had enough treatment choices on it that it's starting to resemble an Applebee's menu. 
Getting basic protection for $15 to $20 per unit is a big decision in many cases. And it didn't take long to bump up to $40 if I wanted to fight off the potential of multiple diseases, nematodes and insects, and threw in inoculant and some biologicals. 
Do some acres across the state need that type of protection? Probably, and some not at all. Most fall in between. So my best shot at this is to share some key things to consider and maybe help guide deeper conversations with your seed suppliers.
Fungicides — what to consider
ISU research and regional academic publications find the odds of the right product benefiting you go up when you: 
have a field with a history of soybean death syndrome or seedling disease

plant into wet, cool soils below 60 degrees F, or into compacted soils

seed at rates under 140,000 per acre

practice no-till or reduced tillage

have a lot of surface residue

have a field with a history of floods

have high levels of seedborne fungal infection

did not rotate crops — second year (or more) of soybeans

plant bean varieties susceptible to soilborne diseases, such as phytophthora root and stem rot and SDS
This winter farmers added to this list. Fall rains that made harvest a nightmare left saturated soils more at risk. And in some cases the rains didn't do seed quality any favors either. Search online for "Should You Use a Fungicidal Seed Treatment on Low-Quality Soybean Seed?"
Inoculants — when to apply?
With relatively low cost and no known agronomic downside, inoculants are a pretty safe bet in fields that haven't had beans for several years. Some experts will include fields that had significant areas of beans flooded out in previous years. 
Fighting soybean cyst nematode with seed treatments is a relatively new frontier, so good data is at a premium. Lucky for us, researchers like Greg Tylka have been at the forefront working with many of the products to provide information. 
For example, while nematicide seed treatments offer some early-season seedling protection, they're not a silver bullet for season-long nematode control. Consider a seed treatment as just one additional nematode management tool. The two best tools for managing nematodes continue to be rotating crops and planting nematode-resistant soybean varieties.
To fine-tune the best fit for nematicide seed treatments, they are more likely to help if you have fields with a history of nematodes; combine the seed treatment with nematode-resistant bean varieties; have limited crop rotation options; and have a manageable population of nematodes (nematicide seed treatments offer little protection with severe populations).
You've probably heard "Take the test. Beat the pest." So before using a seed treatment, have recent SCN soil tests to determine if populations are in a range where treatment has a shot at being beneficial.
Insecticides — do they pay?
This line from a new regional academic publication sums it up well: "You can use insecticide seed treatments to manage early-season insect pests, especially insects that injure soybean before growth stage V2. However, most soybean insect pests occur after this time."
Circumstances exist where insecticide seed treatments are more likely to pay off, so don't totally dismiss them. That list is included along with other good information at cropprotectionnetwork.com. Search there for "Factors to Consider Before Using a Soybean Seed Treatment."
Speaking of that publication, it's the best I've ever seen on seed treatments. Written in terms we can understand, it's a must read if you plant soybeans. 
Along with recommending a search of industry and Extension resources, look at the Iowa Soybean Association's research programs at iasoybeans.com/programs/isa-research. They've taken a good "on-farm" look at a broad selection of seed treatments, much of it replicated data gleaned from member producers.
Keep in mind some seed treatments have generic equivalents, which can save a lot of amount of money if the generic products happen to fit your farm's pest or disease profile. Another way to save money is a do-it-yourself seed treatment. Rather than buy seed already treated, you can apply the treatment yourself if you have the skill set and equipment to give it a shot.
Managing soybean aphid
Iowa State University has released results of insecticide trials conducted in 2018 for control of soybean aphid. The plots were at two locations  — ISU's Northwest and Northeast Research Farms. Seven insecticide groups or subgroups were evaluated in 2018.
Population fluctuations between locations and years is typical for soybean aphid in Iowa, says ISU Extension entomologist Erin Hodgson. Resistance to pyrethroid insecticide has been confirmed to occur in some populations of soybean aphid in northern Iowa but is not widely confirmed throughout the state. Hodgson's recommendation for soybean aphid management in Iowa:
Plant early if the field is in an area with persistent soybean aphid populations.

Scout for soybean aphid, especially during the R1 to R5 growth stage of soybean plants.

Use a foliar insecticide if aphids exceed the economic threshold of 250 per plant. 

Use a product labeled for soybean aphid. Most well-timed applications of foliar insecticides will protect yields if applied at the economic threshold and coverage is sufficient.

Evaluate foliar insecticide efficacy three days after application to ensure soybean aphid populations were sufficiently reduced.

Understand that late-season accumulation of aphids after the R5 soybean stage may not impact yield like it does during early reproductive growth. A foliar insecticide applied after seed set may not be an economically profitable choice.
ISU recently released "Evaluation of Foliar Fungicides on Soybeans in 2018." Products were evaluated for foliar disease management and yield response across seven research farms. Frogeye leaf spot was found resistant to Quinone Outside Inhibitor strobilurin fungicides in all seven trials. Also, brown spot disease was resistant to QOI strobilurins in over half of the trials.
McGrath is the research and Extension coordinator for the Iowa Soybean Research Center at ISU. Email [email protected].
Subscribe to receive top agriculture news
Be informed daily with these free e-newsletters
You May Also Like
---