Water management at fall alfalfa planting critical to successful spring
Water management at fall alfalfa planting critical to successful spring
Planting alfalfa using a new drip irrigation system requires extra care to establish a root system which will grow to at least a foot down into the drip zone before the sprinklers are pulled.This initial support will enhance crop development and help ensure a hardier alfalfa field to deliver quality, quantity, and stand life.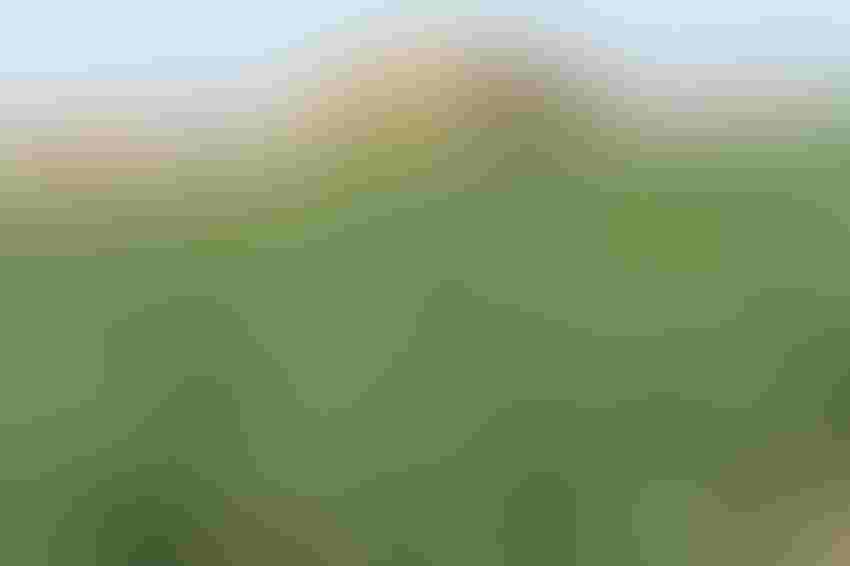 Planting alfalfa using a newly installed drip irrigation system requires extra care to establish a root system which will grow to at least a foot down into the drip zone before the sprinklers are pulled.
This initial foundational support to enhance crop development will help ensure a hardier alfalfa field in quality, quantity, and stand life.
The optimal time to start planting and irrigating a new field in California's Central Valley is between mid-September and mid-October. This timeframe allows growers to take advantage of warmer soil and quicker germination. Growers who delay planting can encounter cooler soil temperatures which can slow germination.
Dennis Hannaford, Netafim's product application support specialist, says in the fall when soil temperatures are cooling that alfalfa plants tend to favor more root growth and less vegetative growth.
Conversely, in the spring when soil temperatures are warming, alfalfa plants tend to favor more vegetative growth than root growth. Obviously, the grower wants the largest most vigorous root system possible from newly planted alfalfa and planting in the fall gets us there.
Western Farm Press Daily – free agricultural news delivered to your Inbox.
Another advantage of fall planting and quick germination of alfalfa is to get a competitive jump on broadleaf weeds and grasses since the fall weed spectrum is much smaller than in the spring. If we can get ahead of the weeds, we can limit weed competition.
Hannaford recommends that growers utilize overhead sprinklers when possible, due to the lack of rainfall in the Central Valley during the fall planting window. Border check irrigation for germination can also be used if sprinklers are not available.
Whatever method is used, it's important for growers to verify that newly established alfalfa roots have reached the moisture zone created by the drip system, especially in the areas between the lateral driplines. 
Once the alfalfa has germinated and as it's establishing roots, growers should slowly transition from sprinkler or flood system operation to drip system operation. Removing the option to use sprinkler or flood irrigation too early can have an adverse effect on plant establishment and growth.
"For this reason, growers planning to install driplines and plant new alfalfa fields are advised to develop a workable timetable that allows them to jumpstart root growth within that ideal window of opportunity," Hannaford says.
Various factors including germination time, soil type, and temperature will influence fast root growth and subsequently determine the length of time for needed above-ground irrigation to supplement subsurface drip irrigation.  
"It is important that growers implement an irrigation protocol that will stimulate the growth of roots into the moisture zone created by the drip system," says Hannaford.
Best practices for establishing new alfalfa fields are also found in the 'Irrigated Alfalfa Management for Mediterranean and Desert Zones' book published in 2008 by the University of California Alfalfa Workgroup. The books chapter four on alfalfa stand establishment discusses how environmental conditions affect the crop.
The authors say seedling establishment is a critical phase in the life of an alfalfa stand and impacts production for many years. Time spent preparing for stand establishment results in a dense, vigorous stand which produces high quality and high yielding alfalfa throughout the stand's life.
A series of trials conducted by Larry Teuber at the University of California, Davis evaluated optimum conditions for germination in response to variations in temperature and photoperiod – the physiological response to the length of day or night. The data revealed that the best time to germinate alfalfa seed is when soil temperatures are between 65 to 85 degrees F. and soil temperatures are a reliable indicator of germination time.  
Several replicated trials have confirmed the recommended planting cycle for the Central Valley in particular.
"Planting in the fall (Sept.-Oct.) produces 20 to 30 percent higher yields the first year than spring planting," the authors wrote based on results from trials. "This response often persists into the second year as a result of increased vigor and a longer growth period before the first cutting."
The author points out that not all cultivars respond equally to environmental conditions so it is incumbent on the grower to evaluate the varieties which will grow best, according to their specific location and unique considerations.
(Editor's Note: Todd Rinkenberger is Netafim USA's director of sales west agriculture and strategic projects for Netafim USA. He is a 21-year veteran of the agricultural irrigation industry. [email protected])
Subscribe to receive top agriculture news
Be informed daily with these free e-newsletters
You May Also Like
---