Timely planting of double-crop soybeans may increase profits per acre
Timely planting of double-crop soybeans may increase profits per acre
Think DifferentWhile double-cropping soybeans after wheat is profitable for Illinois farmer Kyle Brase, he has found there are limits to a good thing. He plants about 10% of the farm's total acres into wheat so the crop can be managed with timely nitrogen, fungicide applications and weed control. He then double-crops soybeans on 100% of those wheat acres."By using only 10% of our acres for wheat and double-crop soybeans, we can better manage all of our acres to their full potential," he says.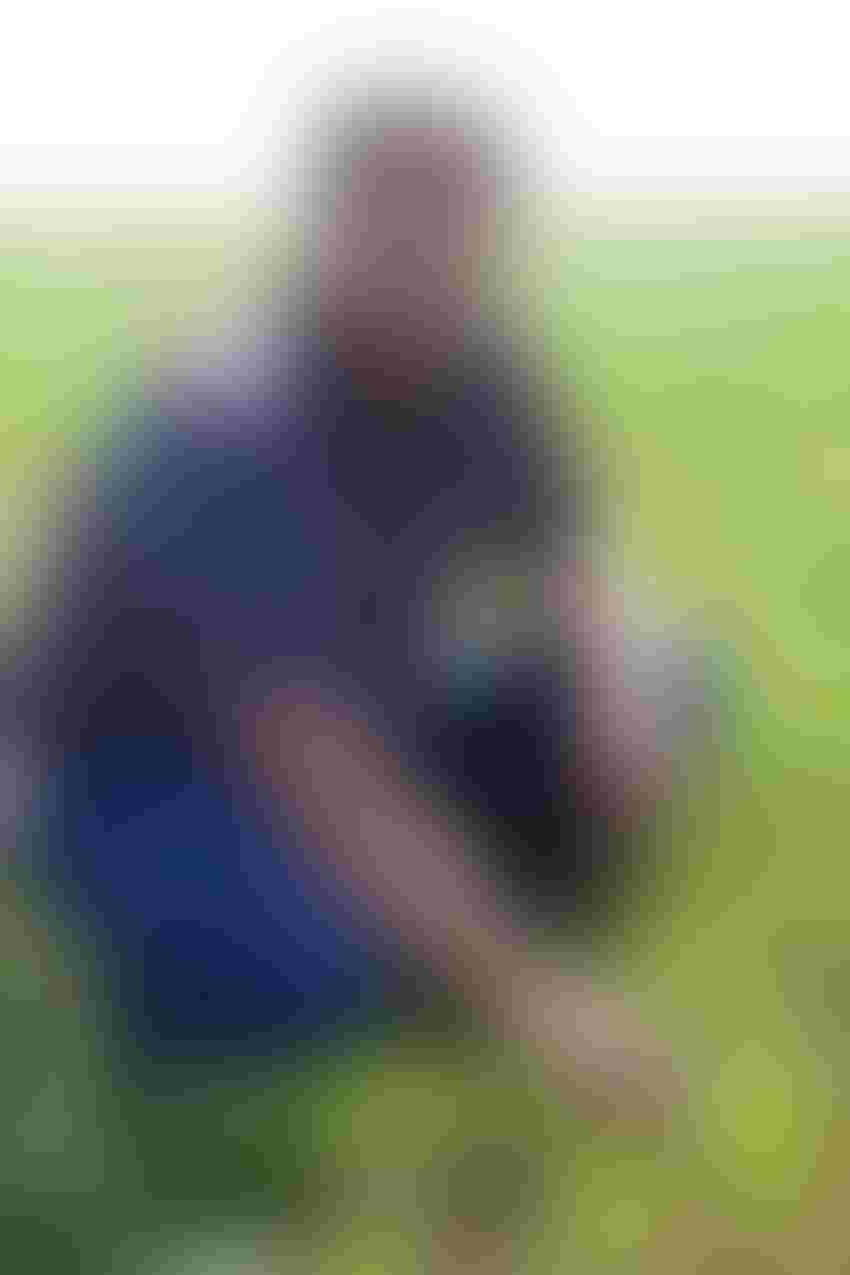 Kyle Brase has been double-cropping soybeans after wheat as long as he has been farming. The fifth-generation grower from Edwardsville, Ill., says it can be more profitable than growing corn. Dramatically lower commodity prices give the planting rotation better return potential than just planting corn or single-crop soybeans.
"This is a good time to look at double-crop. Wheat is at a favorable market price. I can maximize dollars on my winter wheat acres by coming back with double-crop soybeans," says Brase, who farms together with his wife Amanda as part of a family corn, soybean, wheat, alfalfa and dairy operation. He farms with his brother Mark, his cousin Eric and his uncle Bill Brase.
Spreading annual fixed costs such as land, taxes and machinery over two crops instead of one may increase gross returns per acre with relatively low increases in production costs, confirms Bill Wiebold, University of Missouri Extension soybean specialist. Profits per acre may be increased in areas where double-crop soybeans can be planted in a timely manner. " Double-crop soybeans with wheat is a great example of a fairly consistent way to maintain profitability," says Brase, who also is a certified crop adviser, seed dealer and retail crop input sales representative. He says a five-year, double-crop soybean yield average of 30 bushels per acre at $10 per bushel offers a $300 gross return. Wheat yields of about 80 bushels per acre at $6 per bushel add $480 for a total $780-per-acre gross return. If only planting corn, using a five-year corn yield average of 200 bushels at $4 per bushel, he would see an $800 gross return.
"Soybean prices are lower, but we are not going to see the same drop in the price of inputs," Brase suspects. "Double-crop soybeans are competitive with corn at half the nitrogen expense."
Don Guinnip says his gross return on double-crop soybeans with wheat is better than his gross return from corn as well. The Marshall, Ill., farmer says that crop insurance for double-crop soybeans, now available through USDA's Risk Management Agency (RMA), helps eliminate some of the weather-related production risk that can accompany the planting rotation. According to University of Illinois agronomist Emerson Nafziger, the wheat-double-crop soybean system is economically competitive, especially in areas where double-crop soybeans work best.
"Four out of five years, farmers will get enough moisture to germinate soybeans and have a good second crop," adds University of Illinois Extension specialist Robert Bellm.
Benefits beyond economics
Economics is just one benefit of double-crop soybeans: Wiebold says adding a small grain to a crop rotation can also help reduce soil erosion and maintain soil health.
"Diversifying the crop rotation reduces pest problems. Ground cover from wheat over the winter lessens soil erosion and can provide straw as a byproduct," he says. Guinnip, who no-tills double-crop soybeans into his winter wheat stubble, agrees. "There are lots of positives for legumes after grasses," he says. "Phosphorus and potassium runoff are easier to manage, and wheat will take some of the phosphorus and nitrogen.
"You should plan your fertility," he continues. "If you use potash, put it on in the fall with the wheat. Find ways to supplement wheat growth with nitrogen, such as with a split application."
Brase appreciates that soybeans help fix nitrogen in the soil. "Wheat straw adds organic matter to the soil and helps soil health. It also has a high carbon-to-nitrogen ratio, which makes straw break down slowly. The end result is an increase in stable soil organic matter, which can add incidental nitrogen back into the soil over time," he says. "We fertilize for the crop. When we fertilize wheat, some of the nutrients carry over to the soybeans."
Success depends on timing
In most instances, farmers should stay with the same maturity as their full-season beans, Wiebold advises. Guinnip plants full-season soybeans and chooses mid-season wheat varieties. He likes to get the beans in by mid to late June to get 80 percent of the yield of his full-season soybeans. "You have to manage the agronomics, but variety selection also is important," he says. "If you can harvest wheat at 18 percent and dry to 13 percent, you gain two weeks for the soybeans."
"The key is timely soybean planting to help soybean yields, as long as the soil is not wet so it will not be compacted by traffic," Wiebold says. "Use of narrow row soybean planting is a key part of the management system. We have found late-planted soybeans require higher stand populations than full-season beans. A likely boost in target stand is 20,000-30,000 more plants. Brase emphasizes the importance of effective, timely weed control once an adequate soybean stand is established. "We use a preemerge with a residual and come back with glyphosate. Kill weeds when they are small, two to four inches, and follow up," he says.
Not for everyone 
While soybeans are a ready market, their winter-wheat partners might not have the same prospects in every soybean-growing region. Any crop that can be harvested in late June will work, although there are not many options.
Brase has grown alfalfa, taken one hay cutting and then killed the crop to plant soybeans, with some success.
"Double-cropping may work all the way into southern Wisconsin in some years, but the chances and frequency of success decrease the farther north of I-70 you go," Wiebold says. "Knowing the conditions to which double-cropping is best adapted can provide for a successful second crop. 
Subscribe to receive top agriculture news
Be informed daily with these free e-newsletters
You May Also Like
---