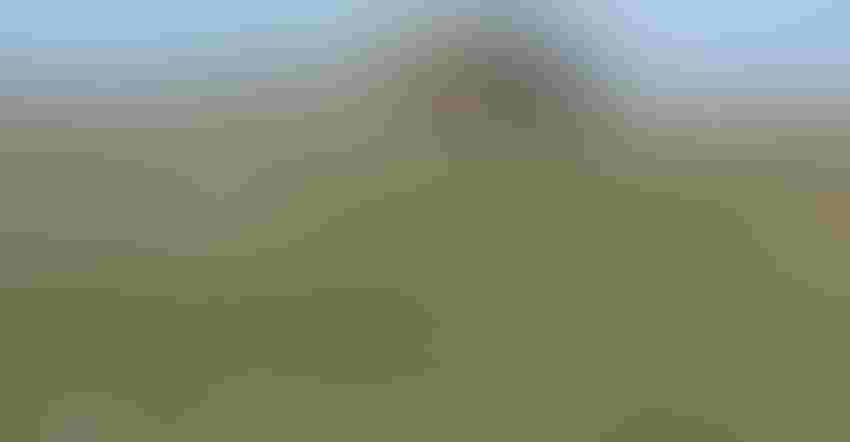 ACIDIC SOIL: Urea is applied before planting wheat. Continuous application of nitrogen fertilizer over many years can make the soil near the surface acidic.
The North Dakota State University North Central Research Extension Center (NCREC) at Minot improved some of its acidic soils with surface-applied beet lime.
Soils in trials had pH levels of 5.3 in the 0- to 2-inch depth. A 2-ton-per-acre application of beet lime improved the pH to 6.5. Four tons of beet lime increased the pH to 6.7. The lime was surface applied in the spring. The soil was tested before the lime application in May and retested in early October.
Acidic soils explained
Acidic soils have pH levels of less than 7, while alkaline soils have pH greater than 7. Soil acidity doesn't become an issue until the soil pH is 5.5 or less. However, if the pH is less than 6, planning to use lime is a good idea, according to Chris Augustin, NDSU Extension soil health specialist.
The good news is that beet lime — a byproduct of sugarbeet processing — costs about one-third as much as ag lime, which has to be imported into the state.
Acidity explains
In North Dakota, soil acidity is caused by continuous N fertilizer applications, Augustin says. As pH levels start dropping to 5.5 or less, aluminum toxicity typically results in acidic soils, which affects plant growth.
Acidity is more pronounced in no-till soils in the central and western part of the state. The acidity shows up in the top 1-2 inches of soil, especially in fields where urea has repeatedly been surfaced applied for many years.
Soils are becoming more acidic in eastern North Dakota, too, but more tillage is done in the eastern part of the state and the west and tillage mixes the soil and dilutes the acidity, Augustin says.
Acidity symptoms
Plants that appear to be phosphorus deficient and have slower root growth may be the result of acidic soil. Under extreme conditions, germination can be very poor.
Testing the soil where you see symptoms is the best way to diagnose the issue. Zone sampling is recommended since acidity varies throughout a field.
"Since nitrogen is the culprit of the acidity, we're finding that really acidic spots are where that nitrogen is applied year-after-year," Augustin says.
Beet lime source
NCREC obtained its beet lime from Sidney Sugars in Sidney, Mont., for $41 per ton delivered to Minot. Ag lime typically costs $120 to $130 per ton delivered. The concentration of calcium carbonate in ag lime is about 20% higher than in beet lime. Therefore, 20% more beet lime has to be used than ag lime, but it still costs significantly less than ag lime.
There's a difference between the limes and gypsum, Augustin says. "Some farmers have applied gypsum, thinking it was lime, to offset the acidity issue."
Lime is mainly calcium carbonate, and gypsum is calcium sulfate. The carbonate is what neutralizes the acidity.
Gypsum has its place to improve sodic soils where there is too much sodium, or as a sulfur fertilizer, Augustin says.
More research
Augustin and others at NDSU will be conducting beet lime trials at Minot, Dickinson and perhaps other sites around North Dakota in 2020. The goal is to come up with beet lime rate recommendations and best management practices.
Beet lime may not have to be applied every year, Augustin says. A single application once every 5, 10, or even 20 years may be all that is needed to correct the pH levels. Beet lime may not have to be applied to whole fields, either. Acidic areas in fields can be identified and treated with precision farming technologies.
Dart is a writer from Elgin, N.D. Additional reporting by Lon Tonneson.
About the Author(s)
Subscribe to receive top agriculture news
Be informed daily with these free e-newsletters
You May Also Like
---