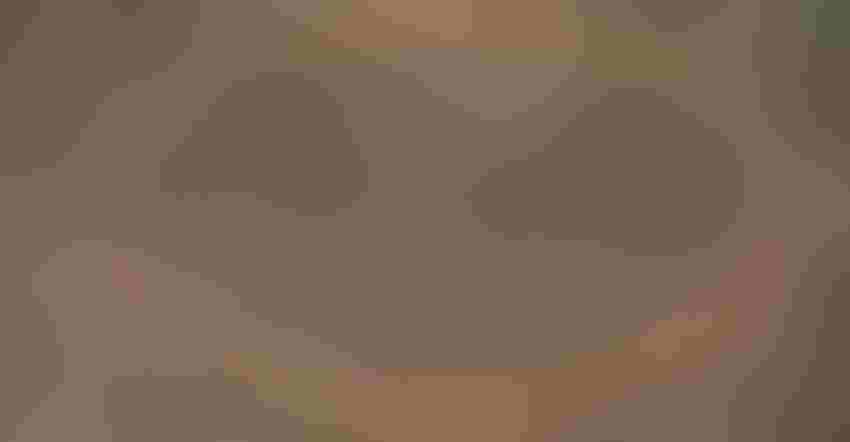 RANDOM CHECK: Five spots at random were checked by tossing a hula-hoop and counting soybean plants inside the hoop where it landed. In this variety with fungicide and insecticide treatment, the average was calculated at 120,000 plants per acre.
The Soybean Watch '19 field was planted June 13. Just over 24 hours later, a stretch of 10 days of rain, totaling about 5 inches, began. The field is not pattern-tiled and includes somewhat poorly and poorly drained soils. During an initial stand check with the operator in late June, soybeans were up, but still emerging.
The field was no-tilled into cornstalks using a John Deere 750 no-till drill. Two varieties were planted. Both were treated with Ilevo, a product to fight against sudden death syndrome, which is caused by a fungus that can infect soybeans early in the season but not produce symptoms until later. One variety was only coated with Ilevo; the other was also treated with a complete fungicide and insecticide package.  
During the initial check fewer than two weeks after planting, there were stand differences between the two varieties.
"It's always difficult to tell what causes differences," says Steve Gauck, Beck's sales agronomist based near Greensburg, Ind. He will monitor the field as the season progresses. However, he was not present for initial stand counts. Soybean Watch '19 is sponsored by Beck's.
Treated vs. nontreated
Both varieties of soybeans were still emerging, but especially with the nontreated variety, stand counts taken later in the season could vary and may be higher than these initial counts.
Here are the results of the initial stand count for the variety treated with fungicide and insecticide: A hula-hoop was used to determine stand. The inside diameter of the hoop was 30 inches. Soybean plant counts inside the hoop at five random locations were 12, 17, 16, 13 and 10. The average was 13.6 plants.
Using the chart in the 2019 Purdue University Corn and Soybean Field Guide, the estimate would be about 120,000 plants per acre. Normally, Gauck says that would be plenty of beans in a drilled stand to produce good yields. And it may still be, he notes. However, since the field was planted so late, plants tend to put on fewer nodes. The best way to make up for that is to add more plants, he says. When there are fewer nodes per plant, it takes more plants to produce enough nodes, pods and, ultimately, beans to yield well.
That's not good news for the area of the field planted with the other variety treated with Ilevo only. Here are the plant counts per hoop: 10, 9, 15, 8 and 14. The average is 11.2 plants. Using the same chart, that puts the estimated plant population just shy of 100,000 plants per acre.

DIFFERENT VARIETY: This check of a different variety treated with only Ilevo produced lower stand counts than the other treated variety, using the same hula-hoop method.
"Usually we think we're OK if we have 80,000 plants per acre, but we're usually not planting this late," Gauck says. "It will be interesting to watch this field."
As a point of reference, two years ago, in the Soybean Watch '17 field — which was planted June 6 in a different location — slugs thinned stands to 80,000 plants per acre in several locations. The field still averaged 50 bushels per acre.
Subscribe to receive top agriculture news
Be informed daily with these free e-newsletters
You May Also Like
---