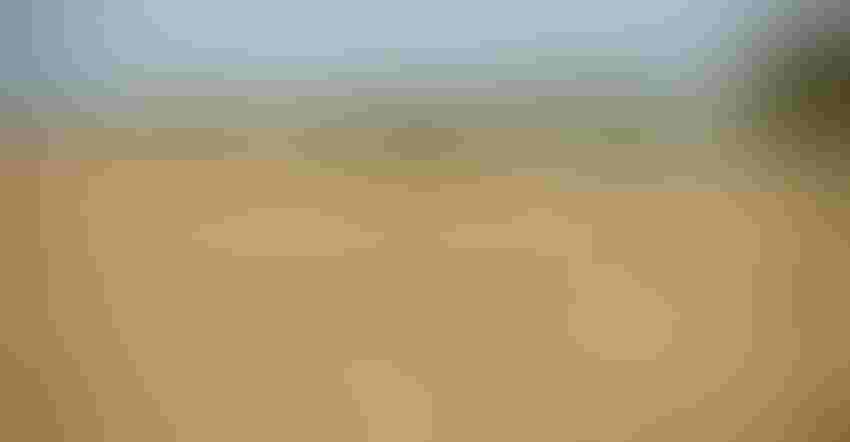 Farmland values in some areas of California are starting to see the perceived effects a state law will have that mandates groundwater aquifers become sustainably managed by 2040. In northern Tulare County this was reflected in a significant difference in sales prices between land with dual sources of reliable irrigation supplies, and those areas with a single source of irrigation water.
Todd Fitchette
The range buyers were willing to pay for farmland in parts of the south San Joaquin Valley last year expanded significantly on speculation that some areas will have adequate water, and some won't.
What used to be a narrow range between highs and lows – less than $5,000 per acre as 2013 and double that in the four years to follow – hit a range of $9,500 to $31,000 an acre due to the promise of adequate water under the California Sustainable Groundwater Management Act (SGMA).
This is noteworthy for growers and investors planting permanent crops like almonds and pistachios because of the long-term water implications those crops require.
The annual Trends Report by the California Chapter of the American Society of Farm Managers and Rural Appraisers (ASFMRA), the state's professional association of those who evaluate farmland values, reveals that almonds – the state's leading crop – may have some clouds on the horizon as almond growers last season harvested their first-ever three-billion-pound crop.
The story remains somewhat different for pistachios as that is the only one of the three main nut crops in the state to remain profitable. Walnuts and almond prices continue to challenge grower balance sheets.
Good news
The alternate bearing nature of pistachios continues to temper supply, whereas with almonds the continued record-size crops year-after-year caught up with that industry in a year marred by pandemic and economic slowdown. U.S. pistachio growers – about 98 percent of all U.S. pistachios are grown in California with the remaining coming from Arizona and New Mexico – harvested their first-ever billion-pound crop last year. Even so, pistachio prices remained lucrative for growers amidst successful marketing efforts by the American Pistachio Growers.
Based on closed sales from 2020, pistachios in Fresno and Madera counties sold for $17,000-$40,000 an acre on strong demand and increased value. Kern pistachio orchards traded hands for $30,000 to $48,000 on strong demand and a value trend said to be stable to climbing. Anecdotal stories from the annual California ASFMRA Outlook Conference suggest some interest in Kern County pistachios at prices as high as $55,000 an acre.
Janie Gatzman, an independent rural appraiser from Oakdale, Calif., and one of two co-chairs for the annual Trends Report, said growers and investors continue to see optimism within the pistachio industry. Jim Zion, managing partner of Meridian Growers, a nut trader in Clovis, Calif., is likewise bullish on the industry, telling appraisers during the group's annual Outlook Conference in March that the U.S. now leads global production of pistachios, behind Iran.
Zion's one caution for the industry: build more processing capacity. As growers plant a projected 10,000 acres of pistachios in northwestern Arizona and more trees go in across that state in the southeast corner, the limiting factor in continued grown is the processing capacity. Pistachios being planted today in northwest Arizona have an estimated eight-hour truck ride to the nearest processing facility.
Zion is a partner in a processing facility in Firebaugh, Calif. that is slated to receive its first crop with the 2021 harvest. The $41 million facility will have a capacity of about 20 million pounds, he said.
Bad news
The perceived availability of irrigation water in parts of the Central Valley is driving some almond orchard values down while others enjoy increased valuations. This was seen last year in the wide range in almond orchard values in Fresno and Madera counties, according to the report. Properties traded from between $10,000 and $40,000 per acre in the two-county area.
Further south in Kern County, almond orchard prices narrowed to between $20,000 and $34,000 on weak demand, according to the report.
Demand in Fresno and Madera counties varied depending on water availability. Those orchards with dual sources – groundwater and irrigation districts – with reliable supplies and access fared better with stable demand. Orchards outside of an irrigation district saw their relative value remain stable from the previous year on limited market demand.
Elsewhere in California almond values ranged from $15,000-$40,000 in the northern San Joaquin Valley region (highest again within the irrigation districts). In the Sacramento Valley those orchards traded from $20,000-$34,000 on strong demand but limited activity.
Citrus
Mandarins remain a popular cropping choice for citrus farmers, according to rural appraisers. According to Ryan Metzler, a rural appraiser and accredited farm manager from Fresno, Calif., the higher land values he saw last year were predominantly in mandarins.
Much of the state's citrus crop stretches along the eastern foothills of the San Joaquin Valley from Kern to Fresno counties. In the northern citrus region of Fresno County citrus groves sold for between $22,000 and $40,000 on strong demand for mandarins. In Kern, market demand and activity were lower with groves trading ownership from between $22,000 and $26,000 per acre.
Copies of the annual Trends Report can be purchased from the California ASFMRA chapter at https://www.calasfmra.com/.
Subscribe to receive top agriculture news
Be informed daily with these free e-newsletters
You May Also Like
---