NMSU expands pecan research as region expands production
NMSU expands pecan research as region expands production
Newly planted saplings enhance New Mexico State's pecan research options.Linwood Nurseries donated trees.New pecan acreage being incorporated into research in many disciplines.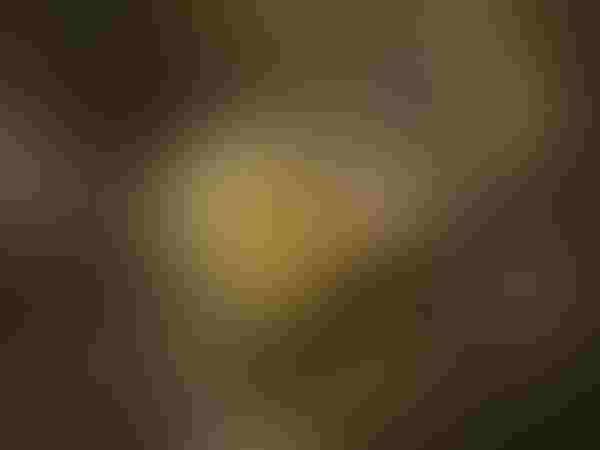 Pecans, like people, are moving to the Southwest. According to the USDA National Agricultural Statistics Service, New Mexico and Arizona accounted for a mere 4 percent of U.S. pecan production in the mid 1970s. As a result of steady growth in production, the percentage has blossomed to more than 28 percent.
With the expanded production has come a need for expanded research. And New Mexico State University, whose first experimental orchard dates back almost 100 years, is poised to expand significantly its already robust pecan research program, according to Richard Heerema, NMSU Extension pecan specialist.
NMSU has recently planted nearly 2,000 new pecan saplings, donated in 2011 by Linwood Nursery in La Grange, Calif. With extensive new orchards in three New Mexico growing areas, Heerema feels that NMSU is on its way to becoming a national leader in pecan research.
This is Linwood's second major donation of pecan saplings to NMSU in as many years; they provided 1,200 trees in early 2010. Planted at three of the university's science centers around the state, that first set of trees allowed NMSU to triple its pecan research acreage. This latest gift more than doubles the 2010 total.
NMSU now has more than 60 acres planted at the Leyendecker Plant Science Center south of Las Cruces, the Agricultural Science Center at Los Lunas south of Albuquerque and the Agricultural Science Center at Artesia in the Pecos Valley.
"NMSU's research orchards represent the largest of their kind for the arid southwestern states, where much of the nation's pecan industry growth has been occurring and where pecan producers face unique challenges," Heerema said.
The monetary value of the 2011 Linwood donation is in excess of $40,000, bringing their total support of NMSU's pecan research enterprise to nearly $65,000.
Linwood Nursery, which deals exclusively in pecans, became familiar with NMSU's pecan research program through participation in the annual Western Pecan Growers Association conference, held in Las Cruces and co-sponsored by NMSU. A personal connection also helped spark the support: Linwood owner Jason Hall reports that Joel Hall - father, retired partner and current consultant in the nursery - attended NMSU between 1961 and 1963.
"He gets a real kick out of seeing this project come together at his old stomping grounds," the younger Hall said.
Hall recognizes the importance of research on nut crops and feels that pecan research needs to catch up with what has been done on other nuts. He wants NMSU to play a large part in accomplishing that.
"Over the course of my 23 years in the nursery business, I have seen just how important research and development have been to the advancement of crops like almonds and walnuts in California," he said. "These two crops alone have benefited immensely through rootstock and variety trials as well as cultural practice research."
Linwood has a history of working with various universities on pecan research involving such issues as fertilizer, bud break and cold tolerance, according to Hall. After Linwood's regional field representative Karlene Hanf talked to NMSU's Heerema at a WPGA conference about the need for an expanded research orchard at NMSU, Hall determined to supply the trees.
Heerema foresees the new pecan acreage being incorporated into research in many disciplines.
Multi-discipline research
"Our new orchards allow all kinds of NMSU researchers, including horticulturists, soil scientists, plant physiologists, agro-ecologists, entomologists, plant pathologists, weed scientists, agricultural engineers, agricultural economists and human nutritionists to conduct a broad array of studies for the benefit of this important industry in New Mexico," he said.
He stressed that while the bulk of the research may not begin until the trees are more mature and producing nuts, some research is already beginning.
"For example, Robert Flynn, Extension agronomist at the Artesia facility, and I are collaborating on a study in the new orchards out there," Heerema said. "We are investigating the potential for pecan tree uptake of soil-applied micronutrients, specifically zinc and iron, under alkaline and calcareous soil conditions. And at the Leyendecker orchard, I have plans for a graduate student to study the effects of manganese nutrition on leaf photosynthetic rates."
At Leyendecker, 500 Western Schley saplings from Linwood were planted on 10 acres in mid-April. The orchard block is adjacent to the 10-acre plot where 500 donated Pawnee saplings were planted last year. An additional seven acres of mature trees at Leyendecker are involved in research, for a total of 27 acres on that farm.
In addition to the 20 acres of pecan saplings at Leyendecker, the combined Linwood donations have supplied trees for about 16 acres at the Los Lunas facility and more than 18 acres at Artesia. The trees at Los Lunas are all Pawnees, while the orchard in Artesia is split almost equally among Pawnee, Western Schley and Wichita.
"It will be good to be conducting research on more of our own trees," Heerema said. "Local farmers have always been wonderful about allowing us to do research in their orchards, but we really can't conduct studies in a commercial orchard that might interfere to any great extent with the producer's normal practices. These new research orchards will allow us a wider range of experimentation."
Heerema stressed that the new orchards will also have great educational value. They will be available for Extension personnel conducting demonstrations for New Mexico pecan growers and they will provide hands-on experiences for NMSU students.
Subscribe to receive top agriculture news
Be informed daily with these free e-newsletters
You May Also Like
---