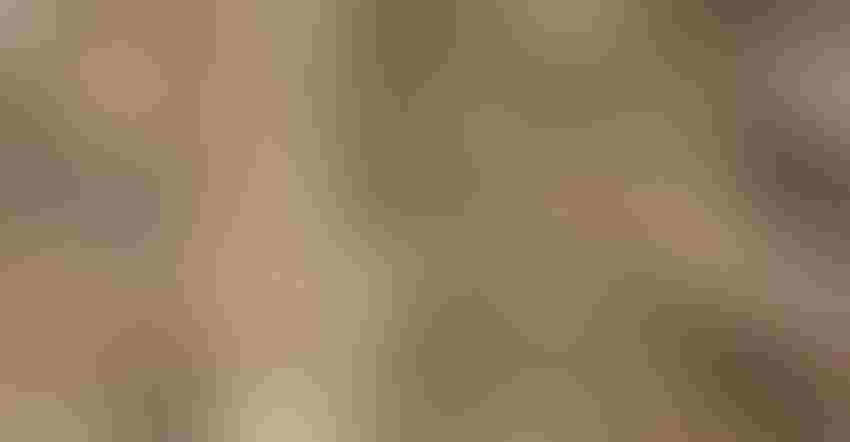 JUST ONE SPOT: If this was your whole field, it might have been difficult to leave this stand on May 31. However, this was the worst spot in the field, representing perhaps a couple of acres out of more than 50.
Tom J. Bechman
Did you find yourself making difficult calls on whether to replant soybeans this year? Seed company reps and crop insurance adjustors report that it was a normal year overall for replanting. However, it's likely several of you stewed over what to do before deciding not to replant certain fields. Cool soils and ill-timed rains made for irregular emergence, especially on lighter organic matter soils, which can crust.
The operator of the Soybean Watch '21 field understands those emotions. He no-tilled soybeans into cornstalks May 15. Rain fell within 48 hours. Soybeans in some parts of the field struggled to emerge. The field includes those lighter-colored, lower organic matter, somewhat poorly drained soils that tend to crust. The field isn't well-tiled.
Related: Soybean stand 'good enough' is a relief  
Inspection 10 days after planting showed 70,000 to 120,000 plants per acre, with the majority falling around 80,000 to 96,000 plants. The grower felt the stand was too good to tear up.
That didn't make it any easier six days later, after another rain, when the farmer found some spots on that lighter, slightly higher topography ground that didn't even reach 70,000. Some counts were in the 50,000 to 60,000 range. There was no insect feeding; he just hadn't found those spots before.
While it was frustrating to see just four to six plants within a 30-inch hula hoop in those areas, the rational side of the farmer's brain calculated that he was only talking about a few acres. On the same day, he found some areas with 140,000 plants, with the overall average after two dozen tosses of the hula hoop being 90,000 to 100,000 plants.
Given it was already May 31 and still too wet to replant, with rain forecast within 48 hours, he again decided that replanting didn't make economic sense. He has farmed long enough to know that the replanted stand might not be any better.
Tough calls
"When you are in that type of situation, you must rely on rational judgment," says Steve Gauck, a regional agronomy manager for Beck's, sponsor of Soybean Watch '21. "We can document — using Purdue University charts or Beck's Practical Farm Research data — that if you've got 80,000 plants and it's May 31, experience says keep the stand. But that doesn't make it any easier if you're standing in the 40,000 spot."
Will those low-population spots still contribute to yield? History and low-population studies say they will. Perhaps they won't reach maximum yield potential, but they will yield better than they look.
"It's all about branching," Gauck says. "If weeds are controlled and thin soybeans branch like they normally do, yield may not fall off as much as you think."
The grower's observations may lead to a long-term change for this field, however. He also saw less-than-perfect stands two years ago, although that was the super-late 2019 season, with heavy rains after planting.
He has backed off seeding rates to 140,000 seeds per acre, and for the most part, has been successful. This was his only "close call" this year. Knowing the soils in this field and its history, and since he can't control the weather after planting, he may bump the seeding rate to 160,000 the next time it is in soybeans.
Subscribe to receive top agriculture news
Be informed daily with these free e-newsletters
You May Also Like
---