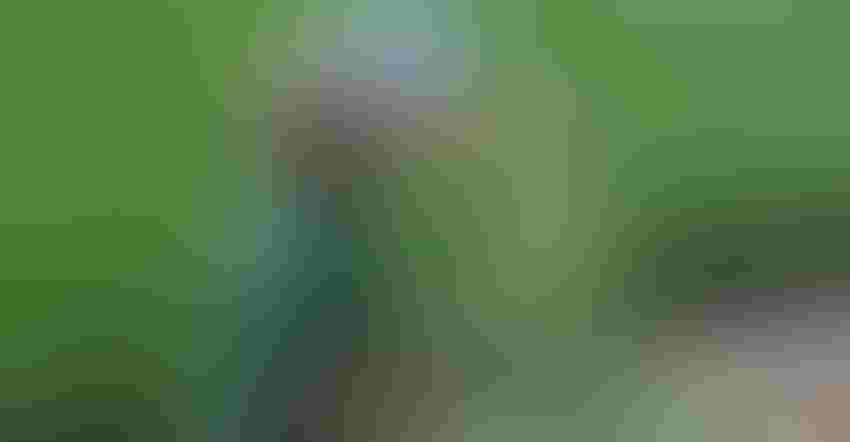 GIVE THEM ROOM: Soybeans planted at 50,000 or 75,000 seeds per acre branch and spread out, even in 30-inch rows, says Jason Webster with Precision Planting.
Tom J. Bechman
Could you increase yields if you could singulate soybean seed more precisely, like what high-tech planters accomplish in corn? Do you truly need seeding rates well above 100,000 seeds per acre to reach high yields and maximum economic returns?
Jason Webster set out to answer both questions through a trial that put both concepts to the test. Webster manages the Precision Technology Institute research farm near Pontiac, Ill., for Precision Planting. He and his crew conduct many trials with both corn and soybeans each year.
Singulate soybeans?
"Some people wonder if we could bump up soybean yields by doing a better job of spacing them out within the row," Webster says. "We obtained a 56-cell planting plate for soybeans and compared it to planting with our standard 80-cell soybean plate. This trial was in 30-inch rows. We decided to compare the 56-cell plate to the 80-cell plate on five different seeding rates, ranging from 50,000 to 150,000 seeds per acre."
The five rates were 50,000; 75,000; 100,000; 125,000 and 150,000 seeds per acre. When yield results were in, Webster noted an average increase of 1.2 bushels per acre for the 56-cell plates, which did a better job of spacing seed more evenly.
With soybeans at $8.68 per bushel, Webster says that would amount to $10.42 more per acre. At $8.25 per bushel, it's roughly still $10 more per acre. While not a huge difference, if it's repeatable and you plant 1,000 acres of soybeans, that's a $10,000 return for investing in a second set of soybean planter plates.
While still under 2 bushels per acre, the increase for better singulation was higher for the three lowest seeding rates.
How much seed?
The bigger opportunity to save money and still deliver top yields could be from lowering seeding rates. At least that's what the results from this study said in 2019.
All yields were in the mid-to-high-70-bushel-per-acre range. When data from the 56- and 80-cell plots were averaged together, there was only a 1.9-bushel-per-acre difference between any of the seeding rates, from highest to lowest yield, Webster says.
The economic optimum was 75,000 seeds per acre. Believe it or not, the second most profitable was the 50,000 rate, which was only $7.83 per acre less profitable than the 75,000 rate. Economic returns for the 100,000; 125,000 and 150,000 rates, compared to 75,000, fell by $10.08, $21.86 and $29.98, respectively.
The factor that allowed soybeans to compensate for lower populations was branching, Webster says. "There was considerably more branching at lower seeding rates," he explains. "We need to learn more about differences in architecture in modern soybean genetics, and which architecture would be best suited to lower seeding rates in various row widths to make this work. However, there appears to be great yield potential at lower rates, which would reduce seed expense."
Webster adds an important observation: "You do have to manage weeds more carefully at lower seeding rates in 30-inch rows," he cautions. "Weeds tend to creep in later in the season."
Subscribe to receive top agriculture news
Be informed daily with these free e-newsletters
You May Also Like
---