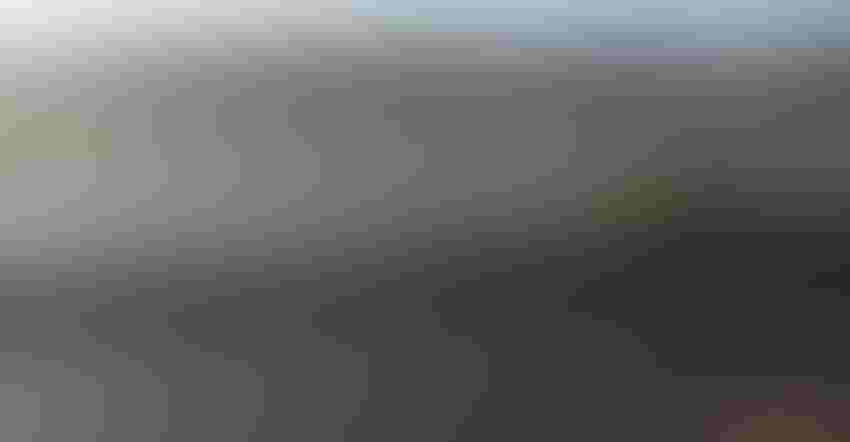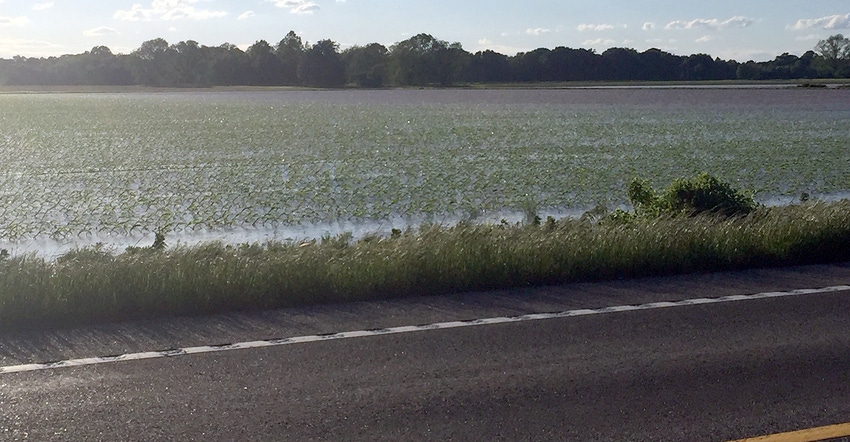 Flooded cornfield near Arkansas 31 in Lonoke County. Taken Sunday, April 30, 2017.
Bob Scott/U of A System Division of Agriculture
Following a weekend of strong storms, Bill Robertson is driving through northeast Arkansas. The Arkansas Extension cotton specialist just left Monette and is "on the edge of Craighead County heading into Mississippi County. There's a lot of wind damage, power poles are snapped off in places. The ditches are full and fields without good drainage are standing water."
Yesterday (April 30), at the White River bridge outside Batesville, "the fields were already flooding. The forecast is for the White River level to get 10 to 15 feet higher. There in Jackson County, a lot of rice fields flood when the White River begins rising. 
"One northeast Arkansas consultant told me he had 1,000 acres get hailed out. There are guys worried they'll lose a lot more acreage."
Tennessee
On the Tennessee side of the Mississippi River, "we didn't get as much rainfall as we were initially expecting," says Tyson Raper, UT cotton specialist. "However, there were some substantial rainfall amounts from Lake County south through Haywood and Crockett counties – the heart of the state's cotton country. Flash flooding was a big issue, and continues to be, in some parts of northwest Tennessee and cotton in the bottoms will have been hurt."
Raper says it's doubtful any cotton acres will be planted in the next few days. "There are cool temperatures in the forecast along with more rain. Farther south, from Jackson into north Mississippi, there was less rainfall. Even so, I doubt may farmers will cut loose with such a forecast."
He also doubts the latest rains and cool temperatures will drastically impact planting intentions. "I still think we'll be close to 350,000 acres of cotton planted in the state – there's probably less than half a percent of that in already in the ground. We have tremendous planting capacity and there's plenty of time in our ideal cotton-planting window. Cotton planted May 15 in good conditions can catch earlier-planted cotton in less than ideal conditions."
Mississippi
Before the latest storms, forecasters "were saying we could get up to 4 inches of rain," says Darrin Dodds, Mississippi Extension cotton specialist. "That didn't really happen statewide. On campus, I got half-an-inch. Guys south of Tupelo got a tenth. I came through the Delta yesterday and it wasn't raining terribly hard.   
"Other than the folks north of 82 in the Delta, I'm not sure we got all the rain that Arkansas, the Bootheel and parts of Tennessee received. Now, the forecast is for more rain later this week, but hopefully we can dodge the bulk of any problems."
Dodds has been watching major temperature fluctuations. "A week ago, I was in Tupelo watching my son play baseball. It was so cold and drizzling, I was under a couple of blankets. Then, within five days, it was 90 degrees.
"We need this rain to clear out so we can get planters rolling. I don't think our cotton farmers are considering other crops yet. We can cover so much ground with planters now if we have 10 to 14 days of good weather we'd drop every cottonseed.
"Also, when you consider the last four or five years, a large portion of cotton crop has been planted from May 7 or 10 onward. Right now, we might have 25 percent of our cotton planted. In 2014, we made a record crop and 50 to 60 percent of our cotton went in the ground May 15 through June 6. So, the last few springs, have gotten us accustomed to not planting so early."
Back in Arkansas
The latest NASS report had Arkansas' planted cotton acreage at 7 percent. Robertson was looking for a number closer to 15 percent.
"Over the weekend, I visited with a number of northeast Arkansas consultants about what they're seeing. Some haven't planted a single cotton seed, some are at 35 percent planted. Some farmers in south Arkansas have planted all their cotton ground already."
Like Dodds, Robertson is keeping an eye on the temperature gauge. "Right now, in my pickup, it's 52 degrees. Cotton doesn't grow much if it gets below 60. And then, when the temperature goes above 60 it takes a while for it to get in gear and going again. We need average temperatures – 70 or higher, or 10 heat units daily – to get the feet under this cotton. Cotton's legs are shaky, right now." 
Robertson also points out causal agents for seedling diseases love the current conditions. "Hopefully, these conditions won't get on top of us and the cotton can overcome."
A few weeks ago, Robertson was worried what a tight seed supply would mean if there were any problems with early planting. Those concerns haven't abated. "Our varieties of choice are sold out. There are still good varieties out there but your first and second picks are going to be hard to find for replants."
Farther south, in east Arkansas' Phillips County, "we got anywhere from an inch to 2.25-inch of rain, says Robert Goodson, county Extension agent. "There may be some bottoms backed up but not much else. Of course, that's not good for those with bottomlands but the area could be in much worse shape."
The bigger worry is what will happen when the White and Mississippi rise. On Monday (May 1), at the Helena bridge the water level is 31 feet. By May 11, the level is expected to reach 43 feet.
That would be a rise of 12 feet in 10 days and, says Goodson, "only a foot under flood stage. I'm worried that everything planted inside the levee will be lost."  
Subscribe to receive top agriculture news
Be informed daily with these free e-newsletters
You May Also Like
---