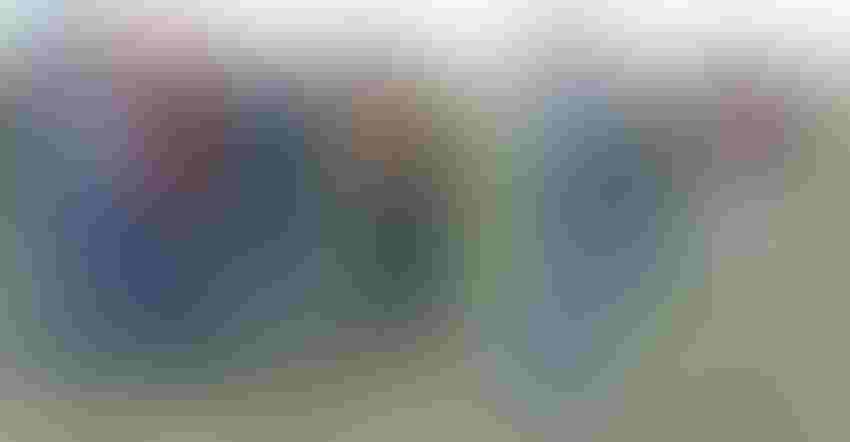 LESS FEED COST: Grazing his cattle on cover crops, Mark Schleisman (with shovel) doesn't have to feed as much hay. "When you work through the calculations, you see how quickly cover crops can save money by putting them through a cow," he says.
By Meghan Filbert
It can be hard to justify the costs of cover crops when the benefits aren't always evident in the first few years of using them. However, when those cover crops are put through a cow, value is instantly added and can often exceed the cost of establishment.
Grazing cattle, or any ruminant animal, on cover crops makes sense. Cover crops extend the fall and spring grazing season. In the fall, they provide forage when pastures have stopped growing and when you'd otherwise be feeding hay or silage. In spring, they provide a clean calving pasture and relief to perennial pastures, allowing them to grow a little longer before turning cows out.
While grazing covers, manure is deposited where it's needed. Most significantly, grazing cover crops saves cattle farmers money.
On-farm research
An ongoing study with Practical Farmers of Iowa has been documenting the economic benefits of using cover crops as forage. "We started planting cereal rye because it was easy to calve in those fields. Now, most all of our covers are grazed as a way to justify the costs," says Mark Schleisman of Lake City.
For the last 10 years, he has planted a variety of cover crops on 1,000 acres, including cereal rye, triticale, jackhammer radish, purple top turnip and dwarf essex rape.
Schleisman's best-producing cover crop field yielded 3.8 tons of dry matter per acre in fall 2016. He seeded triticale at 100 pounds per acre, radish at 1 pound per acre and rapeseed at 3 pounds per acre on Aug. 15, 2016, into 150 acres of standing popcorn.
Through sampling and drying down the biomass produced by this cover crop mix, PFI determined the mix produced 3.8 tons of dry matter per acre. This directly translates to saving money in winter feed costs.
More dry matter
Schleisman grazed 89 cows on cover crops for 67 days, from Nov. 15 to Jan. 21. If cows eat 2.5% of their body weight in dry matter each day, those 89 cows need 103 tons of dry matter over that 67-day period. In total, the cover crop produced 570 tons of dry matter, far exceeding what the cows needed.
Schleisman supplements cows with other feed sources when they're grazing stalks, but with the cover crop mix, he didn't need to. "With the high protein of the brassicas, I felt the cows were covered. They only received salt and mineral," he says.
If Schleisman was feeding hay over those 67 days, it would have cost him $8,229 (hay at 85% dry matter and $80 per ton) to provide the same amount of dry matter as cover crops did.
When you subtract the $41-per-acre cost for cover crop seed and application, you arrive at a total savings of $2,079 in winter feed costs. In other words, the value of the cover crop when used as forage amounted to $13.86 per acre. Keep in mind this value doesn't account for the values that grazing and cover crops add to the soil.
Challenges to consider
It's crucial to consider the obstacles a farmer will face when incorporating cover crops into a grazing plan. Fencing, water access, liabilities and contracts between row croppers and cattle owners should be planned out before livestock are given access to cover crop fields.
Also, remember to read the labels on corn and soybean herbicides, as some do not allow for grazing a subsequent cover crop.
When you start putting numbers on the forage produced by cover crops, it's easier to determine if grazing makes sense for your operation.
PFI will continue this on-farm research into the coming cover crop season. For Schleisman, this research has helped him realize that grazing cover crops definitely makes sense.
Filbert is the livestock coordinator for PFI.
Subscribe to receive top agriculture news
Be informed daily with these free e-newsletters
You May Also Like
---