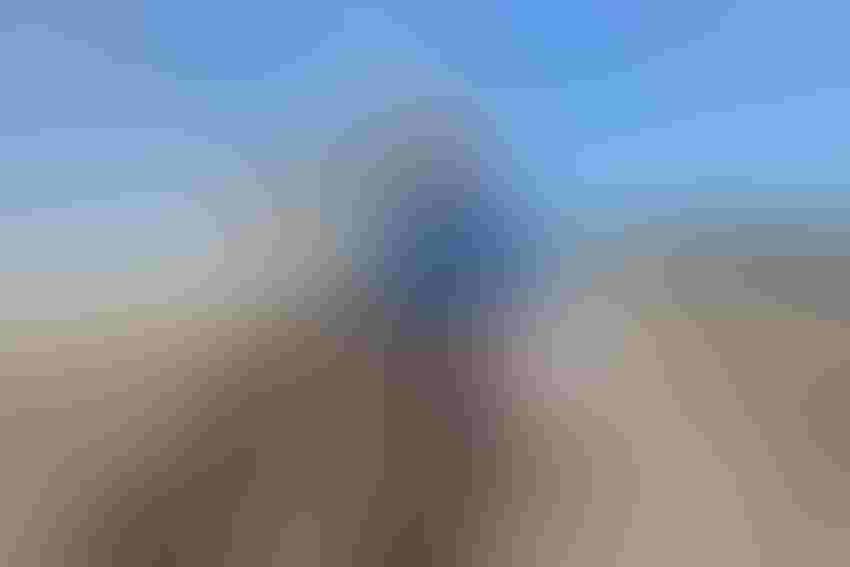 Stork Parrish shows off peanuts that are ready to harvest.
In many ways, the 2017 peanut harvest couldn't have gone better for the Parrish brothers of Chowan County, N.C. After a challenging and disappointing peanut harvest last year due in large part to Hurricane Matthew, the brothers needed a good harvest.
When all is said and done, the Parrish brothers are hoping to make yields of at least 5,000 pounds per acre with some fields topping 5,800 pounds. The cotton and soybean crops look excellent as well. And their clary sage is also progressing nicely.
Carroll "Stork" Parrish, one of four of the brothers, farms land within a 10-mile radius of Edenton, and he credits timely rains, plenty of heat units and helpful weather throughout the season for what may well be a record harvest for the family.
"This might be the best peanut crop we ever had," Parrish said, visiting with Southeast Farm Press in his pick-up truck as he hauled peanuts from the field to on-farm storage on a busy harvest afternoon Oct. 5. That day harvest was in full swing with Stork handling the hauling and brothers Jerry, Frankie and Mike and Jerry's son Wayne running the peanut harvesters.
"Peanuts need 2,500 heat units. I expect we are right on the money with our heat units. We had the rain; we had the heat. They didn't get under stress hardly at all. This is going to be one of the best years we've had in a while," Parrish said.
Three-quarters of their peanut crop is Bailey, and the rest is evenly split between Sullivan and Wynne varieties. Parrish credits good varieties as an important part of their good yields. They sell their peanuts to Birdsong through C.A. Perry and Sons in Edenton.
Parrish emphasizes that his family farms good land, which certainly helps yields. "We've been blessed with some really good land. We can raise just about anything," he said.
The family farms a total of 2,000 acres. This year, they are raising 600 acres of cotton, 700 acres of soybeans, 450 acres of wheat, 400 acres of peanuts and 300 acres of sage. They plant wheat behind their peanuts and harvest the peanut hay as well.
"Another farmer comes behind the peanut harvest and bales the hay. He gets free hay for this and we keep about half the peanut hay to feed our cows. Once we get the hay removed, we plant wheat. We like to get the hay off the field. It's a lot cleaner for planting wheat," Parrish said.
Sage is moneymaker
Peanuts, cotton, wheat and soybeans have all worked well for the family. Because of low prices, the Parrish brothers have stayed away from corn for the past few years. But Parrish says clary sage has been the money crop for the family.
The family has grown sage since the 1980s, one of the first to produce the crop in Chowan County. They grow sage for nearby Avoca Inc. in Bertie County that uses the sage to produce sclareolide used for perfumes, laundry detergents, dish soaps, fabric softeners and other products.
Northeastern North Carolina is the only place in the U.S. that produces sage and Parrish notes that the Avoca extraction in nearby Merry Hill is the only one of its kind in the country and probably the world. The Parrishes produce sage under contract for Avoca.
They started small when Avoca approached them to grow sage more than 30 years ago. Parrish notes that first year the family planted just 50 acres of sage on their marginal land to see how it would do.
"Avoca came to us and guaranteed that we wouldn't lose money. In farming that's not bad," Parrish says. "We made a good crop that first year, but Avoca told us we need to put sage on our best land. The next year we planted 75 acres on our best land; the next year 100 acres; then 200 acres; then 300 acres; then 400 acres; and then 500 acres."
The family has cut back to 300 acres of sage this year because Avoca has reduced its sclareolide production. Sage requires intensive management but the better returns make it all worthwhile.
Sage is planted from August to around Labor Day and is harvested in June. It produces beautiful white, lavender and pink flowers, which is a unique among the traditional crops in the area. Irrigation is a must and weed management is vital for producing a good crop.
"It's really hard to get a good stand with sage because the seed size is so small, about the size of a head of a pin," Parrish says. "You only plant four pounds per acre, that's just a double handful of seed per acre. We use an air planter and only plant the seed one-quarter of an inch deep."
While irrigation is a must for producing sage, Parrish says it is vital for other crops as well. "It's like an insurance policy for us. It's there for us when we need it. This year we didn't need it. Mother Nature really cooperated with timely rains," he says.
A democratic process
A big part of the family's success through the year has been a cooperative working relationship among the four brothers. Brother Jerry and his son Wayne handle the spraying while Stork and Wayne do most of the cotton picking.  Brothers Mike and Frankie also do much of the planting and harvest as do Stork and Jerry. Frankie is in charge of grains for the family and they all work together on sage.
"The biggest challenge we have is pricing. When do you price your crop? If three of us agree, that's when we will sell. It's a democratic process," Stork says.  "We don't sell all at one time. We forward contract to lock in the best price or we put our crop into storage," Stork explains.
Stork also notes that as a team of four farmers rather just one farmer alone, the brothers tend to negotiate better deals when purchasing supplies and equipment. In addition, they pre-pay for nitrogen, fertilizer and lime for the next year in order to get the best deals.
As of now, Jerry's son Wayne is the only next generation family member involved in the farm. Wayne's 15-year-old son Landon helps and has expressed a real interest in joining the farm. "I never pushed the kids to go into farming. I wanted them to find their own paths," Stork says.
Stork's youngest son Dan works as a customer logistics manage for Infineon Technologies in Raleigh. Sadly, Dan's twin brother George lost his life in a car accident in 2007.  Stork's oldest son Richard is a project manager for Shepard & Associates, an architecture firm in Columbia, S.C. His daughter Rebecca works as a research assistant with the National Institute of Health in Washington, D.C.
"We are thinking about the future," Stork says. "I just turned 60, my youngest brother turned 59. My oldest brother is 65 and the next two are 63 and 62. We are all getting to the age where at some point we have to start thinking about retirement."
The oldest Parrish brother, J.M. Parrish, farms on his own with his son Jim. Their operation is J.M. Parrish and Son. "At the time, he was the only brother who had a son who wanted to go into farming so it worked well for him. J.M. took his part and separated from us. He farms the furthest away, 16 miles north of Edenton."
Stork's dad Jimmie Parrish at age 89 has retired from farming, but he still offers advice and guidance to his five sons who are all farming . Stork's wife Anne is a relationship banker with BB&T in Edenton.
When asked what is the key to the family's success Stork stressed the importance of not spending it all in the good years. Through it all, faith in God is important. In fact, Stork emphasizes that this is their greatest key to success.
"I don't care how good you are, you better still say your prayers at night. I doubt there is a single farmer out there who doesn't believe in God because he controls everything," Stork says.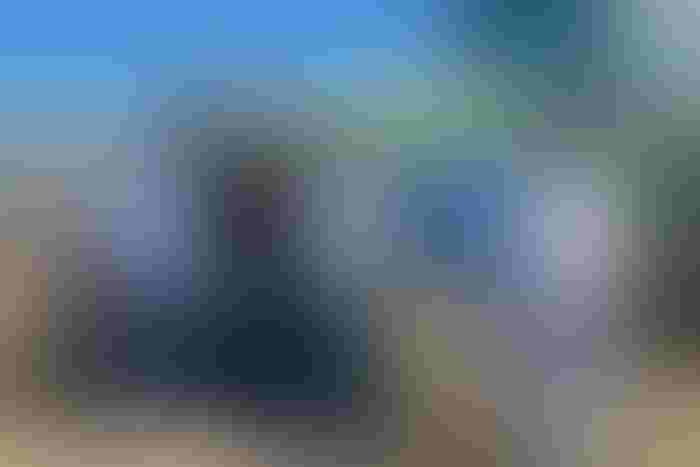 Taking a break from peanut harvest are from left, helper Randy McDonald, helper Allen Swanner, a retired Edenton fire fighter, and brothers Jerry Parrish, Wayne Parrish, Frankie Parrish, Carroll "Stork" Parrish and Mike Parrish.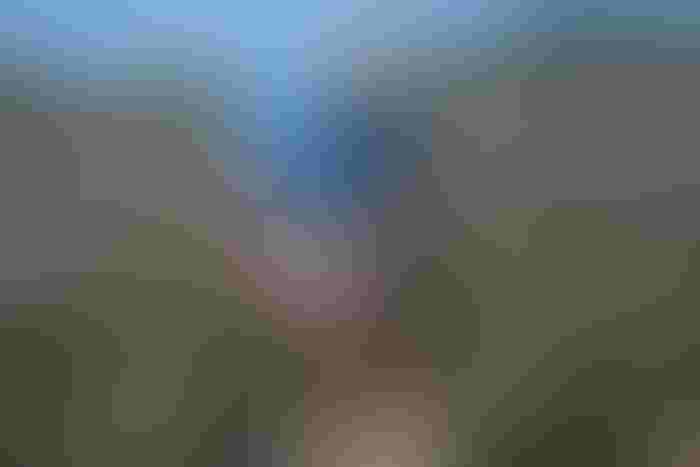 Stork Parrish checks the status of the family's cotton crop.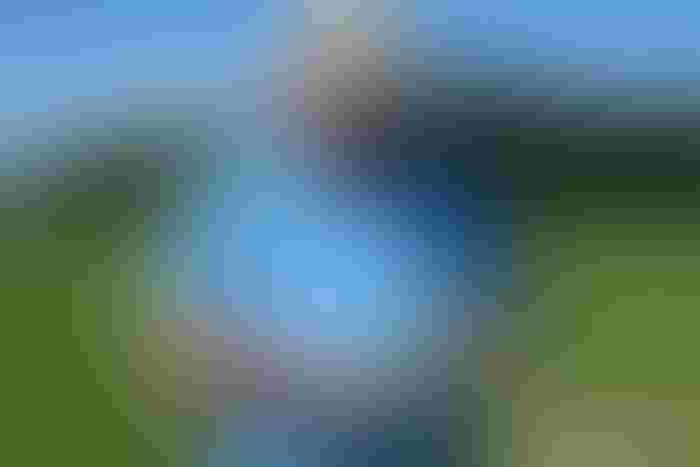 Stork Parrish inspects the leaf of a sage plant that will be ready to harvest in June.
Subscribe to receive top agriculture news
Be informed daily with these free e-newsletters
You May Also Like
---