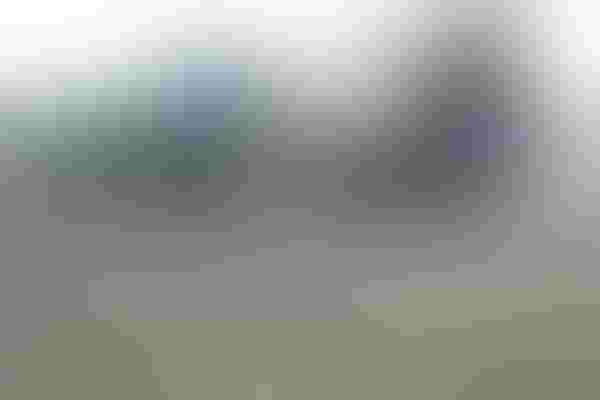 The relative attractiveness of other crops may slow the trend toward new growers adopting peanuts.
But two growers in the Carolinas who have begun growing peanuts in recent years say it has proven to be a good choice for them.
Tommy Chaplin of Hartsville, S.C., a longtime tobacco grower, got out of flue-cured last year and replaced it with 200 acres of peanuts.
When you ask him now if he made the right choice, he says, "Heavens yes! Peanuts are so much easier to deal with."
And they don't require the 13-month-a-year commitment that tobacco does. "I really saw that in 2010," said Chaplin. "It was the first year I have ever taken a vacation."
Chaplin's farm is a family farm operated by him, his brother David and Tommy's two sons Thomas and James Daniel.
The land seems well suited to peanuts, and his average yield of 3,850 pounds per acre was right on his target.
He learned one lesson on choosing land for peanuts, he says. Don't plant peanuts where there is a lot of clay.
"I was told to put peanuts on good cotton or tobacco land, and I did," Chaplin said. "But some of it had too much clay. It was a challenge to harvest on it. But we made it work."
Last year and this year, his only variety is the Virginia peanut NCV 11.
The results were good, and he plans on growing 200 acres again this season.
Another relatively new North Carolina peanut grower is Kent Revels of Fuquay-Varina, N.C. He is still learning about peanut production as he prepares to plant his fifth peanut crop.
One thing he has found out is that he may not have to limit his production to the Virginia-type. He experimented with a new type in 2010 and got good results.
"I grew some runners last year for the first time, and they did very well," he said. "In fact, they may have done better than my Virginias. I will plant some more this year and maybe more in the future. I was well satisfied with my runners."
He is going to increase his peanut acreage from 200 to 225 this season, and all the increase will be runners.
The runner variety he plants is FL07. "It was the only runner variety my company wanted," he said. "It has a long shelf life."
His Virginia varieties are Champs, NCV 11, Perry and Phillips.
Runs four-year rotation
He runs a four-year peanut rotation of cotton, tobacco and soybeans.
Revels' farm, which is a few miles south of Raleigh, is about as far west as anyone grows peanuts in North Carolina. It is close to the fall line, and some of the soil is red clay. Revels tries to put his peanuts on loamy sand that has a little structure.
David Jordan, North Carolina Extension peanut specialist, said the state won't have higher plantings this year because peanuts are getting so much competition from other crops. "Acreage will be about the same or maybe down a little," he said. "We should start planting around the second week of May."
 The phaseout of Temik and increased regulations on the use of Vapam were both weighing heavily on the minds of many North Carolina growers as planting approached, he said.
"There is some Temik left now, maybe enough for this season," he said. "But sometime in the foreseeable future, we will have to learn to grow peanuts without it. We will be more vulnerable to thrips damage and maybe some more to nematodes as well, since Temik does a good job of suppressing nematodes."
Farmers may use Thimet and Orthene instead. "Thimet and Orthene do a good job of controlling thrips, though not as good as Temik," said Jordan.
Will growers abandon the use of Vapam? It has not been banned, but more extensive federal regulations make the fumigant less appealing than in the past.
More stringent respiratory protection measures will be required, as well as the development of a fumigant management plan and the annual communication of mandatory safety information to workers.
"It may seem difficult for some growers to justify going to the expense of doing all this," he said. "Managing CBR and nematodes is going to be more difficult, and I expect to see less fumigation used."
North Carolina peanut farmers have better rotations than they had a few years ago, so the loss of Vapam may not be as damaging as it might appear, he said.
The fungicides Proline and Provost (the active ingredient in both is prothioconazole) provide some control of CBR when applied in-furrow (Proline) or as part of a leafspot control program (Provost).
Fungicides perform best when used in combination with a CBR-resistant cultivar and will not correct a CBR problem once symptoms appear.
Subscribe to receive top agriculture news
Be informed daily with these free e-newsletters
You May Also Like
---