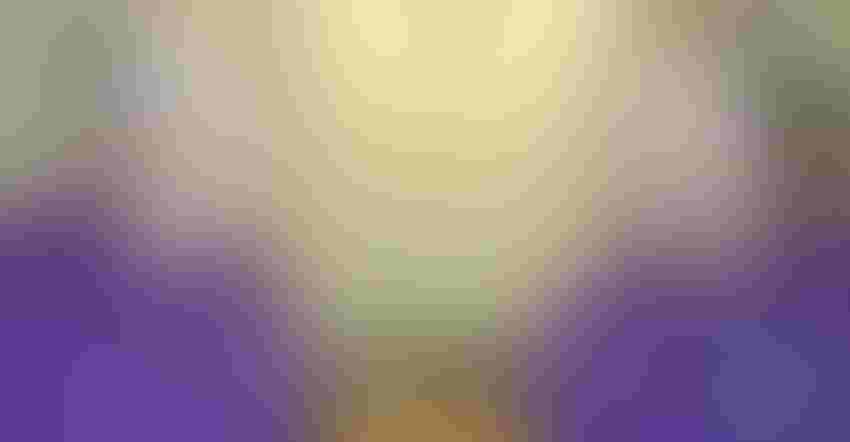 Malcolm Broome, left, executive director, Mississippi Peanut Growers Association, and Don Koehler, executive director, Georgia Peanut Commission, chat during the recent Southern Peanut Growers Conference at the Sandestin Resort, Miramar Beach, Fla.
Mississippi's planted peanut acreage dropped a bit this year, at least partly because cottonseed was put back into the farm bill as a covered crop.
Still, compared to just a few years back, peanuts have become an important option for Mississippi farmers.
"We planted from 30,000 to 35,000 acres this year," says Malcolm Broome, executive director, Mississippi Peanut Growers Association, Hattiesburg. "But nine years ago, we were planting only 11,000 to 12,000 acres."
He says acreage began to move up in 2011 and 2012 following a devastating drought in Texas that limited production. "Our high year was 2013," Broome says. "We planted 48,000 acres that year. We had 44,000 in 2017. We lost some this year when cotton was added back to the farm bill."
Farmers remain interested in peanuts, he adds, because it's proven to be a profitable crop. State average yields have topped two tons for several years. "Our better growers are making more than three tons. That's good peanuts."
Life-Saver
For many producers, peanuts have been a life-saver. "For some of our farmers, if it had not been for peanuts the last few years, they would not have made any money. For the Delta, peanuts are making more money per acre than other crops."
Broome says peanut acreage extends across the state, "but most, about half, the acreage, is in the Delta. We have four peanut regions — the Delta, Southeast, Northeast, and Southwest." Those are listed in order of most acreage to least. He says south Mississippi has the longest track record with peanuts. "Some farmers down here have been growing peanuts since 1998. Some had quota."
Broome says a current concern is lack of a peanut agronomist. "Mississippi State is currently interviewing candidates." He says it will be a challenging position covering the entire state. "We have a lot of different soil types."
Broome says Mississippi peanut farmers have been innovative. "We furrow-irrigate peanuts up in the Delta. Some thought it wouldn't work, but so far, we're seeing no difference in yield."
He says production practices vary across the four regions. Gypsum, he says, "pays off in south Mississippi. We see less used in the north and the Delta regions. They seem to get by without it and are Ok with pH levels."
Plant growth regulator applications also helps production, he says. "Mississippi peanuts have tremendous vine growth, so a PGR application helps reduce that vegetative growth." He says some varieties show a darker green with an application of Apogee. "We have seen a 300-pound per acre average yield increase with Apogee. Some farmers have made as many as 800 pounds more. This could become a standard procedure."
Needing a Rain
Broome says peanuts across the state still look pretty good but have begun to suffer from the heat in recent weeks. "A 1-inch rain would do us a lot of good," he says, "but it looks like it will be the weekend before we have a chance.
"The last two weeks, peanuts on soils that are a little thin have begun to show some heat stress and wilt. Farmers with irrigation have begun to run their systems. Some who haven't had to irrigate for several years are having to get equipment back in shape," he adds.
He says the dry spell could be a test for the PGR, which is in the second year of trials. "But it looks like we can cut the rate and get the same results. That would help; it's an expensive product but it pays for itself."
Subscribe to receive top agriculture news
Be informed daily with these free e-newsletters
You May Also Like
---