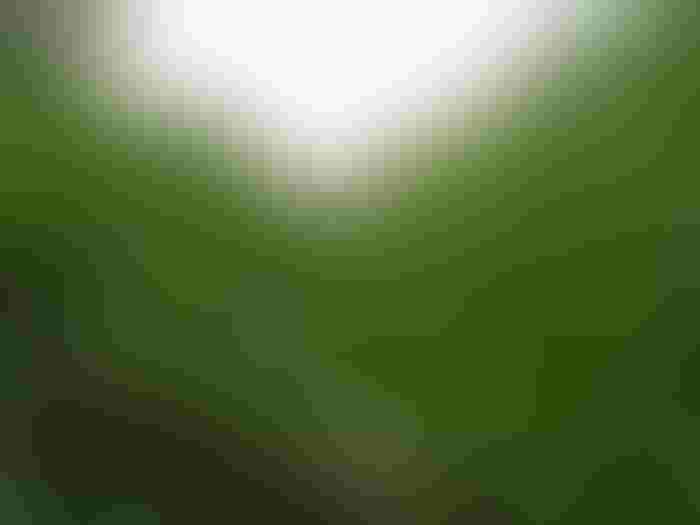 Seed and disease and nematode control alone can take up to 50 percent of a total peanut budget. Because of this, Auburn University continues to focus research efforts on these major cost items to growers.
"We ran an irrigated seeding rate study at Headland, Ala., for three years. There was a drop-off in yield at two seed per foot of row, but at three, four and six, it didn't matter – we got the same yields in an irrigated setting. Remember that it rained all summer in 2013, so there wasn't a lot of white mold and leaf spot pressure in the reduced stand," said Austin Hagan, Auburn University Extension plant pathologist.
At three, four, six and eight seed per foot, there was no impact on leafspot, he says. "There was some reduction in white mold and TSWV, but only with high seeding rates. There was no difference in yields across seeding rates. We got the same results at Fairhope near the Gulf Coast. Of course, don't ever plant three or four seed per foot of row, but it does show there's a little bit of wiggle room in seeding rates, particularly if you plant in May. It would not be a good idea to go with a reduced seeding rate on April 15."
The Georgia-07 variety, says Hagan, had the lowest amount of disease and the highest yield. Georgia-06G was right behind it and Georiga-09B was a close third.
"The only problem with Georgia-09B is that in the right situations, you'll have problems with leafspot and white mold."
Another part of the test included looking at fungicide inputs, says Hagan.
"You don't have to throw the kitchen sink at everything all of the time. The test was conducted with seven applications of chlorothalonil, at around $40 per acre with a generic program. A Cadillac program, with Abound and Convoy, at about $130 to $140 per acre treatment program also was included. In the absence of white mold, basically there was no difference in yield between these two programs. Last year, we had a fair amount of white mold, and the Cadillac program out-yielded the chlorothalonil program by 700 pounds per acre, so it's year-specific and site-specific for some of the returns we receive."
Subscribe to receive top agriculture news
Be informed daily with these free e-newsletters
You May Also Like
---