Oklahoma peanut grower enthusiastic about family, friends and peanuts
Oklahoma peanut grower enthusiastic about family, friends and peanuts
Anthony Reed and his family have been growing peanuts since the 1940s.Chester Reed began raising peanuts for the government.Farmer says, "We don't have any future stability with the markets."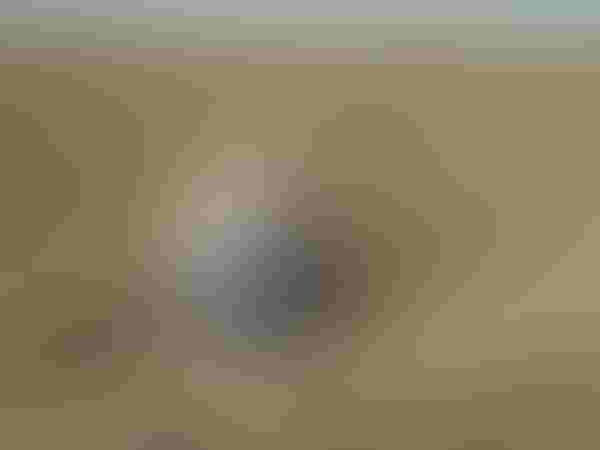 <p> PEANUT FARMER Anthony Reed is particularly proud of his 2012 peanut crop which rivals the 2011 grade and yield numbers.</p>
On a strip of land in south central Oklahoma just miles from Thackerville and the Texas state line, farmer Anthony Reed and his family have been growing peanuts since the 1940s. Anthony's father, Chester Reed, began raising peanuts for the government, establishing a family tradition that remains strongly in place today.
"Dad started raising peanuts for peanut oil.  During the war, the government discovered diesel engines were more efficient when they used peanut oil in them. Back then, the government was contracting with growers just for the oil," says Reed.  In those early days, Chester Reed also raised watermelons.
The Reeds' acreage, which is divided into smaller fields, is ideally suited for raising peanuts.  "They are traditionally geared towards small acreages and individual farms.  Here in central Oklahoma, it was always a crop that the smaller individual farm could do."
In a field where the family just finished baling peanut hay, the soil feels more like a beach.  Reed characterizes the incredibly sandy ground as marginal.  "We can raise about 120 bushels per acre of corn on irrigated ground," says Reed.
With more than 700 owned acres and additional leased ground, Reed's operation is considered a medium-sized farm in this area.  Originally farming with his brothers twenty years ago, the operation changed due to tragedy when one brother was killed in a farming accident.  From that point, Reed's remaining brother left farming, leaving Reed on his own.
Reed grows proven varieties like the Red River Runners on irrigated ground.  "The Spanish and Virginia just won't produce. The Red River is my top yielding variety," he says.  He's grown OL07, 09Bs, 06, 01 and 02.  He has the best results from the FloRun107, planted on approximately 35 acres.  Reed employs a 1 and 4 rotation on his fields, which he believes adds to the quality.  This year, his grades are running in the mid-70s and he hopes to see 5,000 pounds per acre this season. 
"In 2011, the Red River Runners averaged about 4,000 pounds per acre."  Like many other growers, Reed experienced little disease or pests because of the drought.  "In the years where we control the moisture, there is just less disease."
Reed plants rye in October behind the peanuts.  "It has a very good root system and provides a lot of forage.  It also holds the land from wind erosion."
Labor management
Perhaps the most unique feature of Reed's operation is his labor arrangement.  He hires no help, relying instead on his neighbors and family.  "The small acreage farmers in central Oklahoma and Texas rely on each other, sharing equipment and help.  This is one of the things that does make us unique.  We can help each other on the spur of the moment."  For instance, when frost threatened his peanuts in early November, he made some calls.  "My best friend came and we had people out here all day.  When he's ready to work his cattle in the spring, I'll go help him."
Reed talks with pride about his farm, family and community.  "I've always loved the peanut business.  It's a very specific, specialty crop."  On the downside, Reed has watched as the industry changed.  "A lot of infrastructure has been lost, resulting in fewer growers." 
Reed, like other farmers, voices concern over the future.  "I'm concerned that we don't have any future stability with the markets.  I was raised under the old programs in which the government sets the support price for manufacturers."
In addition to row crops, the Reeds also run a cow/calf operation with approximately 150 head of Maine Anjou.  He laughs when thinking about his parents' views on cattle.  "Mom loved them; Dad hated them!"
Although Reed and his wife Karen talk about retiring one day, he says he'll always have a few cows and will grow peanuts.  "I don't know if I'll ever retire.  There's nothing I love more than sitting on a tractor and watching the ground turn over."  With five children and nine grandchildren, there's never a lack of motion.  "They all love to come out to the peanut field."
Humble, Reed deflects any attention from his own accomplishments.  "He won't tell you, but he really is the one who makes it all work.  He has vision," says his wife Karen. 
In the past, Reed has been a member of the Oklahoma Peanut Commission and served on the board of the Southwestern Peanut Growers Association.  He has also earned the distinction of having the highest grade in his county. 
When asked about advice to aspiring farmers, he hesitates.  "I'd tell them to get a good education first.  Then if you still choose ag and it fits, try it.  It's just difficult to get into agriculture today unless your family has been in it." 
It is those relationships of which he is most proud.  "To be able to have the community and friendships...I really appreciate the community of farmers across this state and the life it provides me."
Subscribe to receive top agriculture news
Be informed daily with these free e-newsletters
You May Also Like
---