Cooperation a key to success for Davis family
Cooperation a key to success for Davis family
Their achievement in producing peanuts and their commitment to efficiency in each step of the operation has earned Davis & Sons, Inc., the 2017 Peanut Efficiency Award winner for the Upper Southeast. The family farms near Courtland in Virginia's Southampton County.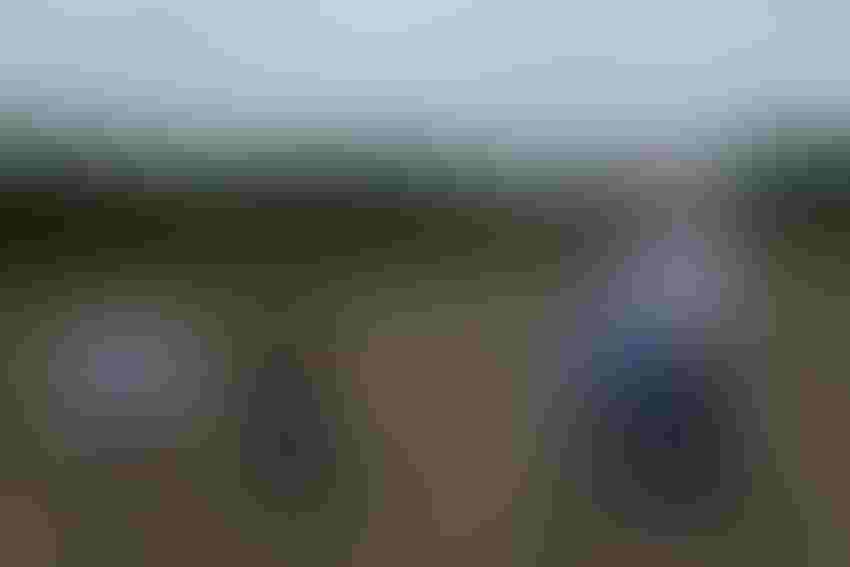 Davis and Sons, Inc. of Courtland, Va. is the 2017 Peanut Efficiency Award winner for the Uppe Southeast. From left, Jeff Davis, Sonny Davis, Deborah and Ray Davis.
Ever since the 1950s, the Davis family has successfully grown peanuts in Virginia's Southampton County — in fact, Raymond Davis, Sr., planted his first peanut crop while in high school, and has created a strong legacy for his sons, Ray, Jr., and Jeff, to follow.
Today, Ray and Jeff run the farm their father established in 1955.  Dad is still involved, providing input and guidance, and helping where he can.
Davis & Sons, Inc., is a family operation in every way. Jeff's son, Sonny, has been a partner in the operation for three years now, returning to the farm after studying agriculture at Virginia Tech and HVAC at Danville Community College, and working in the HVAC field. Sonny says he's glad to be back on the farm, working closely with his uncle and brother.
As the family took time for a visit with Southeast Farm Press at their farm office near Courtland, it became obvious that Ray, Jeff, and Sonny are true partners in every sense of the word, and that their ability to effectively work together is key to their success.
Their achievement in producing peanuts and their commitment to efficiency in each step of the operation has earned Davis & Sons, Inc., the 2017 Peanut Efficiency Award winner for the Upper Southeast.
When the family sat down for an interview May 24, all of their crops were planted and peanut plants were emerged and looking good. In addition to peanuts, they grow cotton, corn, soybeans, and winter wheat. They farm more than 1,800 acres in a 10-mile radius, and also have some 50/50 peanut operations with neighboring farms.
Cotton is still their top crop, at 1,000 acres. They also have 230 acres of soybeans, 230 acres of corn, 200 acres of wheat, and 20 acres of rye. This year, they have 346 acres of peanuts, all for seed for Birdsong Peanuts and the Virginia Crop Improvement Association. Of that, 200 acres is dedicated to the highly popular variety, Bailey, with 140 acres in the new high oleic variety, Sullivan. They also have 6 acres of Emery, another high oleic variety, to see how it will perform. They have both irrigated and dryland peanuts.
COMMITTED TO PEANUTS
Both Ray and Jeff emphasize that they are committed to peanuts, a crop that is still vital to their part of the country. From 2007 to 2011, they took a break from peanuts due to lower prices and heavy disease pressure. But thanks to the release of Bailey, which offers an excellent disease control package and good yield potential, the family returned to peanuts in 2012.
"We talked with Mark Simmons with Birdsong Peanut Company, who asked us if we were interested in getting back into peanuts," Ray says. "Because of the Bailey variety, we decided to get back into the crop. We kept most of our equipment, which made it possible for us to grow the crop again."
The fact the land was well-rested helped in their decision to return to peanuts, Jeff says. "Bailey came along, and we had a lot of rested-up land at the time, so it was a good call for us to make."
For a number of years, the family has been in the 5,000 Pound Yield Club for the Virginia-Carolinas region, achieving strong yields of 5,000 pounds per acre. Last year, they fell short of the 5,000 mark due to a very dry August and two wet weather events around harvest — Hurricane Matthew and a tropical system.
"A lot of the peanuts shed on us, and we couldn't get them out quick enough," Ray says.
Last year, overall average yield was a disappointing 3.965 pounds. They are hoping for more cooperative weather and better yields this year.
"We had some fields that produced 5,000 to 6,000 pounds last year," Ray says, "and some fields that yielded just 1,200 to 1,500 pounds. The drought in August really hurt us in fields that weren't watered. Irrigated peanuts did well, but the non-irrigated suffered in August, and then the wet weather came and really hurt our yields."
MANAGING AROUND WEATHER
Both Ray and Jeff emphasize that last year's weather struggles show the importance of managing around weather. "You have to get under the window in the right weather," Ray says. "You have to stay on top of weather, and do things within the right time frame, and have the proper equipment to do that."
It all boils down to timeliness, a key to their success, Jeff says. "It's the age old story of doing things on time. Being timely is important:  You have to know what to do, and when to do it. That's what being out here all these years has taught us — we have a feel for when things need doing."
Ray, Jeff, and Sonny all emphasize the importance of constantly learning and trying new things. Sonny says one thing his education at Virginia Tech showed him was that his family was indeed doing things right when it came to efficiently producing top peanut yields. "I learned things pretty fast at Virginia Tech — and I'm still learning every day."
Ray stresses the importance of keeping an open mind. "We have to stay ahead of the curve. Things are really tight in farming right now, and if you don't stay on top of the game, you'll be underneath the game. Input costs have risen so dramatically that you have to try new things to protect the bottom line."
A key to their success is buying high quality used equipment, he says. With a smile, he describes their equipment as "good new-used." "My philosophy is, let somebody else take the first hit. We don't like to buy new equipment. If it's not a good deal, we won't buy. We try to purchase equipment that is used, but not overused." Jeff says they often seek out equipment that was used by much larger farming operations. "These big farmers will run equipment for a season and then trade it, so we get some good deals that way."
TILLAGE METHODS
Strip tillage has worked well for the Davises. Fifty percent of their peanut land is strip-tilled, and each field is evaluated to determine if that will work for peanuts. They strip-till all of their cotton and most of their corn and soybeans. For the other half of their peanuts, they turn to minimum tillage with a stale seedbed.
For every crop they grow, the family plants a cover crop. They use rye for their heavy land and wheat for sandier land.
Finding the right rotation is also vital. "Our rotations vary," Ray says. "We like a four-year rotation, but we have land that is out 10 or more years because it's had cotton and other crops on it. We also have some land that is under just a three-year rotation because of landowners and arrangements we have with them."
In their fungicide program, they like to spray three times per year, and like to tank mix insecticides with fungicides. They mix Proline and Admire Pro and also use inoculants, as well as Velum Total to control nematodes when needed.
"A lot of folks say that's not recommended," Jeff notes, "but for us, it cleans out the potato beetle, which creates the corn rootworm. Tank mixes seem to have cut down on our corn rootworm situation in peanuts.
For weed control, the Davises start with a burndown of Roundup and Prowl H2O. After planting, they turn to an overspray of Roundup and Valor, along with a little Warrant. Later, they make an application of Warrant, continue with an application of Storm, and if needed, another lay-by of Dual.
"Ragweed is a bigger problem than pigweed," Jeff says. "We will pull a pigweed every time we see one. We inherited a lot of land heavily seeded with ragweed, and that's a constant battle for us."
As with most farmers in the area, deer are a real nuisance; Ray says they can be managed, but not controlled. Bears are also becoming more of a problem in their peanuts. In fact, he says. wildlife pressure is one reason why maintaining yields of 5,000 pounds per acre is so important.
"You have to make enough for everybody — and everything," he says. "You need to feed the wildlife, as well as the landowner. It's hard, and need 5,000 pounds to do that. We have to pay all of the creditors, including the wildlife."
Through it all, the Davises credit the good Lord for allowing them to reach the 5,000 pound mark in peanuts.
"Rotation is important, water is important, and good varieties are important," Ray says. "Since high oleic peanuts is what the industry wants, we really need a good high oleic variety that has the disease resistance and yield package of Bailey. Emery and Sullivan are close, but they're not quite as good as Bailey. I'd like to see a high oleic Bailey come along."
If all goes well, they hope this year to once again be members of the 5,000 pound club for Virginia and the Carolinas. "That's what we're aiming for," Ray says.
About the Author(s)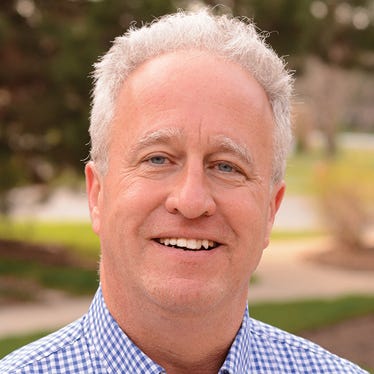 Associate Editor, Southeast Farm Press
John Hart is associate editor of Southeast Farm Press, responsible for coverage in the Carolinas and Virginia. He is based in Raleigh, N.C.
Prior to joining Southeast Farm Press, John was director of news services for the American Farm Bureau Federation in Washington, D.C. He also has experience as an energy journalist. For nine years, John was the owner, editor and publisher of The Rice World, a monthly publication serving the U.S. rice industry.  John also worked in public relations for the USA Rice Council in Houston, Texas and the Cotton Board in Memphis, Tenn. He also has experience as a farm and general assignments reporter for the Monroe, La. News-Star.
John is a native of Lake Charles, La. and is a  graduate of the LSU School of Journalism in Baton Rouge.  At LSU, he served on the staff of The Daily Reveille.
Subscribe to receive top agriculture news
Be informed daily with these free e-newsletters
You May Also Like
---