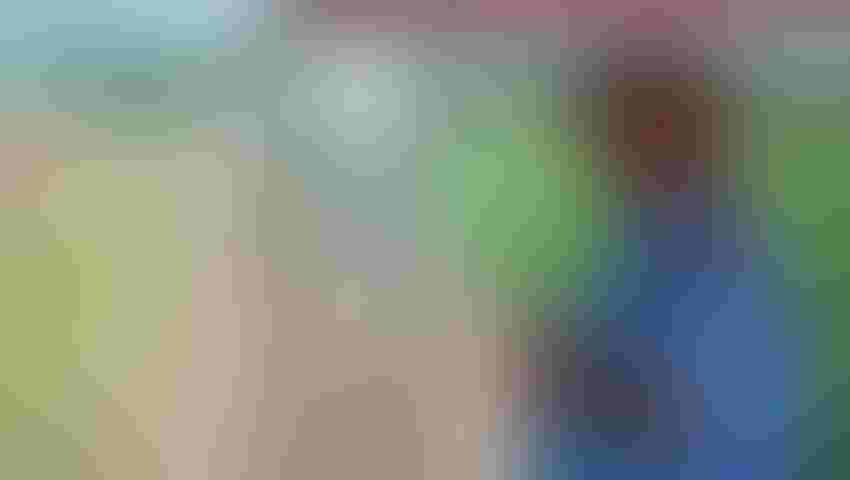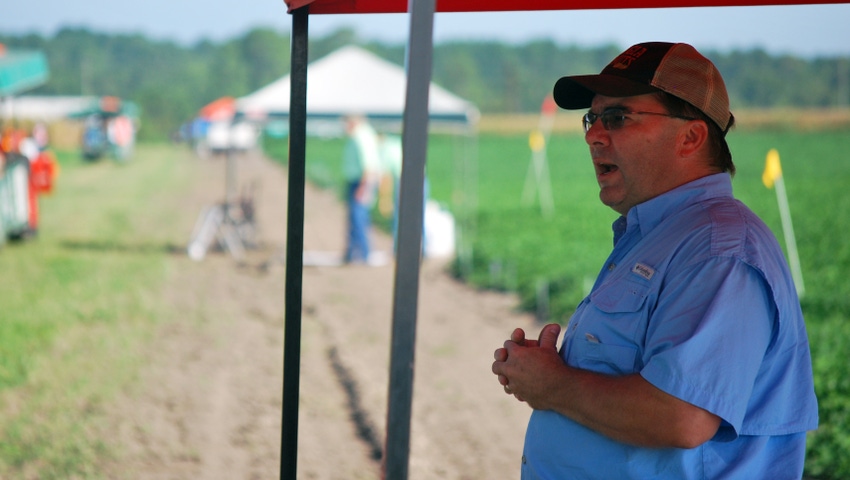 Dr. Scott Monfort, UGA Extension peanut agronomist, July 24 at the Sunbelt Ag Expo annual field day.
Peanut growers must continue to seek ways to more economically and efficiently increase yields in order to remain competitive.
The University of Georgia Peanut Team conducts many research trials across the state's peanut belt, including work on real farms and on university research farms. At the Sunbelt Ag Expo Darrell Williams Research Farm at Moultrie, Ga., the team has trials to determine yield response and economic return for select tillage treatments, biological inoculant products, foliar fertilizers and plant growth stimulants. The peanut team's research work and plots were tour stops during the Sunbelt Ag Expo Field Day July 24.
Dr. Scott Monfort, UGA Extension peanut specialist who leads the team, conducted trials last season at the Expo to compare reduced tillage treatments, using single shank and twin shank rippers, to more common conventional tillage treatments, such as deep turning and harrowing. He used no cover crops in the trials.
"Yield in conventional tillage tended to be higher in most of trials conducted in 2017," he says. "However, yields in the Expo tillage trial were found to be similar across all tillage treatments."
Additional research by Monfort at Sunbelt Expo "will assess the impact of cover crops in reduced tillage systems compared to conventional tillage. Treatments being assessed are intensive broadcast tillage (bottom plow), and two reduced tillage programs consisting of a single ripper shank, with and without a cover crop."
Related:Southern Peanut Conference hosts 20th annual meeting, Mirama Beach, Fla.
Peanut farmers often ask if foliar fertilizers, plant growth stimulants and nutrient enhancement products help improve crop productivity. The UGA Peanut Team and Jeremy Kichler, UGA Extension coordinator in Colquitt County, where the Expo is located, have several foliar fertilizer and plant growth stimulant trials in 2018.
"These products will be assessed for their impact on crop growth, yield and quality in large-scale trials," Monfort says.  "The peanut team is also trying to confirm potential additive effects of several growth enhancement products mixed with peanut inoculants. This research project is seeking to determine if these nutrient enhancement products increase productivity above and beyond the Rhizobium inoculants."
Products being evaluated in the 2018 peanut trial are Optimize Lift (inoculant), TagTeam LCO (inoculant + nutrient enhancement), and Myco Apply EndoPrime (nutrient enhancement) + Optimize Lift (inoculant), and Primo Power CL (inoculant). Products will be evaluated on emergence rate, root growth, vine growth, yield and grade.
Monfort said the Georgia peanut crop is currently about a week to two weeks behind with some growers even further behind than normal, adding that some major growers faced adverse spring weather and were not able to get started planting until the first of June. The crop in general is looking good but conditions are optimal for disease outbreaks in the coming month. To see the crop through, growers will have to scout and stay on top of disease management programs.
About the Author(s)
Subscribe to receive top agriculture news
Be informed daily with these free e-newsletters
You May Also Like
---