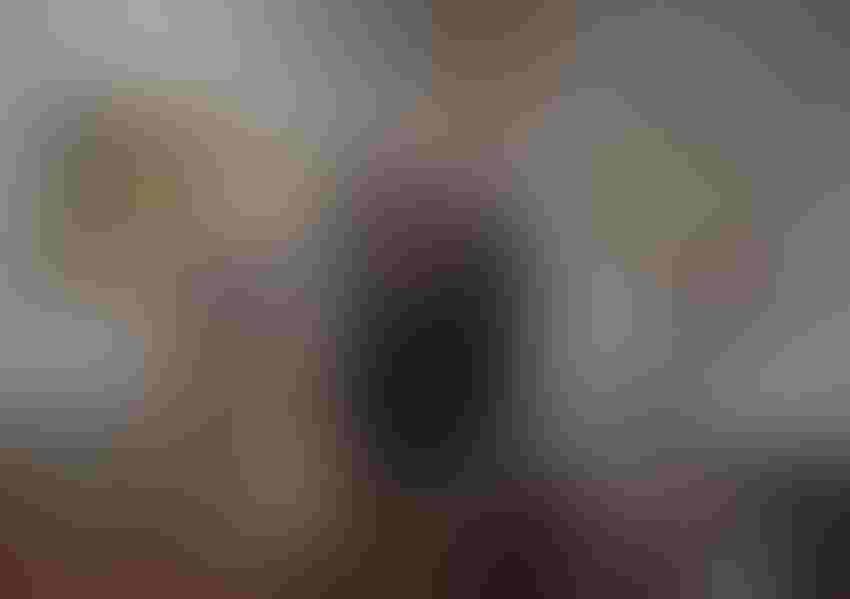 Bob Sutter, CEO of the North Carolina Peanut Growers Association, shown in his office in Nashville, N.C., with Buddy McNutty, the mascot for the National Peanut Board.
John Hart
The North Carolina Peanut Growers Association has had three chief executives since it was formed back in 1953: Joseph "Joe" Sugg, Norfleet "Fleet" Sugg, and Robert R. Sutter. Much has changed in nearly 70 years ago when North Carolina peanut farmers saw the need to form a group to give them a voice.
The late Joe Sugg was the first executive director and served from 1953 to 1980. When Joe Sugg retired, his cousin Fleet Sugg was named as executive director and served from 1980 to 1993. Then in November 1993, Bob Sutter came on as chief executive officer. And now, after nearly 28 years of service, Sutter will be retiring July 31.
It is safe to say that peanut farmers have seen more changes in the 28 years that Sutter has led the North Carolina Peanut Growers Association than in the 40 years of the organization prior to his coming on board in 1993. The end of the peanut quota, the formation of the National  Peanut Board, a dramatic increase in yields and the introduction of high-oleic peanuts all came to pass while Sutter was CEO of the association.
As Sutter noted in his column in the most recent Virginia-Carolina Peanut News, he felt like the luckiest guy in the world when he became CEO of North Carolina Peanut Growers. "It is very difficult to end this wonderful journey," he wrote.
"But as they say, 'All Good Things Must Come to an End'. So, I have made a very tough decision to retire as North Carolina Peanut Grower's CEO, effective July 31, 2021. Every day I have come to work here has been enjoyable because of who I am working for. There is not a better group of people than the peanut farmers of North Carolina," Sutter wrote.
Search underway for new CEO
A search is now underway for a new CEO. Sutter expects his successor to be named before June and should be on board by July 1 and will work with Sutter during the transition. Sutter notes that a search firm has been hired to find the best possible candidates. About 60 applications have come in so far. Sutter says the search firm believes about 15 of those candidates are qualified to interview for the job.
Sutter was a familiar name and face to North Carolina peanut farmers when he came on board with the North Carolina Peanut Growers Association in 1993. He had worked for 13 years with ASCS (USDA's Agricultural Stabilization and Conservation Service) the forerunner to today's Farm Service Agency. He started out as ASCS office manager in Nash County and then served as ASCS district director for the northeastern North Carolina.
"I knew all the peanut counties and worked with peanut farmers," Sutter says.
Sutter is a 1974 economics graduate from North Carolina State University. He earned his MBA from Campbell University in 1996 while serving as CEO of the NCPGA
Sutter sees a bright future for North Carolina peanut farmers. He believes varieties will continue to improve, the peanut allergy issue will be successfully addressed, and that demand will continue to remain strong for the Virginia-type peanuts North Carolina peanut farmers produce.
Sutter notes that one key success during his tenure was the establishment of the National Peanut Board in 2000 to conduct research and promotion for all U.S.-grown peanuts. The 1995 farm bill contained language that allowed commodities to petition USDA to hold a referendum for research and promotion.
"The board of NCPGA worked very hard, along with the American Farm Bureau Federation and other state grower groups to develop a unified plan to submit to USDA. In 2000, U.S. peanut producers voted unanimously in favor of establishing the National Peanut Board. In 1999 the per capita consumption of peanuts in the US was 5.8 pounds. By 2020 that figure had increased to 7.6 pounds," Sutter says.
Allergy research
"One of the main things the National Peanut Board has done is to help the industry with allergy research. The board has spent millions of dollars on allergy research and consequently by funding the research and encouraging research, several treatments for peanut allergies are in place," Sutter says.
For example, Sutter says a patch is expected to be released soon that will help peanut allergy sufferers deal with the disease. Importantly, Sutter says research now shows that early introduction of peanuts to infants and babies is key for dealing with peanut allergies.
In 2015, the American Academy of Pediatrics endorsed early introduction of peanuts to infants with a high risk of peanut allergy. And in 2017, the National Institute of Health, published new guidelines for introducing peanut foods to infants.
"I think we will get this allergy issue under control which will help peanuts," Sutter says.
Moreover, Sutter says the overall promotion work of the National Peanut Board is vital in educating the public on the health benefits of peanuts. The word is getting out that peanuts can help reduce diabetes and heart disease.
"Peanuts are a healthy product that people like. They are an economical source of protein. Demand continues to go up because of promotion activities. People have gotten used to eating peanuts and peanut butter during the pandemic and that trend will continue," Sutter says.
Yields continue to increase
Moreover, a key mission of the North Carolina Peanut Growers Association is to promote research to improve yields and cultural practices in producing peanuts. Yields have continued to increase since 1993 when Sutter came on board.
"When I came to work, the average yield was 2,800 pounds per acre. Last year, it was 4,200 pounds. The price for peanuts was about $675 per ton. Now, the price is about $520 per ton. Since that time, input cost have kept going up. Increasing our yields is the only way we stayed in business," he says.
He says the breeding work of North Carolina State University has really helped yields. And while it will take a while, at least 10 years, Sutter believes North Carolina will see an average yield of 5,000 pounds per acre, thanks in part to the work of North Carolina State peanut breeder Jeff Dunne who is using marker assisted technology to speed up the process of releasing new lines.
"Last year, we had at least 50 farmers who made 5,000 pounds in our yield contest," Sutter says.
Moreover, the introduction of high oleic peanuts has been important to the industry. "The shellers are all demanding high oleic peanuts because they offer greater shelf life. Mars is only buying high-oleic peanuts for M&Ms. We finally have high-oleic peanut varieties that yield well," Sutter says.
Sutter notes that former North Carolina State peanut breeder Tom Isleib released the variety Bailey II in 2017 just before he retired in 2018. Bailey II is a high-oleic variety that replaces Bailey, a non-high oleic cultivar, that is the most popular variety grown in North Carolina.
"Bailey II actually yields better than Bailey. We finally have high oleics that yield well. Breeders have been successful in getting that high oleic trait into the varieties that will yield just as much or better than conventional varieties," Sutter says.
All high-oleic
Sutter believes that within two years all North Carolina peanuts planted will be high oleic and that Bailey II will replace Bailey as the most popular variety grown in North Carolina. High oleic peanuts are particularly important for in-shell peanuts sold at ball games.
"These bagged peanuts will turn rancid if they're just sitting there and not being used so the high-oleic trait will extend the shelf life greatly. It's not as prevalent when you keep peanuts in an oxygen controlled can and oxygen doesn't come in until you open the can," he explains.
Through it all, Sutter believes peanuts will remain an important crop in North Carolina. He believes acreage may increase slightly as demand increases. He notes that demand is on par to increase slowly.
"In 1957, we had 198,000 acres of peanuts and produced 1,800 pounds per are. Now, we are producing 110,000 acres and making 4,200 pounds per acre. We don't need 200,000 acres when we can yield more than twice as much," Sutter says.
Also, Sutter is confident North Carolina will remain a producer of Virginia-type peanuts rather than Runners. "Virginias are the market we grow for. It's what our growers are geared to produce and that the market demands. North Carolina peanut farmers are really good at producing Virginia-type peanuts, but can produce whatever the market demands." he says.
As for retirement, Sutter says he is looking forward to the next stage of his life. He plans to play more golf, work in his woodworking shop and do more fishing on the Pamlico River not far from his home in Bath. He also has six grandchildren to keep him busy.
Sutter and his wife Sylvia have a son, Chris, who lives in Clinton. The Sutter's daughter Angela passed away in 2011.
"My predecessor, Fleet Sugg, stayed on for about a month when I came on board. His last day, he came in the office and said 'Bob, I'm leaving now, if you need me, call me, otherwise you won't see me. And that's what he did. He told me everything he needed to tell me, and he was gone. That's what I intend to do. If the new CEO needs information, I'll be happy to answer questions. Otherwise, I'm gone," Sutter explains.
He is confident the future will be bright for peanut farmers.
"Demand for peanuts is good. We produce the best peanuts in the world. They just need to be able to stay in business so they can produce those good peanuts. Most of all, I want to thank all North Carolina peanut farmers for the privilege of working for such a wonderful group of people," Sutter says.
Subscribe to receive top agriculture news
Be informed daily with these free e-newsletters
You May Also Like
---