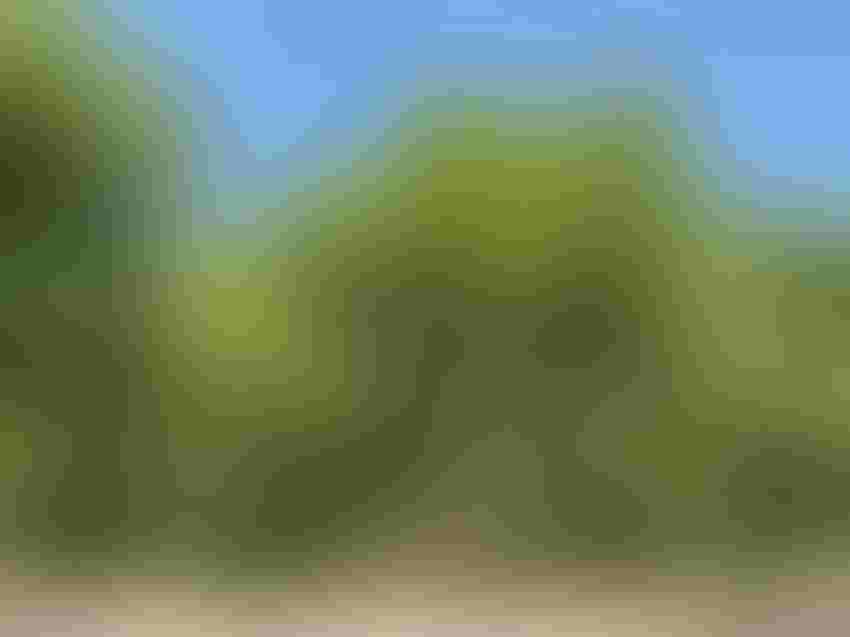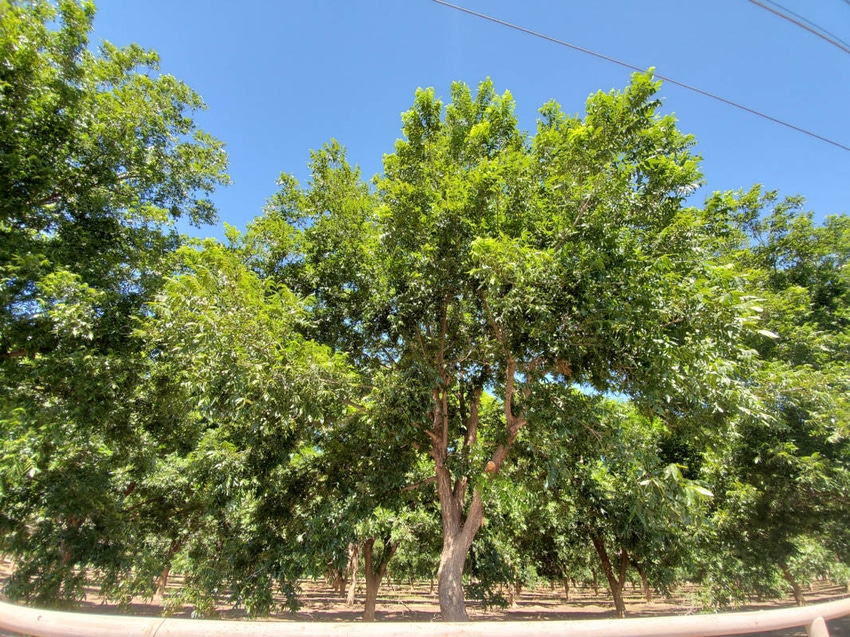 New Mexico's commercial pecan industry makes a significant contribution to the state's agricultural success, including a No.1 rank in total production nationwide last year, but maintaining profitability requires taking on some significant threats.
Insect pests, water management and trade issues pose challenges to commercial pecan growers.
Staying on top may not be the top priority.
"Last year's No. 1 rank in total pecan production followed damages Georgia's pecan industry suffered from Hurricane Michael. But pecan acres are expanding across New Mexico, which is poised to remain a major player in the industry," says Woods Houghton, a long time New Mexico State University Extension agent in Eddy County and a pecan grower on his farm near Carlsbad.
In recent years, farmers have been switching from other crops to tree nuts as their primary enterprise, Houghton says.
 "When you drive up from El Paso toward Las Cruces, you see acre after acre of commercial pecan orchards. And now we're seeing orchards stretching up the Rio Grande almost all the way to Albuquerque. But expansion in southeastern New Mexico is gaining momentum and acres once dedicated to alfalfa are converting to pecans," he says.
The area around Carlsbad has long produced high-quality alfalfa to support a robust dairy industry. But with fewer dairy operations, some of which were also converted to pecans, has alfalfa acreage has declined, and most of those are switch to pecans.
Pecan industry facing challenges
Houghton says every crop on every farm faces challenges every year, and pecans are no exception.
Take the pecan weevil, for instance. For more than 30 years, New Mexico has seen periodic introductions of pecan weevil, which have been eradicated each time with the help of an alert and proactive pecan industry. But since the pecan weevil moved back into eastern New Mexico in late 2016, pecan growers in the area are once again fighting to control the insect.
"Our biggest problem with this latest introduction of the weevil is the presence on a backyard variety of pecan tree. Commercial growers monitor carefully for the weevil and they respond quickly to avoid heavy infestations. But weevils often jump from yard to yard and sometimes are not detected or treated until it's too late," Houghton says.
Fortunately, efforts to involve homeowners in control of the pest are paying off.
"We don't have much of a problem with the pecan weevil around Carlsbad. But north of here, near Artesia, we've seen a few outbreaks. So, we remain under a quarantine."
Houghton says private property owners have responded to the call for better monitoring, reporting and treatment. In addition, through quarantines that restrict the movement of in-shell pecans, the war on the weevil is having some success.
In November 2017, the New Mexico Department of Agriculture for Chaves, Curry, Eddy, and Lea counties imposed an interior emergency pecan weevil quarantine. The quarantine was issued as a result of the continued findings of pecan weevil in residential pecan trees in Hobbs, Lovington, Roswell, Clovis, Artesia and in limited commercial southeastern New Mexico orchards.
New Mexico's exterior pecan weevil quarantine, which was enacted in 1997, restricts the movement of in-shell pecans originating in all states except Arizona, California and the Texas counties of El Paso and Hudspeth, and parts of Culberson County.
Pecan weevil primarily spreads through movement of in-shell pecans and on infested orchard equipment.
Houghton says it takes several years before the all-clear can be sounded after weevils are detected in an area and expressed hope that New Mexico will soon be weevil free.
Water and trade woes
Water also remains a constant challenge. Pecan trees require regular water. During dry years or periods of extreme drought, growers have a hard time keeping their orchards irrigated. But when irrigation is limited by drought, many commercial growers turn to pumping groundwater when possible, and even purchase water or irrigation allotments from other property owners.
"Water is always an issue in farming, regardless of what you plant. Pecans are no exception. But good rains and good snowmelt in the mountains can make a big difference any given year, at least until the next dry spell," Houghton says.
The other major issue since last year has been retaliatory trade tariffs imposed by China and other U.S. trade partners. China is a major market for U.S. commercial pecans, and tariffs have made moving the nut in the global marketplace more difficult.
"Somehow, pecan growers were left out in the cold to qualify for USDA market facilitation funding and that hasn't made things easier. But like everything else with farming, you learn to meet the challenges or roll with the punches. Demand for pecans remains high worldwide and eventually I think we'll see the return of a more normal marketing environment," Houghton says.
 Promising Crop
He says pecans are looking "very good" in Eddy County this year.
"Somehow, we are running just the opposite of pecan orchards in the Central Valley around Las Cruces," he adds. "Pecans grow in alternating on-year and off-year cycles, but somehow we are having an on-year while along the Rio Grande they are having an off-year, which is actually good for all of us in terms of keeping prices strong year after year."
Subscribe to receive top agriculture news
Be informed daily with these free e-newsletters
You May Also Like
---