Short water shifting California crops, farming locations
Short water shifting California crops, farming locations
Stuart Woolf, president of Woolf Farming and processing, says the tightening of water supplied on the west side may mean looking closer at the crop mix that must be produced "with a zero allocation" and looking for growers in "better water basins," for example, to grow almonds.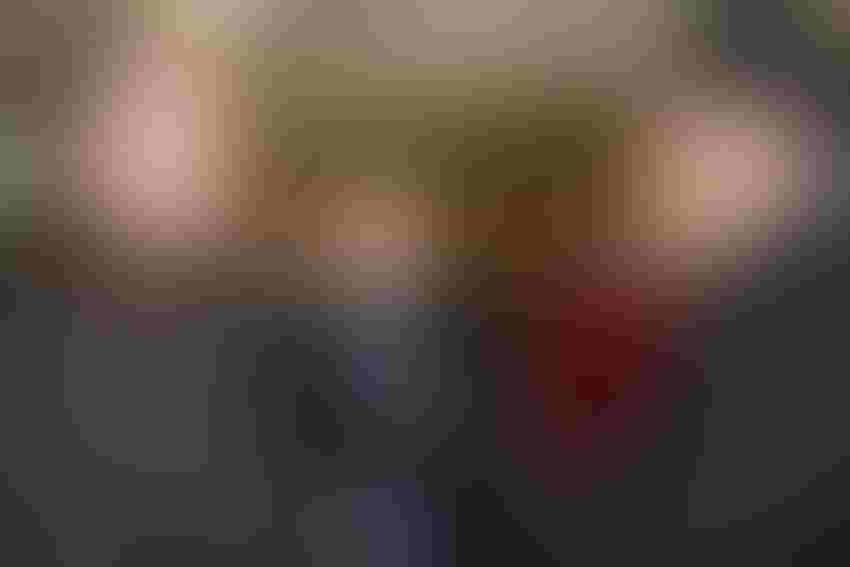 A day-long Clovis water conference opened with a California official outlining the challenges of a fourth drought year and a prediction that investors in some orchards – notably on the San Joaquin Valley's west side – are "destined to be stranded by a lack of water."
It closed with a panel discussion by some at Ground Zero in the crisis, the Valley's west side, where the region faces what is expected to be its second consecutive year of a zero water allocation from the federal Central Valley Project.
The panel – comprising processors, a grower, and a consultant – said exactly what opening speaker Delta Water Master Michael George described – the drought is already having profound effects as processors and producers trying to measure up to market demand, keep crops alive, and keep costs of production low enough to maintain a global marketing position.
Adapt to less water
But their comments – and those of speakers in between – did not turn into a pity party. Instead, much of what was presented at the BlueTechValley Water Summit echoed the theme of the need to be adaptable to a new world of less water availability. And companies presented "how-to" information on new technology, precision agriculture and variable irrigation.
"Ag has to do what it's good at doing," George said, "Adapt to change, adapt to the fact there will be less water."
George, with the State Water Resources Control Board, described what has happened and what is happening to the Sacramento-San Joaquin River Delta as "a developing train wreck" in which "the destiny of those in the Valley is in the hands of 'outsiders.'"
He warned against engaging in what he called "bumper sticker warfare" by proposing "false choices" of "water for people, not for fish" or a "stop the tunnels, save the Delta" contention.
George said "a migration" to permanent value crops around the state has, indeed, "hardened demand" for water.
And Stuart Woolf, president of Woolf Farming and processing, said the tightening of water supplied on the west side may mean looking closer at the crop mix that must be produced "with a zero allocation" and looking for growers in "better water basins," for example, to grow almonds.
"Getting by with less is a tough message when all you get is zero," Woolf said.
The company is leasing properties outside of the Westlands Water District, he says, and approaching dairy operators to encourage them to switch out some of their lower value crops to the higher value almond crop.
"We need to grow the right crops in the right area," he said, adding that pistachios, a permanent crop, but one that requires less water, could remain viable. He said it appears best to "err on the side of crops that have a global advantage."
The State of California, for example, has an 80 percent world market grip on almonds, despite their challenges. And almond prices continue to rise.
Woolf is a managing partner for Harris Woolf California Almonds in Coalinga and Los Gatos Tomato Products in Huron.
Spreading out tomato acreage 
Reuben Peterson, president of Los Gatos, said the company, which had been able to secure needed supplies of processing tomatoes in Fresno County, now is "spreading out a little bit further" to meet demand.
"People want California to produce it if they can get it," he said "But they are looking at other locations where they can develop new supplies. The No. 1 question we get is, 'What is the water situation for California?'"
Both Peterson and Stuart said dramatic increases in yields of processing tomatoes have helped the region measure up to marketing needs. Last year, the state's production stood at 14 million tons.
But Peterson said the state, which once established itself as the world's leading low-cost producer, has lost that position. "Last year, our price went up by 17 percent, largely due to the cost of water."
He said the state's competitiveness has declined and a strengthened dollar is further driving up costs.
"But we have quality, and yields continue to go up," Peterson said.
Global pressure on available water 
Alejandro Sanchez, who heads sustainability efforts at Olam Spices and Vegetable Ingredients, says there is global pressure on water availability "around the world."
"California is not the only one that's having water problems," Sanchez said. "In India, 40 percent of groundwater is being drafted faster than it is being restored, and 90 percent of their agriculture is (produced with) irrigation."
At the same time, she said, "Global investors who look at California, think that competitively we stand a very good chance" of maintaining markets because of the quality of produce, reliability, and food safety."
She said lessons learned from technology should be shared, for example, growing dehydrated onions on drip, not with furrow irrigation, something that can be done in other growing areas including the Imperial Valley.
Asking for a show of hands, Mark Burell, founder and principal of Westmark Group, a consultant, said there is a consensus that farmers will have to work with less water in the future.
The event's luncheon speaker, historian, and author Victor Davis Hanson, said the well on his family's raisin farm in Selma this year went dry for the first time in 145 years, "emblematic that we're into a crisis."
Hanson, an American military historian, columnist, and former classics professor, said sources of state revenue to address the drought are "shaky" and the will and resolve to build reservoirs like decades-old Shaver, Huntington, Florence, and Edison Lakes has disappeared.
He called what has happened in the Bay Area – with the dam at Hetch Hetchy, the flooding of what John Muir called a second Yosemite and the dumping of wastewater into the Delta - as "unnatural" as the permanent plantings on the Valley's west side.
Subscribe to receive top agriculture news
Be informed daily with these free e-newsletters
You May Also Like
---