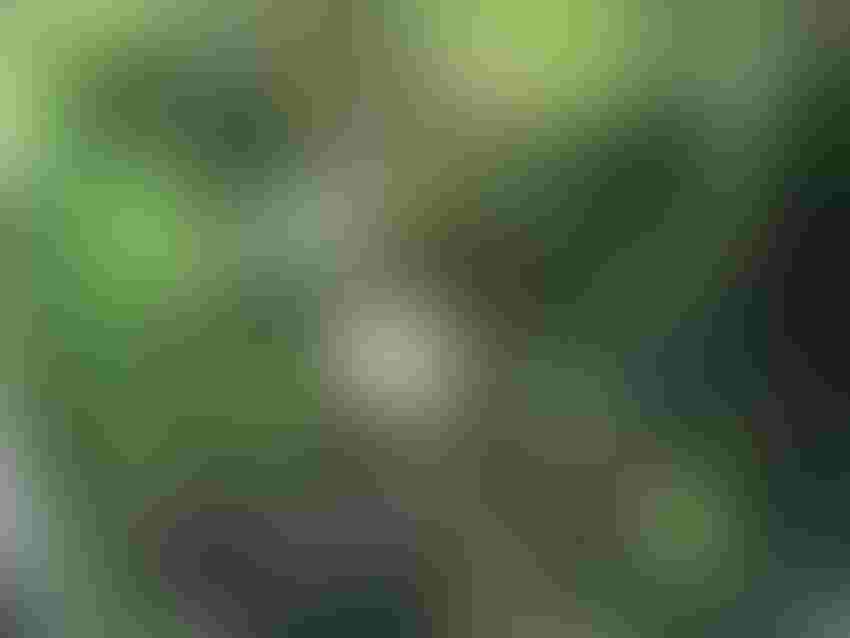 Hurricane Hermine came at a bad time for parts of Georgia's pecan-growing region.
In a phone interview Tuesday morning, University of Georgia Extension pecan specialist Lenny Wells said the lower southeast part of Georgia received the most damage. But if the hurricane, which became a tropical storm as it moved from the Florida Big Bend area into Georgia early Friday morning, had traveled farther north before turning to the coast, the damage would have hit deeper into the pecan production area and would have been much worse on the state's overall 2016 production.
Right now, Georgia pecan trees are loaded with nuts; couple this with flush canopies, and the limbs and trees unfortunately become good sails in a bad situation. Georgia was on track to have a good production year, and still might be. What impact the storm will have on final production is unclear as harvest nears in October, but "about a quarter of our acreage was directly impacted by the storm and of that I'd say 30 percent of the nuts were blown or shaken off the trees," he said.
The worst damage, he said, appears to have been on a line from Thomas County on the Florida-Georgia line up through Brooks, Colquitt, Cook, Lowndes, Berrien, into Ware, Pierce into Screven counties.
One grower in Berrien County reported more than 1,000 trees down and was still counting as of Tuesday. "Most of the trees reported as blown down were in the 15-year-or-younger range," he said.
New pecan acreage has increased in Georgia in the last six to seven years due to improved prices brought on by increased international demand. To properly establish an acre of pecan trees in the first year, with about 30 trees per acre, costs about $2,300, according to UGA estimates.
Small trees that have been blown over, Wells said, need to be righted as soon as possible to give them a chance at recovery. "And it's best to right the trees when the soil is wet to prevent further root injury. These trees will usually remain productive, especially if the canopy is pruned back to balance the loss of roots," he said.
On other crops in other parts
For dryland peanut, cotton and soybean, the damage was limited and the rain from the storm was welcomed.
In Columbia County, Fla., about 100 crow-miles from where the storm made landfall in Florida, crop damage was limited and the rain was nice, said Mace Bauer, University of Florida Extension agent in Columbia County. He said the county received about 4 inches of quick rain at a good time, hitting before peanut harvest and after corn and vegetable harvests, and leaving pastures in better shape.
Tropical storm conditions from Hermine moved up the east coast into South Carolina's Pee Dee region, and rain from the storm fell for a good 24 hours there. "We had on average five inches of rain. We were pretty dry, and the ground did a fairly decent job of soaking most of it up," said Justin Ballew, Clemson University Extension agent in the region. "The wind knocked over some corn that hadn't been harvested yet, but there really wasn't a lot of corn still in the fields.  We have some cotton with open bowls, but it handled it pretty well with very little lint on the ground now.  Soybeans did fine; very few fields are near maturity.  Overall, I think the Pee Dee region handled the storm fairly well."
Pecan growers with downed trees should consider the following, Wells said, as they clean up:
Attempts to save uprooted trees are generally unsuccessful.

Trees completely uprooted or blown to the ground should probably not be righted, because of poor survival.

If trees are 10–12 years old or younger, or have trunks less than ≈12 inches in diameter, survival rate is usually much better.

There is also greater likelihood of recovery from uprooting if the soil is extremely wet when the trees blow down and major roots are unbroken.

If major roots are broken, these trees sometimes survive, but they are usually not thrifty and easily uprooted again. Pruning such trees back could aid in their survival.
Long-term survival of a leaning tree is hard to predict, he said. He has seen trees stuck at a 45-degree angle remain productive for two decades without being straightened. Then again, he has seen trees lean at much smaller angles and die within a few years.
Subscribe to receive top agriculture news
Be informed daily with these free e-newsletters
You May Also Like
---