Orchard sanitation key to Navel orangeworm control
Orchard sanitation key to Navel orangeworm control
Controlling the Navel Orangeworm (NOW) in California almond orchards is easier and more effective with proper winter sanitation than a perfectly-timed spray program.The benefits of cultural practices, winter sanitation and insecticide treatments are significant, according to Walter Bentley, University of California, Davis integrated pest management entomologist Emeritus.Bentley told about 150 almond producers and industry members at the Southern San Joaquin Valley Almond Symposium held in Kerman, Calif. in June that even the best-timed May spray program will control about half of all NOWs in an orchard.Proper winter sanitation efforts can increase NOW eradication efficacy to as high as 80 percent."When talking about May sprays and Navel orangeworm management, we're really not talking about protecting this year's crop," Bentley said."Navel Orangeworm cannot get into a nut until the hull splits. So when spraying in May, the grower is managing the larvae on last year's un-harv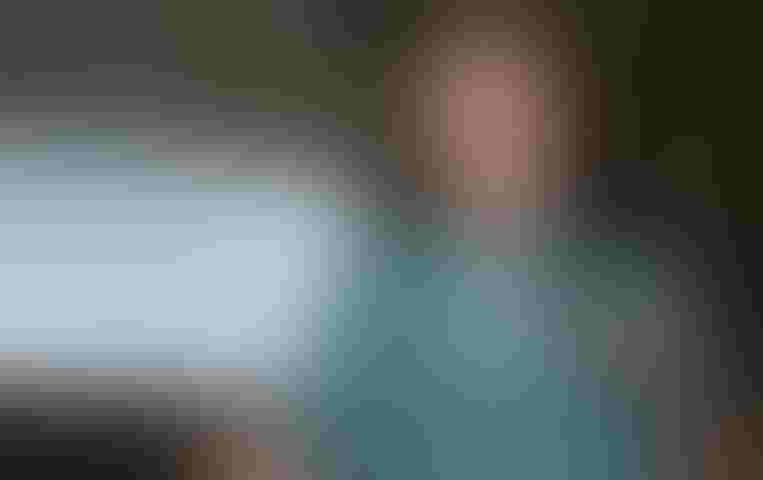 <p> Walter Bentley, IPM specialist, discusses Navel orangeworm at the Southern San Joaquin Valley Almond Symposium in Kerman, Calif.</p>
Controlling the Navel Orangeworm (NOW) in California almond orchards is easier and more effective with proper winter sanitation than a perfectly-timed spray program.
The benefits of cultural practices, winter sanitation and insecticide treatments are significant, according to Walter Bentley, University of California, Davis integrated pest management entomologist Emeritus.
Bentley told about 150 almond producers and industry members at the Southern San Joaquin Valley Almond Symposium held in Kerman, Calif. in June that even the best-timed May spray program will control about half of all NOWs in an orchard.
Proper winter sanitation efforts can increase NOW eradication efficacy to as high as 80 percent.
"When talking about May sprays and Navel orangeworm management, we're really not talking about protecting this year's crop," Bentley said.
"Navel Orangeworm cannot get into a nut until the hull splits. So when spraying in May, the grower is managing the larvae on last year's un-harvested crop (mummies in the tree)."
Want access to the very latest in agricultural news each day? Sign up for the Western Farm Press Daily e-mail newsletter.
While Bentley cautioned growers against looking primarily at well-timed spray applications to protect nuts, he did not entirely discount properly timed insecticide programs as an effective management tool.
"I'm not saying that May sprays aren't of value; they certainly are. If the growers does a good job of (winter) sanitation and there is not the movement of moths from other sites, you may be wasting money with a May spray."
Winter sanitation is particularly critical in the central and southern San Joaquin Valley (SJV) where NOW appears to have a stronger foothold in almonds.
A better management plan for NOW control in almonds, Bentley says, is the effective removal and destruction of mummy nuts during the fall and winter months, coupled with the harvest of nuts as soon as possible.
A key to remember, Bentley stressed, is that the Navel orangeworm cannot get into the almond nut – the place it feeds – until after hull split, which usually happens in June.
Prior to that, a good insecticide treatment program can be effective for NOW control, particularly in orchards where winter sanitation efforts and a quick and timely harvest of last year's almond crop were not carried out effectively.
Bentley recognizes that NOW infestations, regionally speaking, have been more severe in the southern SJV county of Kern, with less pest pressures visible in the Sacramento Valley or even the northern SJV.
"For many, many years, Kern County has faced more severe Navel orangeworm pressure," Bentley says. "I think this is due to (poor) winter mortality."
Even so, Bentley praised the stepped-up efforts of Kern County almond growers over the past several years with respect to early harvest and winter sanitation efforts.
"They do a tremendous job of sanitation down there," he said.
Timely harvest
A UC Davis paper, authored by Bentley and others, advises that nuts should be harvested when 100 percent of the nuts are at hull split at the 6-to 8-foot level in the tree canopy. If susceptible nuts are harvested before third-generation eggs are laid, sprays are not needed.
Egg traps and degree-day calculations can help track NOW development. More information on this is available online at http://www.ipm.ucdavis.edu/WEATHER/index.html
 For orchards which are properly sanitized and where early harvest is achieved, insecticide applications are not usually needed, unless there is a source of moths from infested trees outside the orchard, according to the UC Davis report.
Mummy nuts should be removed from orchards before bud swell by mechanically shaking the tree or by hand poling. The end result should be less than two mummies per tree by Feb. 1 in the Sacramento Valley and even less in the SJV.
The report says blow or sweep fallen mummy nuts to the row center for destruction by disking or flail mowing by March 15 where ground cover is not present.
According to the UC report, moist orchard floor conditions provided by winter vegetation and rain enhance the mortality of NOWs in mummy nuts which have fallen from the trees.
It is important to sample almond orchards on or before Jan. 15 for mummies to determine if further shaking is needed. Examine and count overwintering nuts on 20-trees-per-block to obtain an average.
A spring spray program can still be effective, Bentley says. Timing is critical on the applications since each spray is life-stage specific to the developing insects.
Spring spray timing
According to UC Davis research, apply a spring spray just after the first NOW eggs hatch using reduced-risk products including the insect growth regulator methoxyfenozide, diamide chlorantraniliprole or flubedimide, or spinosyns including spinosad and spinetoram. Use caution since spinetoram and spinosad could be toxic to bees.
Apply spinosad and spinetoram only at night when bees are not foraging. This is effective since NOW moths are typically active at night.
NOW treatment is usually necessary in orchards with more than two mummies remaining after bud swell; less for orchards in the central and southern SJV. Dormant sprays will not control NOW.
Usually only one treatment is necessary to limit kernel damage below two percent at harvest and when nuts are removed before the start of the third flight.
According to the UC Davis paper, NOW control through chemical and cultural methods may be necessary when infested alternate host trees - including pomegranates and pistachios - are nearby.
As these are harvested, NOW moths can migrate into a nearby almond orchard which can make it necessary to treat border rows in the almond orchard. The paper suggests treating at least 10 rows in from the edge of the orchard.
Additional NOW controls include parasitic wasps, including Copidosoma (Pentalitomastic) plethorica and Goniozus legneri. Goniozus legneri is available from commercial insectaries.
More news from Western Farm Press
Tomato family tree reveals branch secrets
Ag and sexual assault: Get your facts straight, Frontline
Subscribe to receive top agriculture news
Be informed daily with these free e-newsletters
You May Also Like
---