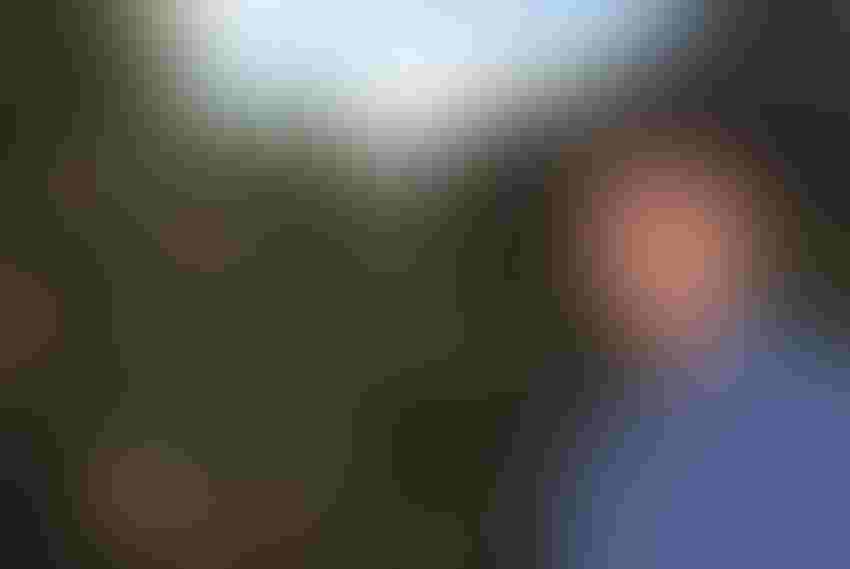 Sometimes things just needa good renovation. These days, Frank Hunt III enjoys pointing out the intricacies of the packinghouse at Hunt Bros. Cooperative headquarters outside Lake Wales.
Plenty goes on here in a relatively small space, with belts going all directions taking fruit in and boxes out. One of the major things Frank did upon rejoining the family business after graduating from the University of Florida with a business finance degree in December, 1976 was to redesign the old packing facility.
During an off-season in the early 1980's, he filled the parking area with machinery that had been removed from the packinghouse and put a mechanic and three crews to work on the place. He drew chalk lines on the floor to mark where he intended things to go.
"It made a nervous wreck out of my father and uncle," he says. "But the layout we have today is more or less what we did at that time. Some things have been added, like the degreening rooms and the packaging, but what we did then essentially still works now."
The rebuild accomplished his mission: efficiency.
"We wanted more output,"he says. "We start packing at 7 a.m. If we're really busy we may run until 7 p.m. but on most days we're done at 4 p.m. or 5 p.m. It varies from season to season, depending on the fruit. Last year we ran four days a week, 30 hours a week. This year we've been running five days a week, 40 to 45 hours a week."
Hunt, along with the rest of the industry, could be poised for big changes once again, and they could be even more nerve-wracking than having packing machinery stacked in the parking lot. This time, it likely will be production systems that are changing.
"Florida is being remiss in not paying attention to what the rest of the world is doing," he says. "The future of the industry is in advanced production systems — open hydroponics. We have one open hydroponics system coming in now on a 7-acre block. We're beginning to move in that direction."
The work that innovative grower and consultant Pete Spyke is doing with open hydroponics in the advanced citrus production system (ACPS) on his Ft. Pierce operation intrigues Hunt.
"Pete is onto something," he says. "That system has potential."
The ACPS is now being studied by the University of Florida at the Citrus Research and Education Center at Lake Alfred.
It uses high density planting and a targeted nutrient program to bring young trees into production. That could help growers better manage citrus greening and canker diseases, both of which threaten the long-term viability of the industry. Researchers also think the technique can reduce water usage, along with fertilizer and pesticides.
"South Florida has already gone to higher density plantings," Hunt says. "A lot of growers are really hesitant with drip irrigation because it can't be used for cold protection. We're going to need microjets as well, or use a microjet instead of drip.
"I do think we're going to seea fair amount of acreage in this area with higher density planting and some type of ACPS program. Part of that is based on my belief that we may have to outrun this disease problem.
"We could bring trees into production early, then push them out as they become diseased and restart the process. In the old days, we stuck with a tree for a lifetime, but that's no longer the way it's going to be done. There will be a better tree that comes into production earlier. When there are problems with it, we'll pull it out and start over."
Starting over is not a phrase generally associated with Hunt Bros. The business began in 1922 when Frank's grandfather, Deeley Hunt and Deeley's brother, Charles, came here from Ohio. The original Frank Hunt — Deeley and Charles' father — moved to Lake Wales first, then helped his sons get established in the citrus industry. After a few years, Deeley bought out his brother and ran the business with his sons, Frank II and Ellis, after they joined the company in the 1950s.
Today, Frank II and Ellis are still active and have been joined in management by Frank III and his cousins, Ellis Hunt, Jr., and W. Deeley Hunt, along with Frank's brother-in-law, John Matteson. Frank's son, Daniel, Deeley's son, Deeley A., and John's son, Michael Matteson, are now also involved in the operation.
The original Deeley Hunt was one of the six founding members of Florida Citrus Canners Cooperative, becoming its first vice president, then its president and general manager. That group eventually became Citrus World, Inc., which gave birth to the Florida's Natural Growers cooperative. Frank II was on the Citrus World board of directors for 51 years, 30 as chairman and president. Since 2003, Frank III has served as vice-chairman of Florida's Natural Growers.
The cooperative is criticalto Hunt Bros.' marketing success, Frank says, but his activities there must be balanced with the demands of the family business.
"For my grandfather, the co-op was pretty much a full-time job — that's what he spent his time doing. Hunt Bros., didn't grow during that period; the company just marked time. His focus was at the co-op. I do what needs to be done, and I appreciate everything about the co-op, but I have to devote a good bit of my attention to what's going on up here at headquarters."
Like many long-established citrus growing outfits, this company marks time by freezes. The big one in 1989 rocked them and, without some geographic diversity, could have put them out of business.
"We lost 70 percent of our trees in 1989," Frank says. "The freezes through the 1980s took out all the old trees we had, then the '89 freeze got pretty much everything we had at this location in Lake Wales. We learned some things in '89. Where we had microjets, we didn't get hurt as badly. I think we better understand what could happen now, though we haven't again had conditions like '89. Different root stocks and higher density plantings may help us be better conditioned to stand cold."
In the mid-1980's, the Hunts were involved when the co-op led development of about 10,000 acres of citrus in the Immokalee area, a good deal further south of the Lake Wales area.
"We're about 25 percent to 30 percent of each of the projects; it's diversification for us. If we hadn't had that South Florida acreage after the '89 freeze, we'd probably have gone out of business. That saved Hunt Bros. Then in 2004, when we had three hurricanes that criss-crossed this area, it was the same thing. Diversification saved us."
When Frank and his cousin, Ellis, joined the company, Hunt Bros., had about 2,000 acres of citrus — now it's up to 5,400 acres. About one-fourth of their fruit goes to fresh markets, including grapefruit and mandarins. The fresh fruit is packed under the Seald Sweet brand, 80 percent of which is now owned by Univeg, a Belgian company doing world-wide fresh fruit business.
"They have a full lineto provide customer needs," Frank says. "We don't have to worry about it. If our volume is one million cartons, Seald Sweet is okay with that, and if it's 800,000, that's okay, too."
With Florida's Natural doing a good job on the juice side, marketing worries are minimal for the Hunts. That lets them focus on growing good crops.
"The industry is facing a lot of adversity," Frank says. "Greening is the most serious challenge we face today, and canker has not gone away, either. I'm sure there are other things yet to be discovered that could be devastating, too. We have challenges with water and with labor. We're operating under a lot different environment than we were just a few short years ago.
"But there is good news: Acreage, which is now at roughly 550,000, has leveled off after seeing a sharp decline for several years. We're not seeing much expansion yet, but growers here now are willing to replant and monitor what they have. If you don't replant, you're assuring that your grove is going to go away. If you replant, you're assuring that you will be in the game."
That game certainly will change, with ACPS and undoubtedly other things, as well, but it's a safe bet that Hunt Bros. will remain a player. What more could any business ask?
Subscribe to receive top agriculture news
Be informed daily with these free e-newsletters
You May Also Like
---