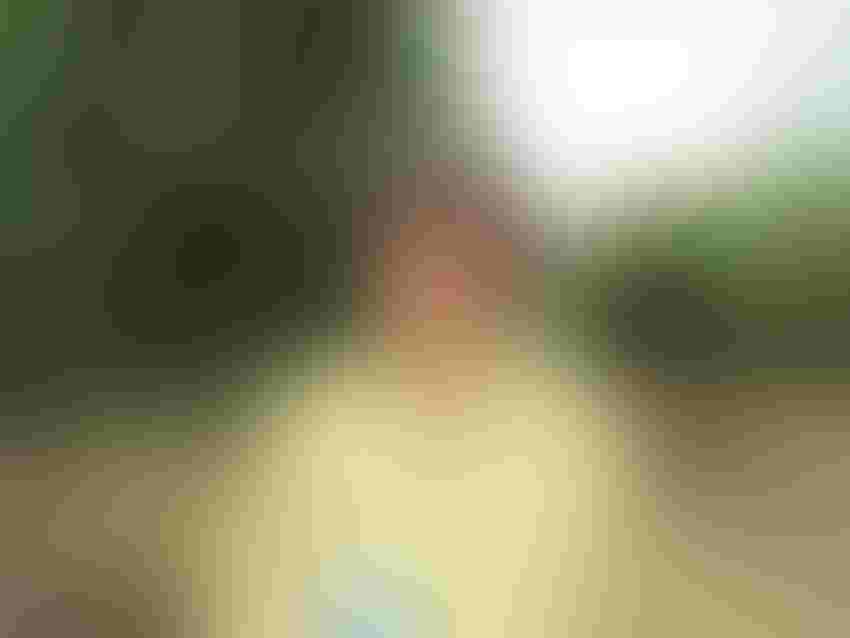 Mike Weston, part-owner and general manager of Peekema Brothers Ranch in Gridley, Calif., says he thinks the prune harvest will be decent for the farm despite having some tree branches drop in older blocks with heavy loads.
Growers of plums for prunes in California are trying to get the most out of what is expected to be an 80,000-ton crop this year, down 24 percent from the 105,000 tons harvested in 2017, according to National Agricultural Statistics Service predictions.
With guidance from University of California Cooperative Extension advisors, growers have been paying close attention to tree water stress and sugar levels in the weeks leading up to the harvest, which was expected to begin in about the third week of August.
Growers and extension advisors say the crop is looking decent considering this season's variable growing conditions, including a spring blossom complicated by rain and cool temperatures. Orchard conditions improved during the season and some producers saw a good fruit set, more than 200 growers told NASS in a survey.
UNEVEN BLOOM
"I don't think the bloom was really strong this year, but even though it was cold and wet the bees still got out," says Hugo Garcia, who manages orchards for Deseret Farms of California.
"It's probably going to vary a little bit because the cropping is really variable," UCCE advisor emeritus Rick Buchner says of the prune crop. "Some of it is good and some is really light. We had a heck of a time pollinating them."
Mike Weston, co-owner and general manager of Peekema Brothers Ranch in Gridley, Calif., says he's had a good fruit set in his 80 acres of prunes. But he's lost some big branches in old blocks that have had issues with wood rot and phytophthora, or were otherwise too delicate to shaker-thin.
"I think it'll be decent for us," he says of the harvest. "I think we'll get 2 tons per acre, maybe 2 and a half. The key is if we can get 2 tons an acre of big size."
The fruit is turning out that way "where we can get in and shaker-thin," he says.
SIZING FRUIT
Growers had difficulty sizing fruit last year, as a failed crop in 2016 left trees with such a heavy load that producers had to wait for fruit with the desired size and flavor even after they had shaker-thinned earlier in the summer.
Moreover, hot summer afternoons last year slowed the prunes' process of sweetening on the tree – a situation that may be repeating itself in some areas where afternoon temperatures in July consistently topped out in triple digits. But growers can only wait so long and still get the firmness they'll need, advisors say.
"Harvest can be a nerve-wracking time in the prune business," UCCE advisors Franz Niederholzer and Wilbur Reil note in a California Dried Plum Board blog post. "The finish line – when the entire crop is in the bins – may be in sight, but here are still tough decisions to be made that influence your bottom line."
In general, harvest can be expected roughly 30 days after the first healthy fruit in an orchard starts changing color, UCCE orchard advisor Katherine Jarvis-Shean explains in a separate blog post. She urged growers to time their irrigation cut-off to improve dry-away ratios, reduce premature fruit drop and decrease shaker bark damage at harvest.
Moderate to high tree stress can be tolerated a week or two before harvest, but prior to that it's best to keep stress at mild to moderate levels to maintain the tree's health, she notes.
TIMING THE HARVEST
One of the most important decisions to be made is when to start harvesting, Niederholzer and Reil explain. With trucking, drier space and a customer harvester lined up – and perhaps in a rush as pistachio harvest is around the corner – there's an understandable urge to get started early, they observe. However, starting too soon can cost growers money.
French prunes are mature when flesh pressure falls below 4 pounds; until then, the fruit is still increasing sugars and gaining dry weight, which will put money in growers' pockets, Niederholzer and Reil write. Once fruit reaches 4 pounds of pressure, soluble sugars continue to increase, but only because of natural dehydration and not movement of sugar into the fruit from the rest of the tree, they explain.
Using refractometer measurements for sugar levels alone to time harvest can be misleading, as sugar levels are primarily determined by crop load and not fruit maturity, they advise. Waiting for sugars to climb in heavily cropped orchards could cause fruit to get too soft, risking excessive drop and reduced quality, they note.
The two urge using a fruit pressure gauge along with a refractometer to schedule harvest, taking measurements once a week once the fruit skin first shows purple.
The French prune variety accounts for virtually all dried plum acreage grown in California, according to NASS. The agency estimates this year's bearing acreage at 44,000, unchanged from last year. While production has varied each year, acreage has begun to stabilize after trending downward from a peak of 86,000 in 2000 and 2001, NASS reports.
Subscribe to receive top agriculture news
Be informed daily with these free e-newsletters
You May Also Like
---