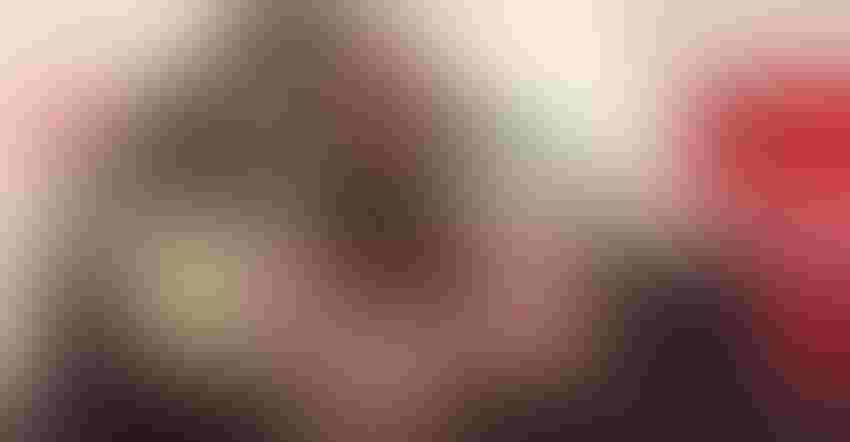 BIG WINNER: Scott Peterson of Miller, S.D., won "The Ultimate Farm Truck" during the National Finals Rodeo in Las Vegas.
Courtesy of Pivot Bio
Scott Peterson of Miller, S.D., won the "Ultimate Farm Truck," a custom-built Ford F-350 Lariat Crew Cab, as part of a giveaway sponsored by Pivot Bio, at the National Finals Rodeo in Las Vegas.
"It was mind-blowing. I was having a pretty bad day when I got the call that I had won. It has taken a long time to sink," Peterson says. "It really turned a bad week of combining soybeans into a crazy week of emotions. I can't thank Pivot Bio and the Sparks Motors team enough."
The truck was built by Heavy D, Diesel Dave and the crew at Sparks Motors as part of the five-episode show, "Ultimate Farm Truck," which aired on RFD-TV and streamed online. The truck included farmer-specified features gathered to make the truck one of a kind.
"We traveled to different farms and asked farmers what they wanted and needed in a farm truck. What we found helped us build the perfect truck for them," says Dave Kiley, aka Diesel Dave. "We build a lot of trucks, and this one was by far one of our favorites. So much so that we didn't want to give it away because we fell in love with it ourselves."
The truck has a custom flatbed built by Highway Products, Raycore lights generating over 200,000 lumens, a boot washer, a welder-generator combo, two 70-gallon auxiliary tanks with auto pumps, integrated inverters in the toolboxes, a snack fridge and a custom Sparks Motors Co. bumper.
Fourteen finalists were randomly selected from the entries, and then each one was assigned a proxy, who competed in a farm-inspired competition, including digging through a corn pit and dramatically racing through a corn maize race to select the winner.
Watne reelected president
During the North Dakota Farmers Union's 96th annual state convention, Mark Watne of Velva was reelected to serve a 10th year as NDFU president.

REELECTED: Mark Watne was reelected president of the North Dakota Farmers Union during its 96th annual state convention in Bismarck.
In his message to voting delegates, Watne emphasized the importance of member engagement through advancing technology and their involvement in legislative priority areas, including the crafting of a new farm bill, efforts to address corporate monopolies and fairness in the marketplace, protection of North Dakota's corporate farming law, and growth of renewable diesel and other fuels.
"What is it about NDFU that makes us unique? It's the grassroots," Watne said.
Farmers Union members adopted four special orders of business during the two-day convention in addition to their 2023 Program of Policy and Action.
The orders outlined priorities for the upcoming North Dakota legislative session and a new farm bill; congressional and administrative action to ensure fair markets for farmers and ranchers; and adequate staffing and compensation for employees of the Farm Service Agency.
Members enjoyed a series of breakout sessions that focused on fuels of the future, wetland and water issues, Farmers Union's Fairness for Farmers campaign, and report from NDFU's Farm Bill Working Group. Other convention speakers included National Farmers Union President Rob Larew, U.S. Sen. John Hoeven, NDSU crop economist Frayne Olson, and Greg Tehven of Emerging Prairie.
In other elections:
Bob Kuylen of South Heart was reelected vice president.

Bob Finken of Douglas was reelected District 2 director for Bottineau, McHenry, Pierce, Rolette and Ward counties.

Shane Sickler of Gladstone was reelected District 4 director for Adams, Billings/Golden Valley, Bowman/Slope, Dunn, Hettinger, McKenzie and Stark counties.

Shelly Ziesch of Pettibone was reelected District 6 director of Dickey, Eddy, Foster, Kidder, LaMoure, Logan, McIntosh, Stutsman and Wells counties.
Subscribe to receive top agriculture news
Be informed daily with these free e-newsletters
You May Also Like
---