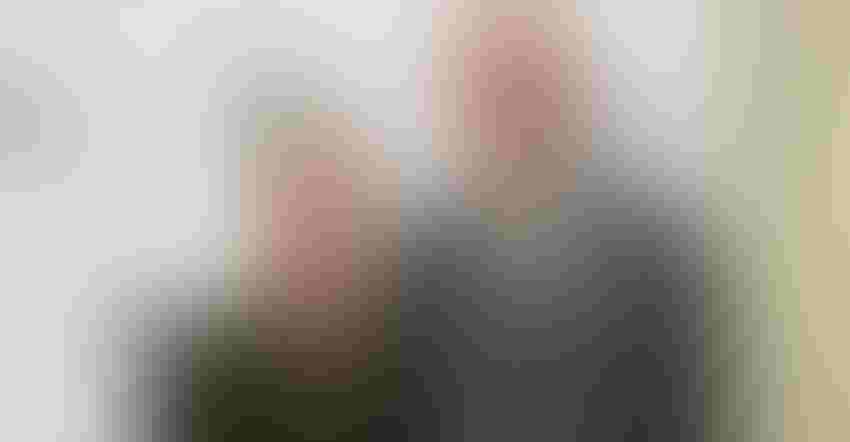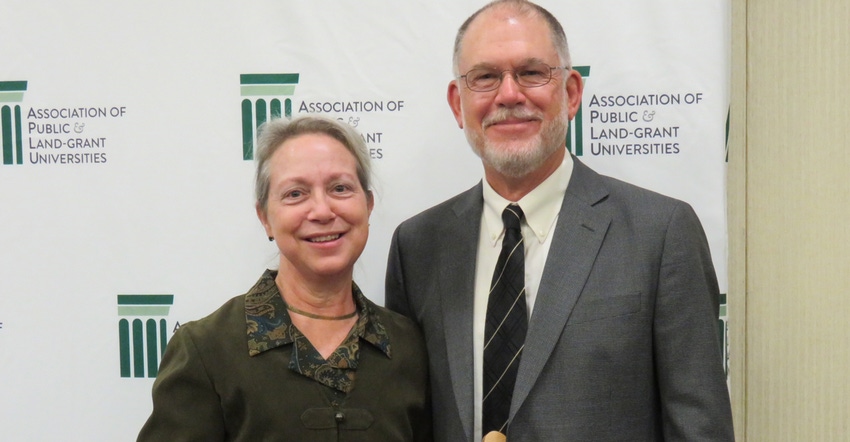 AWARD WINNER: Purdue food science professor Suzanne Nielsen — pictured with her husband, Bob, an award-winning agronomist at Purdue — recently received national recognition.
Steve Brown, Tippecanoe County, Ind., was recently named as the next state director for the Farm Service Agency in Indiana. His appointment became official in November after Secretary of Agriculture Sonny Perdue made several similar appointments nationwide.
Brown spent most of his career working in various capacities for FSA before retiring less than two years ago. For many years, he served as FSA director in Carroll County, Ind., working alongside Steve Nichols, who was then Carroll County Extension ag educator.
"We worked together well on many projects, and developed a great working relationship," Brown recalls. Later, he held various positions in the state FSA office.
"This was the only position I would have considered coming back for," Brown says. "I look forward to working with our staff statewide."
As far as Brown knows, he is the first person in Indiana appointed as FSA director who spent their career working for the agency.
Nielsen earns recognition
The former head of Purdue University's Food Science Department and still a professor there recently received a national award. Suzanne Nielsen was one of two recipients of USDA's National Excellence in College and University Teaching Award for Food and Agricultural Sciences. A professor since 1983, she was department head for 10 years.
Currently, Nielsen is a faculty fellow for the Office of Corporate and Global Partnerships, and teaches Food Analysis, a course she has taught for many years.
She was nominated by Marcos Fernandez, Purdue's dean of the Office of Academic Programs. He points to her book and lab manual "Food Analysis," noting it's the most widely used book on the topic in the U.S., plus it is used worldwide.
Her husband, Bob, is Purdue's Extension corn specialist.
Akridge named provost
Jay Akridge, former dean of the Purdue University College of Agriculture, was officially named Purdue's provost and vice president for academic affairs and diversity recently. He had served as interim provost since July 1.
In making the announcement, Purdue President Mitch Daniels said, "All of us at Purdue should be pleased and proud to have someone of Jay's talents and character as our provost."
The announcement means Karen Plaut, senior associate dean for research and faculty affairs in the College of Agriculture, remains as interim dean. She filled the position vacated by Akridge.
Akridge says a national search for a new dean for the College of Agriculture is underway. One of his responsibilities in his new role is recruiting, hiring and reviewing deans of various schools at Purdue.
Dora becomes Rural Development director
Michael Dora was recently tapped by the Trump administration to be Indiana's director for USDA Rural Development. He began his duties in early November.
Dora has 42 years of experience running his family farm near Rushville, Ind. He has also served as a volunteer EMT, firefighter, wrestling coach and local school board trustee. He has appeared in articles in Indiana Prairie Farmer in the past.
Dora's mission is to oversee rural development programs and keep them customer-focused, officials note.
Steele named young soybean leader
Chris Steele will represent the Indiana Soybean Alliance in the 2018 American Soybean Association DuPont Young Leader program. A sixth-generation farmer from Adams County, Ind., he and his wife take advantage of local marketing opportunities to sell products raised on the family farm.
Steele will have a chance to hone his leadership skills so he can better tell agriculture's story through participating in this program. 
Subscribe to receive top agriculture news
Be informed daily with these free e-newsletters
You May Also Like
---