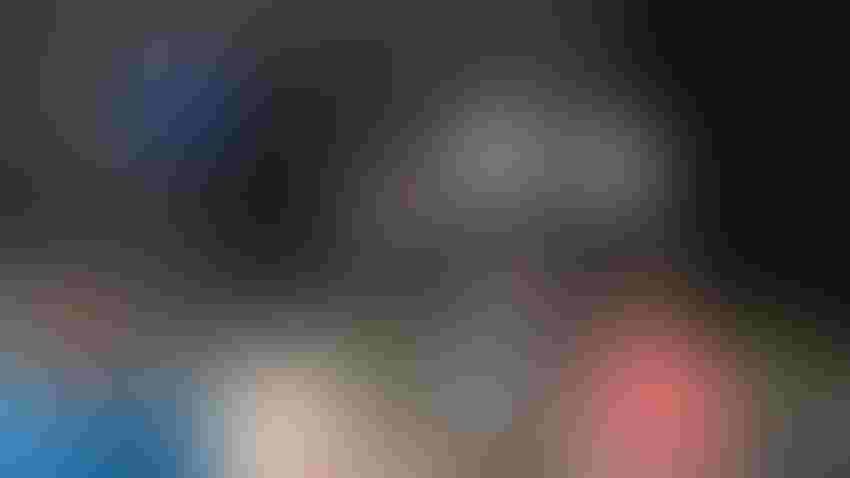 BIG ANNOUNCEMENT: Orval Gigstad (at podium), president of the Nebraska Association of NRDs, announced the new 2023 class of NRD Hall of Fame honorees at HHD. They include director Darwin Anderson (sitting, from left), employee Kent O. Miller and Cynthia Cannia, wife of NRD supporter James Cannia, who passed away in August 2020 and was awarded posthumously.
Photos by Curt Arens
Many would call them Nebraska's conservation heroes. Over the past several years, the Nebraska Association of Natural Resources Districts has announced its annual NRD Hall of Fame honorees during a ceremony at the Hospitality Tent stage during Husker Harvest Days.
Through these honorees, NARD recognizes the individuals who have built the NRD system as a role model for the country in how states can successfully manage, conserve and protect their water resources, in partnership with agricultural producers and other state agencies and cooperators.
This year's class of honorees, announced by NARD president Orval Gigstad, include NRD director Darwin Anderson, Columbus; employee Kent O. Miller, North Platte; and supporter James Cannia (posthumously), Mitchell.
Darwin Anderson, NRD director
First sworn in as director at Lower Loup NRD in 1975, Anderson continues as a member of his board today, 48 years later. He figures that he has attended almost 600 board meetings so far, and put more than 115,000 miles on his vehicles traveling to the NRD office in Ord.
"Darwin is always willing to donate his time to help at the regional Envirothon competition or hand out trees at Husker Harvest Days," says Russ Callan, Lower Loup NRD general manager.
Anderson is a former highway superintendent for Platte County, so that road-and-bridge construction, culvert placement, right-of-way policy and public safety experience has helped immensely as the Lower Loup NRD tackled flood prevention and erosion issues over the years.
Anderson has also been a member of the Lower Platte Weed Management Area since its founding. The group works to control the spread of noxious and invasive plants, and to raise awareness through education. A priority for the group is working with landowners to control invasive phragmites in wetlands and in riparian areas.
Anderson told the audience at the HHD announcement ceremony about his early days as a director and how he was asked to run to be on the board all those years ago. He said that he has "enjoyed" the experience and being involved in the NRD efforts during his time on the board.
SELECT CLUB: Anderson, Miller and Cannia look on as NARD president Orval Gigstad explains their contributions to the NRD system to an audience gathered at the HHD Hospitality Tent stage.
Kent O. Miller, NRD employee
Miller has been Twin Platte NRD's general manager since 1973, and he is serving as the only original manager still working in the NRD system from its founding days. Miller worked in the 1980s with the Nebraska Department of Natural Resources and irrigation canal companies to help set up an incidental water rights system, which allowed canal systems to operate with less water and keep their water rights across the system.
As a promoter of the South Platte Compact, Miller has worked to bring additional water to the state from Colorado. More than a decade ago, he assisted in the formation of the Nebraska Cooperative Republican Platte Enhancement project between Twin Platte NRD and Republican basin NRDs. Miller has also been instrumental in the development of the water data program at Twin Platte, using technology to calculate growers' real-time water use.
At the ceremony, Miller noted his appreciation in being able to serve the people of Twin Platte NRD for 50 years.
James Cannia, NRD supporter (awarded posthumously)
Cannia, who died in August 2020, developed what is arguably the most comprehensive groundwater monitoring network in Nebraska, working for the North Platte NRD.
According to Lower Platte South NRD water resources coordinator Dick Ehrman, Cannia systematically installed hundreds of monitoring wells throughout the North Platte valley, providing a network of wells that in the early 2000s became crucial in building the Platte River Cooperative Hydrology Study model.
Cannia co-founded Aqua Geo Frameworks, a company specializing in airborne electromagnetic surveys and hydrogeologic framework models. Thanks to Cannia, today nearly 30,000 line-miles of AEM surveys have been flown in the state, making Nebraska a world leader in the use of this technology.
"Jim had the foresight to know the long-term value of the monitoring data," Ehrman said. "His dedication to the profession and boundless enthusiasm had a profound impact on the conservation and protection of Nebraska's groundwater."
Cannia's wife, Cynthia, said that her husband didn't choose his career in hydrology — it chose him. "And, he was lucky enough, until the day of his death, to always work in his field," she added.
These NRD Hall of Fame inductees were also formally recognized at the NRD annual conference dinner banquet Sept. 25 in Kearney.
More awards
Along with numerous conservation- and natural resources-related speakers and sessions, other award winners were also named during the annual NRD conference. They included the following:
Tree Planter of the Year. Brian Moes family, Osmond
Community Conservation Award. Bob Hansen, Coleridge
Water Conservation Award. Dave Condon, Creighton
Soil Stewardship Conservation Award. Daryl Obermeyer, Brownville
Director of the Year. Marcel Kramer, Lewis and Clark NRD, Crofton
Educator of the Year. Zeta Greene, Sandhills Public Schools, Dunning
Learn more at nrdnet.org.
Subscribe to receive top agriculture news
Be informed daily with these free e-newsletters
You May Also Like
---