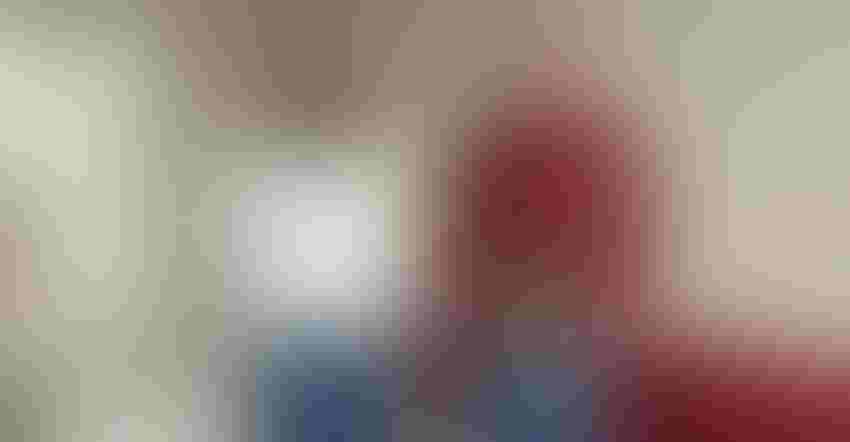 RANGE SERVICE: Anthony Perlinski (left), past president of the Nebraska Section-Society for Range Management, presents the Range Service Award to Jerry Volesky, UNL professor and Extension range and forage specialist.
Nebraska Section-Society for Range Management
Jack Arterburn of Chadron, Neb., recently was awarded the 2019 Nebraska Section-Society for Range Management Outstanding Young Range Professional Award at the Nebraska Section-SRM annual meeting.
This award recognizes contributions of younger range professionals to the advancement of the art and science of rangeland management. Arterburn is the University of Nebraska-Lincoln beef systems Extension educator for northwest Nebraska.
Jerry Volesky of North Platte, Neb., was awarded the 2019 Nebraska Section-SRM Service Award. The award recognizes range management professionals for outstanding service in promoting wise management and use of Nebraska rangeland resources.
Volesky is a professor and Extension range and forage specialist with UNL and works at the West Central Research and Extension Center in North Platte.
Each year, the Nebraska Section-SRM recognizes a rancher or ranch family who exemplifies a strong land ethic. The Choquette family of Upland, Neb., recently was recognized during the annual meeting. The family has been farming and ranching in south-central Nebraska for nearly 130 years.
About 30 years ago, the ranch began a new focus to foster soil health and move away from grazing the way it had always been done. The family has moved to a management strategy that allows them to graze cattle efficiently, cost-effectively and holistically.
Cover crops and rotational grazing are two of the most critical parts of the success of the ranching operation's endeavor.
Nontraditional rural students receive scholarships
The Nebraska Farm Bureau Foundation awarded the Nebraska Rural Radio Foundation Scholarship in honor of Max and Eric Brown to Caitlin Pittman of Gering, Wendy McKain of Trenton, and Samantha Rife of Stratton.
The scholarship awards nontraditional college students living in Nebraska's rural communities. Recipients show a demonstrated commitment to the future of agriculture and rural communities.
McKain lives near Trenton. In addition to the small farming and cattle business she runs with her husband, McKain works as a clerk for the village of Trenton. She is enrolled in Mid Plains Community College in McCook and is taking courses to become an emergency medical technician volunteer.
Pittman is a certified nursing assistant at Regional West Medical Center in Scottsbluff. She recently was accepted into the University of Nebraska Medical Center Nursing Program and began her program in August. Pittman plans to continue her education, bridging a registered nurse to paramedic program. Pittman and her family reside in Gering.
Rife is a deputy clerk in the village of Trenton. Rife and her husband own a small cattle operation and grow alfalfa in Stratton. She will take classes at Mid Plains Community College to become an EMT.
2019 Pork Leadership Program participants named
The Nebraska Pork Producers Association recently announced the participants for its 2019 Pork Leadership Program. The Pork Leadership Program, a yearlong program, focuses on building the leadership capacity of people who are committed to contributing positively to the future of Nebraska's pork industry.
Participants in the 2019 Pork Leadership Program are Aaron Holliday of Columbus, with Pillen Family Farms; Allison Zabel of Papillion, with PIC; Joel Kaelin of Fairbury, with DNA Genetics; and Zachary Lubeck of Omaha, with Quality Pork International.
Participants in the Pork Leadership Program will take part in six meetings and activities over the course of a year, where they will learn about various aspects of the pork and agriculture industries.
Subscribe to receive top agriculture news
Be informed daily with these free e-newsletters
You May Also Like
---