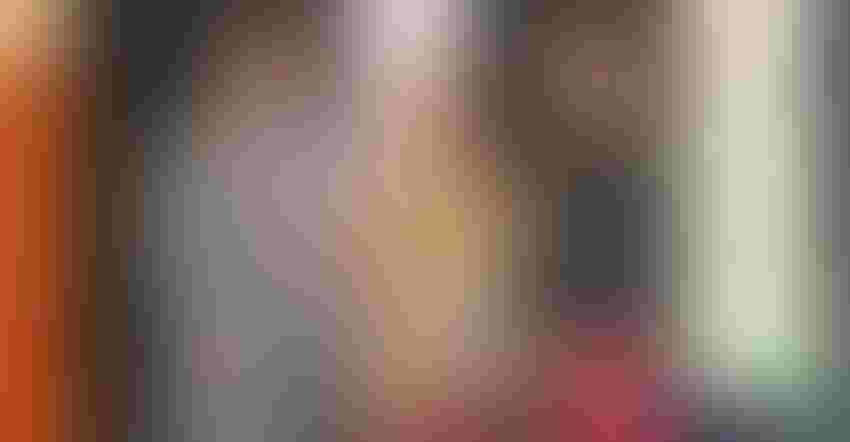 RETIRING STATE LEADERS: Dan and Kelly Snipes receive a plaque from Allie Rieth (right), Indiana Farm Bureau staff member. The Snipes have moved on to represent IFB on the national level.
Here are names you are likely to hear more about in the future. They are just some of the people honored at the 2018 Indiana Farm Bureau Young Farmers Conference. Past committee chairs and honorees include Master Farmers and leaders of state organizations.
Dan and Kelly Snipes, Fulton County, were honored for their service on the 2017-18 Indiana Young Farmers Conference Committee. Kelly chaired the conference, which attracted some 400 young farmers from all over Indiana.
Other outgoing Young Farmers committee members include Alan Duttinger, Nick and Andrea Michel, Dwight and Tifffant Ludwig, and Chelsea Miller. Young Farmers committee members are responsible for several activities during the year, including planning the state conference each winter, notes Molly Zentz, public affairs specialist for Indiana Farm Bureau.
Jonathon Spaetti accepted the top overall Young Farmers award for Spencer County. Jasper County Young Farmers captured the runner-up award, and the most improved award went to Morgan County.
The Young Farmers also presents what it calls Awakening Awards to growing chapters. Dane Drew accepted on behalf of Whitley County and Nick Tharp on behalf of Putnam County; Fulton County also received this award.
Kelly Snipes recognized the Bartholomew County Farm Bureau Young Farmers for working the most volunteer hours and raising the most dollars for community programs.    
Former FFA leader turns senator
Brian Buchanan, Lebanon, was elected by a Republican caucus to complete Sen. Brandt Hershman's term in the Indiana Senate. He will represent District 7, including all or part of several counties in north-central and northwest Indiana.
Buchanan is familiar to many in agriculture and FFA. He served as the Indiana FFA Foundation director for several years before resigning to work in the family trucking business. He was succeeded by Lisa Chaudion, current director. Buchanan has remained active supporting FFA and has headed up the Indiana FFA Foundation Center Committee that oversees operations of the Indiana FFA Leadership Center.
New state fair board members
Several new Indiana State Fair board members were either recently appointed by Gov. Eric Holcomb or elected to their positions in regional elections. Here is a brief rundown on each:
• Olgen Williams, Indianapolis, is a former deputy mayor and past executive director of Christamore House community center. He and his wife, Mary, have 10 children.
• Jeanette Merritt is the director of checkoff programs for Indiana Pork. She and her husband, Rusty, raise crops and pigs near Peru. They have three children.
• Terry Strueh is a vice president emeritus of Purdue University. He was active in governmental relations during his 39-year career at Purdue. Terry and his wife, Karen, live on their farm in Tippecanoe County.
• Melissa Huff is a certified residential appraiser based in Brownstown. She is also employed by Farm Credit Mid-America and is president of a nonprofit group that promotes farm safety, especially for young farm families.
• Michael Sprinkle is a lecturer in tourism, conventions and event management programs at Indiana University-Purdue University Indianapolis, teaching classes on hospitality, first-year experiences, and facilities and operations.
• Gwen Mize is in her 27th year of teaching vocational agriculture. Mize is the FFA advisor and vocational-agriculture instructor at North Manchester. She and her husband, Jeff, have two children.
Subscribe to receive top agriculture news
Be informed daily with these free e-newsletters
You May Also Like
---