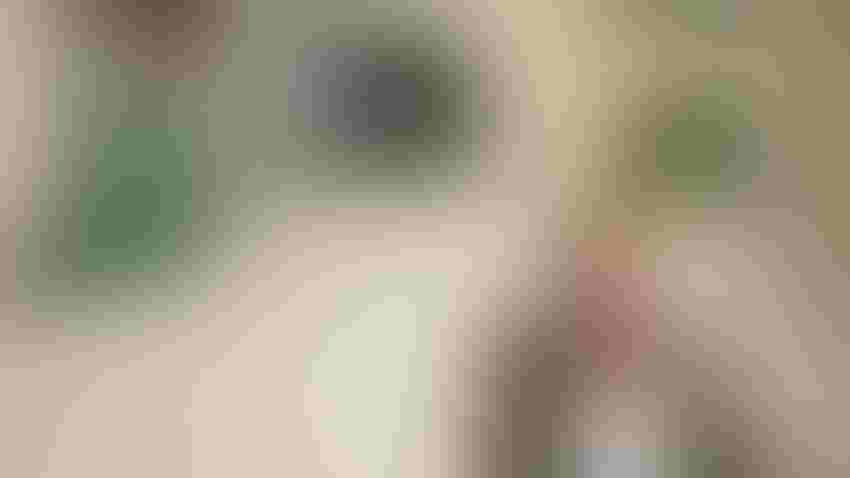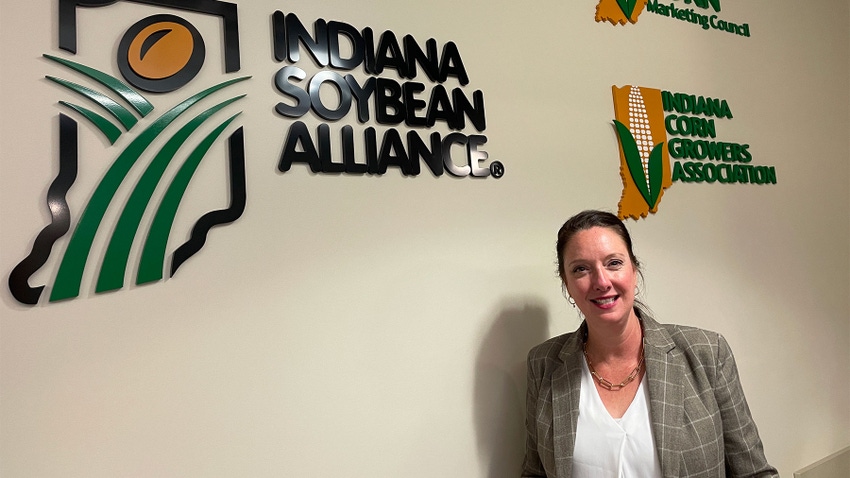 STANDOUT LEADER: Courtney Kingery strives to be a thoughtful and purposeful leader as CEO of the Indiana Soybean Alliance, Indiana Corn Growers Association and Indiana Corn Marketing Council.
Allison Lund
by Allison Lund
Courtney Kingery has enjoyed a successful career managing projects, but she takes pride in her work managing people. Her strong leadership and understanding make her "someone to know" in Indiana agriculture.
Kingery is the CEO of the Indiana Soybean Alliance, Indiana Corn Growers Association and Indiana Corn Marketing Council. She stepped into the role a few years ago and has worked to promote healthy conversations and remove barriers to success during her time there. She says this includes recognizing friction, checking in often, and helping make connections between people and projects.
"The conversations are very intentional, and it's thoughtful," Kingery says. "It's not 'you do it once at the beginning of the year and then you don't come back to it until the end of the year'; it's ongoing, it's purposeful, it's top of mind. And we can continue to have those conversations throughout the year."
Kingery's leadership helps to keep her team on track so they can continue to best represent and serve Indiana's farmers. Another goal Kingery has zeroed in on during her time as CEO has been expanding interactions with farmers and sharing the message about checkoffs.
"There are 20,000 soybean and corn farmers in Indiana, so getting the message out about all the things that the checkoff is doing and the value of checkoffs to farmers is really important," she says.
An unexpected path
While Kingery now focuses on working for and with farmers, her path did not start in that direction. She attended Hanover College and studied economics, with plans to head to law school following graduation.
"I jokingly say I'm an 'accidental aggie' because I never had an intention of going into agriculture," Kingery says.
Although she grew up on a farm in Monticello, Ind., she did not plan on returning. Her mother still lives on the farm today.
Following graduation, Kingery jumped into a position at Archer Daniels Midland Co. in the grain merchandising training program. She stayed at ADM for 17 years and left as the marketing manager for specialty food ingredients. This experience gave Kingery the privilege of seeing the entire value chain.
Kingery then spent seven years at Tate & Lyle, where she eventually had the opportunity to oversee its global health and wellness platform.
Plans for the future  
Since beginning her role as CEO for ISA, ICGA and ICMC, Kingery has worked with the boards to develop strategic plans that are now the backbone of the organizations. She is thankful for forward-thinking boards that have courageously started on this journey with new strategic plans.
Moving forward, Kingery hopes to continue to promote checkoffs and share the message with farmers across the state. One example of a program she wants producers to learn more about is the checkoff-sponsored Purdue Private Applicators Recertification Program (PARP) credit meetings around the state. ISA and ICMC sponsor the $10 participation fee for many county meetings, reaching over 2,500 growers each year.
"I think it's important for the growers to be aware of that because that's the direct checkoff making a direct impact in their communities and their operations," Kingery says.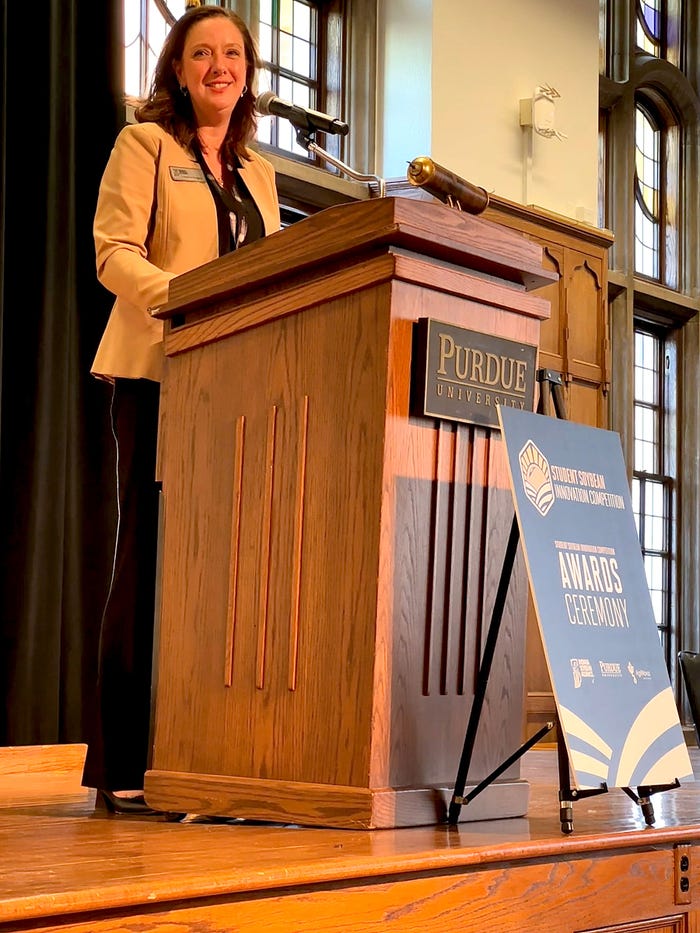 WORKING WITH PEOPLE: Courtney Kingery values working closely with people and building lasting connections. Here she is pictured at the Student Soybean Innovation Competition at Purdue University.
Commodity organizations
The Indiana Soybean Alliance and the Indiana Corn Marketing Council each work to enhance the viability of Indiana's corn and soybean farmers through the effective and efficient investment of corn and soybean checkoff funds that protect and promote the interest of Indiana soybean farmers. ISA and ICMC work to assist corn and soybean farmers through strategic initiatives of market development; environmental, social and economic sustainability; value creation; and producer engagement.
ISA and ICMC are led by elected farmer boards that direct investments of the corn and soybean checkoff funds on behalf of more than 20,000 Indiana corn and soybean farmers. Learn more at incornandsoy.org.
In addition to ISA and ICMC, Kingery also provides guidance to the Indiana Corn Growers Association. Not supported by a checkoff, members are free to lobby on the policy front on state and local issues.
Currently, the organization is led by ICGA President Scott Smith, Windfall, Ind., who works directly with Kingery. He recently hosted one of a series of Shop Talks around the state, held on farms. The primary goal is to discuss farm policy issues in a relaxed setting with state and local leaders. Smith also sees other benefits.
"Shop Talks also give us a chance to showcase modern, commercial-scale agriculture to federal and state legislators," Smith says. "These on-farm meetings are a great opportunity to show the scale of how a modern farm operates, the volumes produced, and the technology needed to efficiently produce a crop. Having this up-close-and-personal view of modern agriculture gives elected officials an important perspective as they debate issues impacting agriculture."
Courtney Kingery at a glance
Current role: CEO of Indiana Soybean Alliance, Indiana Corn Growers Association and Indiana Corn Marketing Council
Hometown: Monticello, Ind.
Growing up: Lived on her family farm
Past experience: 17 years at ADM, seven years at Tate & Lyle
Family: Husband, mother and two brothers
No. 1 goal: Expand interactions with farmers and make them aware of checkoff programs
Notable: Developed new strategic plans in her first few years as CEO
Lund writes from West Lafayette, Ind. Tom J. Bechman contributed to this article.
Subscribe to receive top agriculture news
Be informed daily with these free e-newsletters
You May Also Like
---