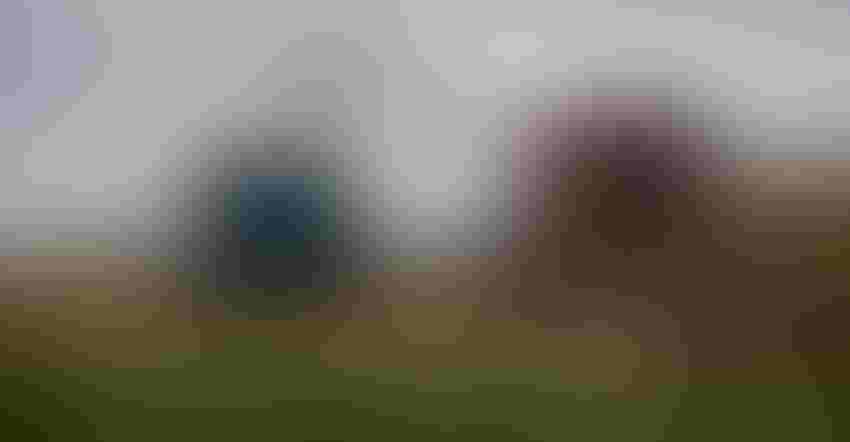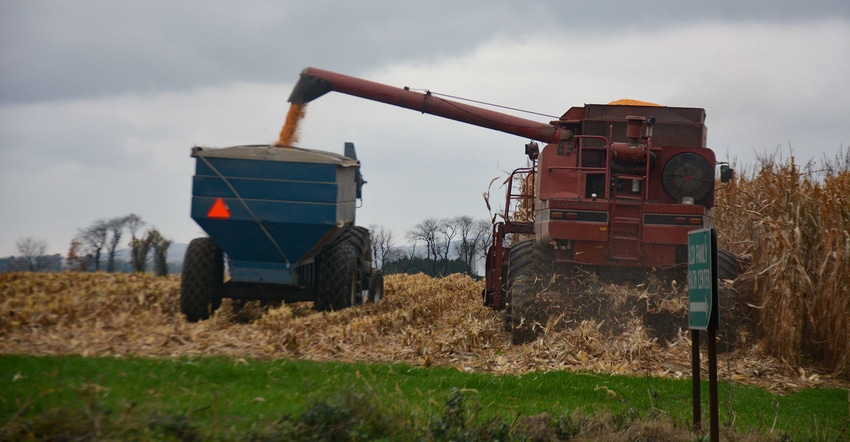 WINDING DOWN: With rainy weather on the horizon, the very last acres of shelled corn were harvested on this farm outside of Richland, Pa. Corn and soybeans are on target for very good yields this year, according to the most recent USDA Crop Progress Report.
Chris Torres
About half of Pennsylvania's corn grain crop has been harvested while Maryland and Delaware farmers are just about finished.
Corn is 53% harvested in the Keystone State, on target with the five-year average of 52%, according to the most recent Crop Progress Report from the National Agricultural Statistics Service.
A solid growing season with timely rains and warm temperatures have led to great yields with some farmers and Extension educators calling it record-breaking.
"A very good corn crop, very likely our best ever. Soybeans were about average," says crops reporter James C. Brubaker of Union County, Pa.
"Corn and soybean harvest is going strong with the yields being above average. Emerged winter crops have emerged and are looking good," says crops reporter William C. Shaeffer of Juniata County, Pa.
Soybeans are 67% harvested, ahead of the five-year average of 60%.
Apples are 93% harvested, ahead of the five-year average of 90%. Bruce Hollabaugh, production manager of Hollabaugh Bros. Inc. in Biglerville, Pa., says this year has been a "180" in comparison to last year's rains, which left a lot of damaged apples.
"The weather, overall, has been kind, both as a growing season and for harvest. Fruit size has been great and flavor has been stellar, of all crops," he says. "We've noticed an uptick in the 'common' diseases, most notably scab, we believe due to the intense pressure from last year's growing season.
"Believe it or not, having enough containers to put our crop in has probably been one of our largest challenges this year. Although we've had nearly the perfect amount of harvest help, this year we struggle to find reliable equipment operators," he says. "Prices have been good for good fruit. But because the national crop is large, it's been important to maintain the highest quality possible to compete at process that we'd like to see. Overall, although not perfect, this is the kind of season we needed after last year."
Winter wheat is 87% planted, just ahead of the average 83%.
Dry weather damages soybeans
This fall was a dry one in Maryland and Delaware, which greatly affected soybean quality.
Much of Maryland, southeast Pennsylvania, northern Delaware, southern New Jersey and southern West Virginia were placed in moderate drought status by the U.S. Drought Monitor.
Soybeans are particular bad in Delaware where 67% of soybeans were reported in poor condition and 9% in very poor condition. In Maryland, 33% of soybeans were reported in fair condition, 26% poor and 14% very poor.
The corn crop is 95% harvested in Delaware, which is right about average. Soybeans are ahead of schedule, 61% harvested, well-ahead of the five-year average of 26%. Winter wheat is 53% planted, which is right about average.
The corn crop in Maryland is 95% harvested, ahead of the average 80% for this time of year. Soybeans are 54% harvested, slightly ahead of the average 46%.
Apples are 92% harvested, which is right about average. Winter wheat is 73% planted, ahead of the 58% average.
Lots to harvest in New York
By the numbers, it looks like New York farmers are starting to catch up from what's been a late growing season.
Still, the damage has already likely been done with a lot of corn still left in the ground, whether it's for grain or silage.
"Yields vary depending on ground, but in general are down compared to previous years. More ground has been planted to wheat due to spring prevented planting," says Ellen deMey, a crops reporter in Oswego County, N.Y.
Janice Degni, a crops reporter covering four counties in central New York, says late-planted corn maturity is at a standstill as cold and rainy conditions have taken over.
Only 65% of the corn crop has reached maturity, behind the five-year average of 84%.
Corn silage is 62% harvested, behind the average 89%. Corn for grain is 22% harvested, behind the average 30%.
Apples are 80% harvested, behind the average 88%. New York is the nation's second-largest apple producer.
Soybeans are 37% harvested, behind the average 56%. Winter wheat is 86% planted, right about average.
Cranberry harvest down
New England growers are just about done with apples, with 88% of the crop harvested.
Corn silage is 93% complete, which is right around average.
Potatoes in Maine are 96% harvested, which is well-ahead of last year's pace of 80%.
Cranberries, the big crop in Massachusetts, are 49% harvested, behind the five-year pace of 67%.
Peter Jeranyama, a crops reporter on Cape Cod, says that 707,000 barrels of cranberries were reported delivered by one of the region's largest cranberry handlers. Average yield is 170 barrels an acre, 18 barrels an acre less than last year. Average berry color, which is key to how growers are paid, is 20% higher than the five-year average.
About the Author(s)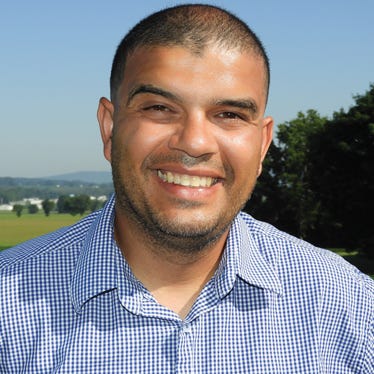 Editor, American Agriculturist
Chris Torres, editor of American Agriculturist, previously worked at Lancaster Farming, where he started in 2006 as a staff writer and later became regional editor. Torres is a seven-time winner of the Keystone Press Awards, handed out by the Pennsylvania Press Association, and he is a Pennsylvania State University graduate.
Torres says he wants American Agriculturist to be farmers' "go-to product, continuing the legacy and high standard (former American Agriculturist editor) John Vogel has set." Torres succeeds Vogel, who retired after 47 years with Farm Progress and its related publications.
"The news business is a challenging job," Torres says. "It makes you think outside your small box, and you have to formulate what the reader wants to see from the overall product. It's rewarding to see a nice product in the end."
Torres' family is based in Lebanon County, Pa. His wife grew up on a small farm in Berks County, Pa., where they raised corn, soybeans, feeder cattle and more. Torres and his wife are parents to three young boys.
Subscribe to receive top agriculture news
Be informed daily with these free e-newsletters
You May Also Like
---