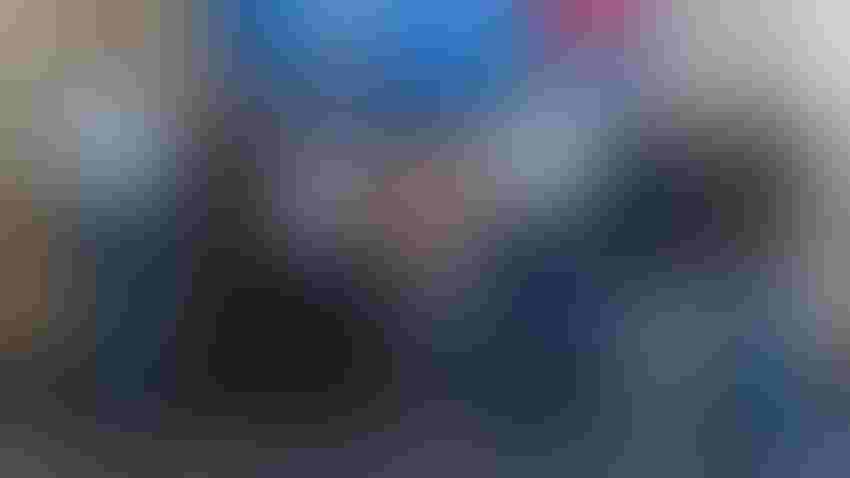 EXPORTER OF THE YEAR: MDARD Director Tim Boring (second from left) is pictured with Cliff Meeuwsen (third from left), ZFS board chairman, and staff from ZFS.
Photo courtesy of MDARD
Zeeland Farm Services has earned Michigan Department of Agriculture and Rural Development's highest export honor for 2023.
The company, headquartered in Zeeland, began exporting Michigan-grown soy products in 1999. About 90% of the soybeans they process are grown in Michigan.
"Companies like Zeeland Farm Services are an example of why international buyers continue to view Michigan as the best place for food and agricultural businesses," MDARD Director Tim Boring says. "Zeeland's work helps to ensure 'Made in Michigan' is recognized around the world."
ZFS was founded in 1950 and has 12 employees whose focus is exporting, while many other employees assist in the process daily.
"Being named the 2023 Michigan Ag Exporter of the Year is a tremendous honor for our entire team at Zeeland Farm Services," says Cliff Meeuwsen, ZFS chairman of the board. "Nothing happens without a lot of people making it happen as a team. If it wasn't for everyone involved, we wouldn't have the success that we have. It's rewarding to work with people around the world, from different cultures, to help meet their needs with products made right here in Michigan and the USA."
Many export markets
As a soy processor, nearly 100% of their exports consist of non-GMO soybean meal. ZFS also exports corn, soybean oil, hulls and other agricultural commodities. Many of their exports are sent to the Pacific Rim, but they also export to Canada, Europe, Central America, and South America.
ZFS cites being a participant with trade organizations and participating in events such as trade shows and buyers' missions as a major help in their export success.
Michigan consistently ranks as one of the most agriculturally diverse states in the nation, resulting in a wide array of exported products ranging from bulk soybeans to dried fruit, pickles and baked goods. Demand for these high-quality, dependable products continues to grow in local markets, online retailers and supercenters across the globe.
The 2023 Michigan Agriculture Exporter of the Year award review committee consisted of representatives from Van Andel Global Trade Center, Michigan State University's International Business Center, Comerica Bank, the U.S. Commercial Service's International Trade Administration, and the Michigan Economic Development Corp.'s International Trade Team. The decision was made based on export growth in the past three years, job creation from exporting and the ability to enter new markets.
To be eligible for this award, more than 50% of a company's product must be grown, processed or manufactured in Michigan, and exports must have contributed a substantial amount to a company's overall growth. For more information on past winners and the International Marketing Program, visit michigan.gov/agexport.
Source: MDARD
Subscribe to receive top agriculture news
Be informed daily with these free e-newsletters
You May Also Like
---