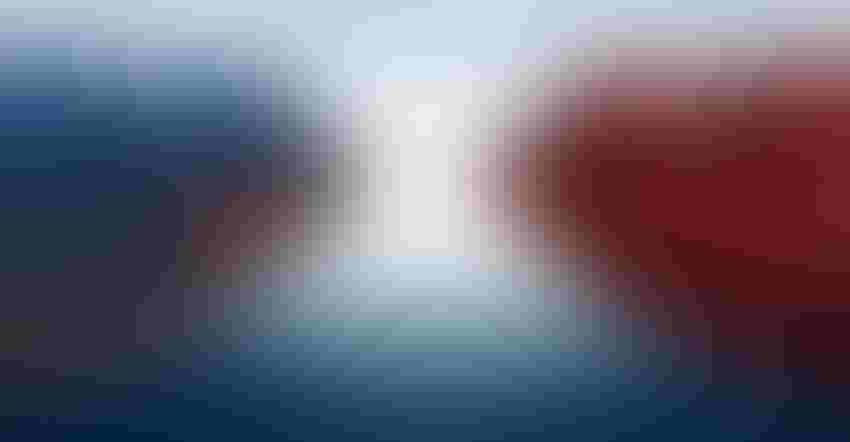 Trade continues to be intrinsically tied to the economic success of U.S. agricultural producers. After spending two days at the USDA Agricultural Outlook Forum, the impact of the ongoing discussions with China, finalization of the USMCA (post-NAFTA agreement) and the subsequent Section 232 tariffs cannot be denied.
The question is whether farmers have enough patience to see this out? And whether the President is picking another industry - notably the steel industry – at the continued expense of those in agriculture.
Ted McKinney, USDA trade undersecretary, said it isn't easy to look at your friends and say, "We don't like the way you're behaving. We are in a time where we are revisiting to have free, fair and reciprocal trade." McKinney is one of a handful of those in the administration who have had to take the tough position of defending farmers, while also defending actions that have brought about pain.
McKinney noted in his comments at the outlook that hope may be coming to help in the ongoing pinch farmers are facing on the trade front. "We cannot land UMSCA fast enough. If we can take down 232 barriers, that helps a lot. And if we can get Japan done sooner than later that helps too. China is a wild card," McKinney said, but if those large markets and issues get landed it will help tremendously.
USDA Chief Economist Robert Johansson projected U.S. agricultural exports at $141.5 billion in fiscal 2019, down $1.9 billion from 2018. The share of total U.S. agricultural exports to China in value terms is projected to be 6%, down sharply, with China falling from the top market in 2017 to fifth place.
McKinney said he continues to hear from farmers that they're willing to take "short-term pain for long-term gain," but as he then said, farmers are seeing "crystal clear what is short-term pain."
Barry Flinchbaugh, Kansas State ag policy economist, said at a Feb. 5 Farm Foundation Forum, that farmers are actually becoming more vocal about their concerns that this trade war will continue. "They're no longer accepting this out of loyalty. You don't hear the phrase, 'We'll take this short-term pain for long-run gain. They've discovered there is not a long-run gain," Flinchbaugh said. 
Don't expect more trade aid
McKinney knows the pain farmers are facing, adding that's why the trade mitigation payments were needed. USDA Undersecretary for Farm and Conservation Programs Bill Northey said $7.7 billion, of the estimated $10-$12 billion in aid, has already been issued to farmers. "We know some more dollars that will probably go out," Northey said as producers have until May 1 to provide final production numbers for the 2018 growing season.
But both Northey and Secretary of Agriculture Sonny Perdue again confirmed the trade mitigation payments offered in 2018 will not be offered again. "I do not expect another market facilitation program in 2019," Perdue said. "Farmers have to do marketing and look at the markets to determine what is appropriate to plant."
Northey, who is a farmer himself, said the trade war with China caught producers in between when they were planting and harvesting offering no chance to change planting decisions based on the knowledge of potential retaliatory tariffs. He added, in the end the market facilitation payments offered a little more cash to afford storage or provide more flexibility for that producer to be able to market their crops.
Steel and aluminum tariffs ill-advised
Perdue said the expectation was that the 232 tariffs placed on steel and aluminum tariffs under the guise of protecting national security would be lifted sooner rather than later. While speaking with his counterparts in Mexico and Canada, the three voiced support for a completed USMCA to lead to the removal of the 232 tariffs, and subsequent retaliatory tariffs, between the three nations. Many had hoped with the USMCA negotiations complete, those tariffs would be lifted with Canada and Mexico. However, it may be the tariffs that hold up final approval of USMCA, not House Democrats.
Perdue said he's expressed to the trade ambassador and the president the expectations of those agriculture to have the 232 tariffs taken down. The secretary recognized farmers are taking a "double whammy" as the cost of machinery and other products such as grain bins are going up, while the commodity prices have become depressed.
Perdue said the president has a "different opinion of the benefit of tariffs" but may be willing to consider what other methods can be used. Perdue reiterated the nation's loss of steel production drove the President's 232 decision initially. On the sidelines of those involved in the agricultural industry, talk was beginning to question whether Trump would pull down the 232 tariffs, or if they'd continue to stay on to again help win that constituency in 2020.
Flinchbaugh, who is known for not mincing words on political advice, told audience members at a Farm Foundation Forum on Feb. 5 that "putting tariffs on aluminum and steel was stupid" and agriculture has been an innocent bystander.
"We need to end this trade war now," said Flinchbaugh. "It's time to admit it was ill-conceived and see it was never going to work and end it."
Eye on China
U.S. and Chinese trade delegations wrapped up another round of discussions Friday, ahead of the March 1 deadline, when tariffs on $300 billion are set to increase from 10% to 25%; however, deadlines were extended.
The meetings follow discussions from the previous week with Chinese President Xi Jinping and Secretary Mnuchin in Beijing. President Trump followed up with a tweet saying the talks were very productive. While talks with China continue to make progress, President Trump has also floated the idea of extending the self-imposed March 1 deadline.
Negotiators are closing in on as many as six separate agreements, including one on agriculture. According to reports, China is proposing to buy an additional $30 billion a year in U.S. agriculture products as part of the possible deal. Late Friday, Secretary of Agriculture Sonny Perdue said the Chinese committed to buy 10 million metric tons of U.S. soybeans. A currency deal has also been reported.
While this news brings purchase commitments from China to approximately 16.5 million, the total purchases still do not add up to the value to soybean growers of seeing retaliatory trade tariffs rescinded.
"It is good to see our beans moving to China again," said Davie Stephens, a grower from Clinton, Ky., and president of the American Soybean Association (ASA). "While piecemeal purchases such as this one can be a part of the solution, what our industry needs right now is structural reform that leads to China rescinding its tariff on U.S. beans and fully reopening the market," Stephens continued.
During a breakout session on trade at the outlook session, US Chief Ag Negotiator Gregg Doud was careful not to give any negotiating details but said the goal remains to increase market access for U.S. agricultural products.
China had become a great market for soybeans, but the goal is to figure out a way to open up China for all these other commodities. "That's exactly what we're trying to do," he said.  
Subscribe to receive top agriculture news
Be informed daily with these free e-newsletters
You May Also Like
---