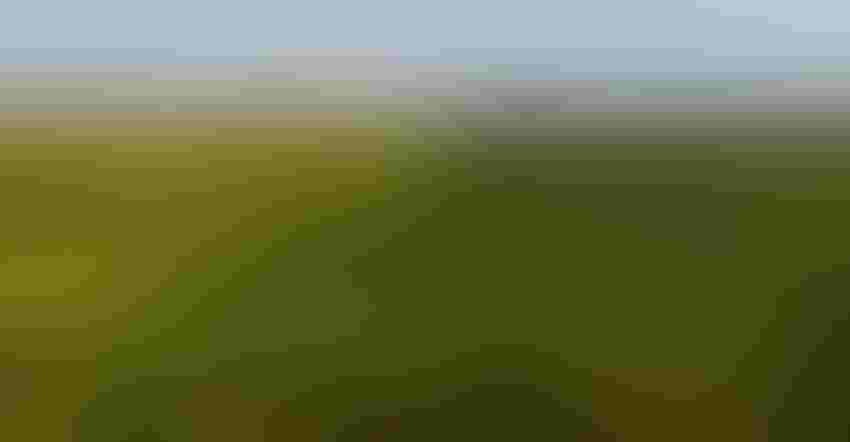 Mark R Coons/iStock/GettyImages
Corn and soybean crops so far survived a widely varied growing season in the U.S. and are on track for good, but not great yields, according to Farm Futures August crop production survey. Still, above average yields for the sixth straight year could leave prices foundering, especially in a soybean market hammered by tariffs on Chinese imports.
While growers so far don't expect record yields, the 2018 soybean crop could still be an all-time high, by a whisker. The survey put average soybean yields at 49.8 bushels per acre nationwide for a crop of 4.42 billion bushels, 30 million more than the record set in 2017.
The corn yield found by the survey of 175.4 bushels per acre would be 1.2 bushels per acre shy of the record achieved last year. With acreage down as well from 2017, total production could fall to 14.36 billion bushels, down around 240 million bushels.
USDA releases results of its first survey of farmers and their fields Aug. 10, a key milestone for the grain market every summer. This year weather and trade added to the uncertainty. Final yields will depend on how crops finish off ahead of harvest, according to Bryce Knorr, Farm Futures senior grain market analyst.
"Corn yields have potential to come in larger in subsequent reports if grain fill takes place more slowly after a fast pollination," Knorr said. "Weekly crop ratings put out by USDA and Vegetation Health Index maps point to yields that could be 3 to 5 bushels an acre larger than the ones we found in our survey. But for those to be achieved the crop likely needs to slow down, which will take cooler August temperatures."
Soybean yields are notoriously difficult to predict in August, when weather can swing output both higher and lower. Soybean yields could approach the record set in 2016 of 52.1 bpa if the growing season ends with moderate temperatures and good rainfall.
A big soybean crop could add to the market's trouble. "Without a resolution to the trade dispute with China, increased production could swell leftover soybean supplies on Sept. 1, 2019 above 600 million bushels, keeping the average U.S. cash price below $8.50," Knorr said.
Smaller production and solid demand could slowly whittle away at corn inventories in the coming year, Knorr says. The swing factor could be exports, especially if lower production from France to the Black Sea tightens world inventories.
"Corn is also getting a helping hand from wheat but could run into resistance if the market fears farmers will boost corn plantings in 2019 due to low soybean prices," Knorr said.
Farm Futures surveyed 924 growers July 20 to Aug. 2. Farmers were invited by email to fill out on on-line questionnaire. Over the past 11 years the Farm Futures August survey showed an average difference with USDA of 2.1% on corn yield and 2.3% on soybean yield.
Subscribe to receive top agriculture news
Be informed daily with these free e-newsletters
You May Also Like
---