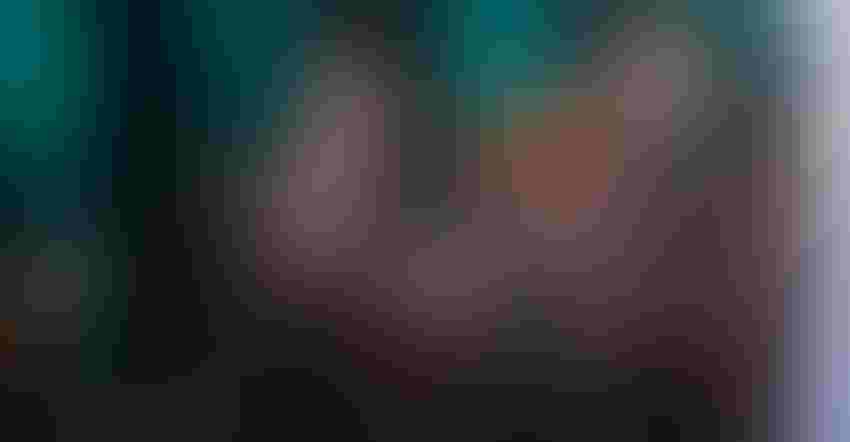 U.S. Agriculture Secretary Sonny Perdue, left, chats with Mark Killian, director of the Arizona Department of Agriculture during the 5th Annual Arizona Agriculture Roundtable in Tempe.
Todd Fitchette
There may be some light at the end of the agricultural export tunnel soon as it relates to trade with China, according to one U.S. official.
U.S. Agriculture Secretary Sonny Perdue told Arizona growers during a visit there in early December that a positive outcome to trade negotiations between the U.S. and China could be coming shortly as American exports to other Asian rim countries appear to be picking up.
Perdue visited with Arizona growers, agricultural Extension agents and industry representatives attending the 5th Annual Arizona Agribusiness Roundtable in Tempe. Along with detailing discussions and issues not commonly reported, he responded candidly to questions asked by Mark Killian, director of the Arizona Department of Agriculture.
Killian's questions centered on issues important to Arizona farmers, including trade, labor, immigration and water policy. Perdue assured farmers that he and the Trump Administration continue to work on behalf of American agriculture, adding that he continues to be "bullish on American agriculture" and that American farmers "are the most productive in the world and no one's going to beat an American farmer in that way."
Trade
Still the big issue with American farmers and ranchers are the trade agreements with China, something Perdue says both countries want a solution to sooner rather than later.
"I think we'll know shortly with respect to China and have been encouraged by comments made so far," Perdue said.
Perdue highlighted other export opportunities that continue to expand globally for U.S. farmers. While China continues to offer the U.S. considerable opportunity with respect to agricultural trade, Perdue says the U.S. has perhaps relied too much on the large nation to buy American food products.
"We've allowed ourselves to probably become overly dependent on one large customer," Perdue said.
In an exclusive interview with Western Farm Press, Perdue said other Pacific Rim nations including Vietnam, Cambodia, the Philippines and Taiwan have increased their purchases of U.S. agricultural goods. While the smaller countries cannot replace the buying power of China, Perdue says the U.S. is gaining ground with countries that potentially offer significant buying power, including India.
As nations develop healthy manufacturing sector economies and the middle class grows, Perdue says the opportunities to sell the kinds of high-quality food and fiber produced by the United States improves.
Still, China cannot be ignored for a host of reasons, Perdue says. Aside from its proven and potential buying power – estimates suggest China could potentially double its food imports from the United States if fair and balanced trade becomes a reality – China will need to prove itself by living up to its promises.
"I can tell you in discussions thus far, if we could trust China to live up to what they're in the process of committing to at this point, the numbers are staggering," he continued. "Their commitments could essentially double their imports of U.S. agricultural products."
One Arizona beef producer asked Perdue how the U.S. can convince China to buy American beef products. "That's the challenge," Perdue responded. Still, Perdue seems hopeful that trade negotiations could bode well for American farmers if China follows through with its verbal commitments.
Perdue also highlighted political issues with the European Union that continue to make U.S. food imports challenging through its own protectionism. While individual countries in Europe may want and actively seek U.S. agricultural products, Perdue says it's the umbrella of the European Union that makes it increasingly difficult to export agricultural products there through a host of restrictions.
"That's one of the things that's frustrating," he said. "They've been as incalcitrant probably, and less willing to discuss issues than China, so I don't know what's going to happen with the EU."
On the larger trade negotiations, Perdue says President Trump is unwilling to discuss trade with the EU without an agricultural component and a reciprocal approach to trade. The U.S. is not simply going to buy European goods without the ability for the U.S. to sell agricultural products into the EU, he said.
Killian praised Perdue for his efforts to help the states, and particularly Arizona.
"His staff calls my office regularly to ask if we need anything from the USDA," Killian said. "When we give them a concern or issue, they're on it."
Local efforts
While the USDA has its trade missions to various countries, and groups like the Western United States Agricultural Trade Association (WUSTA) do their work to promote trade from the various western states it represents, Killian says the states are being encouraged to embark on their own trade missions abroad.
For instance, a recent western states' trip to Vietnam revealed that the growing middle class there "is basically begging us to send them food," Killian said.
Killian agrees with Perdue that the states could probably do a better job than the USDA in direct sales efforts to foreign countries as the states are more in tune with what they produce, particularly when private food manufacturers and processors are involved.
In one example, Killian says his family beef operation found ways to cut out the middle man and direct market beef products domestically. In another example, Killian pointed to an unnamed Arizona pistachio company that has found success marketing pistachios directly with India.
Killian admits his efforts to promote Arizona products abroad is stymied by the defunding in 2008 of the division within the Arizona Department of Agriculture that handled agricultural promotions. In the five years Killian has led the department he's been able to cobble together efforts with existing staff but admits it's not the same as having a full-time division dedicated to trade missions. That's where Killian says membership in the WUSTA has been vital for Arizona interests.
Labor
Perdue is trying to encourage President Trump to divorce the issues of border security and illegal immigration from efforts to allow foreign guest workers into the United States to address reported agricultural labor shortages. He said the USDA is working with the Administration, and the Departments of Labor and Homeland Security to address a temporary guest worker program. Legislation to make such regulatory fixes has been introduced in Congress.
Subscribe to receive top agriculture news
Be informed daily with these free e-newsletters
You May Also Like
---