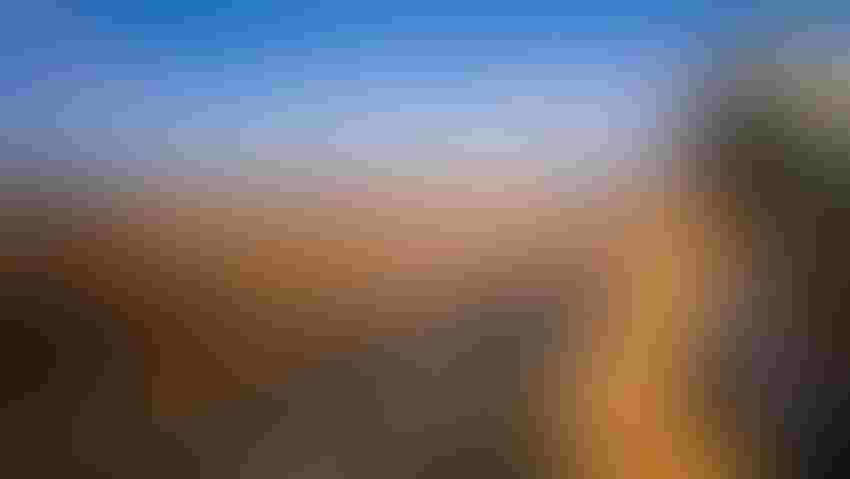 Richard Hamilton Smith/Getty Images Plus
USDA's new World Agricultural Supply and Demand Estimates (WASDE) report, which was released Tuesday morning, showed some possible diminishing production and per-acre yield potential for this year's corn and soybean crops.
From a pricing standpoint, that didn't really matter, however, as those assumptions had already largely been baked in. December corn and November soybean futures each slumped more than 1% lower immediately following the report.
Wheat prices continue to be hampered by large global supplies, meantime. Some contracts were down almost 2% on Tuesday morning.
Here's a closer look at some of today's numbers:
Corn
USDA's outlook for corn includes slightly larger supplies and ending stocks. Beginning stocks for the 2023/24 marketing year increased by 5 million bushels after the agency balanced export trends against ethanol usage.
Production is now forecast at 15.1 million bushels, which is 23 million more than August. USDA assumes a greater harvested area is more than offsetting an average reduction in yield, which it pegs at 173.8 bushels per acre. Analysts were expecting to see a slightly bigger drop, with an average trade guess of 173.5 bpa.
Ultimately, USDA pushed its ending stocks estimate up another 19 million bushels. The season-average farm price held steady, at $4.90 per bushel.
"December 2023 corn prices fell to the lowest point since late December 2020. Pre-report analyst estimates were hoping that USDA would go lower after hot and dry weather this August," according to Farm Futures grain market analyst Jacqueline Holland. "But I think USDA keeping yields on the higher end of analyst estimates wasn't the bullish news markets were hoping for this morning."
Additionally, Holland points out that USDA found nearly a million more acres of 2023 corn plantings to offset the yield cuts, adding 23 million more bushels of 2023 corn to the pipeline, instead of the subtraction markets had been expecting.
"Markets had baked in smaller yields going into the report," she says. "And to be sure, this year's corn crop isn't going to be a bumper one. But it's not going to be as bad as the markets made it out to be in August. The fact remains that many key growing areas enjoyed moderate temperatures and timely showers across pollination in late July that essentially ensured 2023 yields."
All told, the 2023 crop will still be the second-largest corn crop in U.S. history. Holland has been vocal about being bearish on corn, and today's report finally begins to show signs that the extended rally that started in late 202 is finally coming to an end.
Globally, USDA's corn outlook calls for "reduced production, marginally lower trade and larger stocks relative to last month." Yield expectations are on the rise in Ukraine, while production estimates shifted lower in the European Union
Foreign corn ending stocks trended more than 98 million bushels higher, with increases in Brazil, Mexico, Ukraine and China partially offsetting reductions in Argentina. World ending stocks are up 114.2 million bushels from August, reaching 12.362 billion bushels.
Soybeans
For soybeans, UDSA noted several month-over-month supply and use changes, including "lower beginning stocks, production, crush, exports and ending stocks."
Production is now estimated to reach 4.1 billion bushels, which is 59 million bushels lower compared to August and also below the average trade guess of 4.157 billion bushels. Average yields were also slightly below analyst estimates after dropping to 50.1 bpa.
On the other hand, USDA also lowered its soybean crush forecast by 10 million bushels and its export forecast by 35 million bushels. Ending stocks trended 25 million bushels lower versus August and now sits at a historically tight 220 million bushels.
Prices for the soy complex were steady or slightly improved this month. The season-average farm price for soybeans shifted 20 cents higher to $12.90 per bushel. Soymeal prices remained unchanged, at $380 per short ton. Soyoil prices inched a penny higher to 63 cents per pound.
"I had been expecting the market to react bullishly to USDA's report today, but I was not expecting that so few soybean acres would be added," Holland says. "Markets had been hoping for nearly three million more soybean acres to be added to 2023 production, but USDA barely added 100,000 more."
"It really shouldn't be a surprise – I can count on one hand the number of soybean fields I passed on I-80 driving to Grand Island from Colorado yesterday," Holland continues. "I know, it is Husker Nation, but I know I saw way more soybean fields last year."
At the current trajectory, this will be the seventh-largest soybean crop in U.S. history. Even with USDA's cuts to 2023/24 usage rages, Holland says stocks will be the ninth tightest on record.
"And speaking of those usage rate cuts, the market was not happy with them. I had a farmer comment at Husker Harvest Days today about "the U.S. running out of soybeans" and it's not an unrealistic expectation," Holland says. "This means that the crush expansion could slow over the next year and will more closely align with the EPA's updated blending volumes published this past June. Export volumes were also cut because the smaller crop will limit exportable supplies, which means growers could lose out on basis opportunities in the upcoming weeks as peak export season ramps up."
Globally, soybean ending stocks eased around 7.3 million bushels lower to 4.380 billion bushels.
Wheat
USDA elected not to make any changes to its all-wheat outlook for supply and use this month, although the agency did note that there were some offsetting class changes on exports.
That leaves some key stats as follows:
Area harvested – 37.9 million acres

Beginning stocks – 580 million bushels

Production – 1.734 billion bushels

Exports – 700 million bushels

Total use – 1.829 billion bushels

Ending stocks – 615 million bushels
The season-average farm price was also unchanged, at $7.50 per bushel.
Globally, it's also worth noting that world ending stocks would be the lowest since 2015/16, if realized, after USDA trimmed its estimates by another 257.2 million bushels for a new total of 9.502 billion bushels.
"Global wheat supplies still aren't as stable as they were before Russia's invasion of Ukraine, but the lowered forecasted usage means that those supply worries will lessen, though only slightly," Holland says. "Another year of turbulent wheat production seems to be keeping wheat acres competitive for the 2024 growing season already this fall as many farmers eye planting activities over the upcoming weeks."
Click here to read the full September WASDE report.
Subscribe to receive top agriculture news
Be informed daily with these free e-newsletters
You May Also Like
---