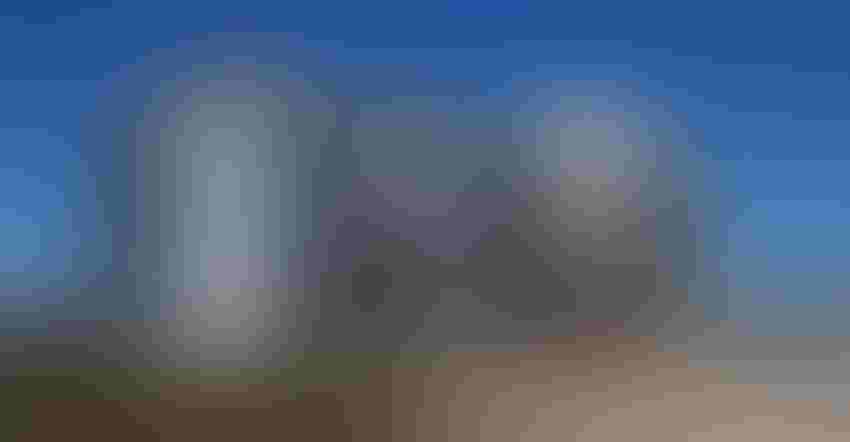 HARVEST RALLY: An unusual surge in prices this fall provided farmers an opportunity to market their crops earlier than usual.
Rod Swoboda
As corn and soybean harvest wrapped up this fall, the market got a better idea of this year's crop size. It also was updated on what's happening with increasing demand for crops in the U.S. and globally.
USDA's November reports featured bigger-than-expected cuts to U.S. corn and soybean crop production estimates for 2020, and domestic and global ending stocks for the 2020-21 marketing year. Both corn and soybeans rallied sharply, putting in life-of-contract nearby futures contract highs. The reports signaled the need for higher corn and soybean prices to slow demand and attract more acres for 2021.
Given the unusual surge in corn and soybean prices, there are opportunities to sell now that may not exist in mid- to late 2021, noted Steve Johnson, an Iowa State University Extension farm management specialist, in a Nov. 19 Crop Marketing Strategies webinar. "The basis for corn is very strong, some of the best late fall numbers we've seen in eight years. Some local processors are offering a positive basis. They want corn."
Take advantage of opportunities
Farmers should also be prepared to sell more of their old- and new-crop soybeans with an inverted futures carry along with a strengthening basis reflecting strong export demand. The nearby January 2021 soybean futures contract traded at $12 per bushel in late November, the highest futures price in four years.
Analysts expect new-crop soybean futures prices may decline more than $1 per bushel by next fall, driven by an expected surge in soybean acres planted in spring. "I think the bean market will be very well supported all winter," Johnson said. "But given these prices, we could see 4 million to 6 million more U.S. bean acres planted in 2021."
Corn futures prices should remain strong this winter with continued demand both domestically and for export. The lack of large futures price carry and strengthening basis could trigger corn sales but might not occur until January. Johnson suggests farmers consider pricing some old- and new-crop corn. Expect strong resistance as March futures trade close to $4.40 per bushel and December 2021 corn futures trade over $4.10 per bushel.
A big unknown is how South American corn and soybean crops will yield. Typically, during La Niña weather patterns, the major growing areas of southern Brazil and Argentina receive below-average rainfall and have more opportunity for drought conditions. If this happens and reduces their crop production, U.S. crop prices could go even higher. However, if South America grows average corn and soybean crops, futures prices will likely see some downward price pressure.
"By February, we'll know more about how these market factors will play out," Johnson said. "With this in mind, if a farmer wants to take advantage of price levels available, they should do so within the next couple of months."
Know cost of ownership
Ed Kordick, farmer education program manager for Iowa Farm Bureau, joined Johnson in the webinar presentation. They emphasized the importance of knowing your cost of ownership when marketing stored grain. Both on-farm and commercial storage costs add up over time, although the cost for on-farm storage tends to be significantly lower and provides better basis opportunities.
While it's possible the market may offer higher corn and soybean prices in 2021, it's uncertain if that price will be enough to also cover the costs of storage, as well as interest accrual charges.
Cost of ownership continues to rise the longer you hold the 2020 harvest, Kordick noted. While the price might rise, the margin you get back on the stored grain may be lower despite the higher price.
Drought and derecho damage occurred in a large area across Iowa this year, and there were crop problems in other states. The corn and soybean markets were anxiously awaiting USDA's November reports, which proved extremely bullish.
Forecasts in the November USDA Crop Production report are based on conditions as of Nov. 1 and don't reflect weather effects since that time. The next major corn and soybean production estimates for 2020 will be published in USDA's Crop Production Annual Summary report to be released Jan. 12.
The Nov. 10 USDA World Agricultural Supply and Demand Estimates report pegged the U.S. 2020-21 marketing-year ending stocks for corn at 1.702 billion bushels, a decrease of 465 million bushels from the October estimate of 2.167 billion bushels. The 2020-21 crop marketing year ends Aug. 31, 2021.
The average U.S. corn yield for 2020 declined by 2.6 bushels per acre to 175.8 bushels per acre. The export forecast for the marketing year increased by 325 million bushels to a record 2.65 billion bushels. The average cash price increased by 40 cents and is forecast to average $4 per bushel for the marketing year.
For soybeans, USDA sees the U.S. 2020-21 ending stocks at 190 million bushels. That would be a decrease of 100 million bushels from the October report. The average U.S. soybean yield declined by 1.2 bushels per acre to 50.7 bushels per acre. Demand remained the same, but the average cash price increased by 60 cents to $10.40 per bushel for the marketing year. USDA is projecting U.S. and world soybean carryover stocks at seven-year lows on Aug. 31, 2021.
Soybean export sales strong
"China's voracious appetite for soybeans was known. The bigger surprise this fall has been their corn purchases," Johnson said. "They're rebuilding their hog herd after African swine fever, and weather issues left them with a domestic grain shortfall."
The 2020-21 marketing year started off with a bang in U.S. soybean export sales, with roughly 1.8 billion bushels already sold internationally as of early November.
"China is by far the driving factor," said Chad Hart, ISU Extension grain marketing economist. "U.S. sales to unknown destinations are also up sharply, and those sales mainly end up in China as well. Movements in our other large markets have been more subdued and dwarfed by Chinese actions. But it is encouraging to see growth in our smaller markets, as seen with soybean sales outside of our top six export markets."
The export start for corn is positive as well, but the gap isn't nearly as great. "Still, nearly 1.4 billion bushels of export sales in the first 10 weeks of the marketing year is a good sign," Hart said.
China big buyer of U.S. corn
"China is now our leading export market for corn," Hart said. "Sales to China account for just over 30% of all U.S. corn export sales. But it's good to see growth beyond China, with growth in all our major markets and the rest of the world totals."
In the U.S., feed demand for corn, soybean meal and distillers grain were being supported by record meat production. The 2020 projections were reduced earlier this year to account for COVID-19 impacts.
"USDA's 2021 projections show an anticipated rebound in meat production and a return to record production," Hart said. "But the longer-term action in livestock and meat will depend on the ability to move meat from the farm or ranch to customers, both domestic and international."
The bottom line: With recently better market prices and the emergency government payments, USDA is forecasting $103 billion in net farm income for the U.S. in 2020. That compares with $84 billion in 2019.
Subscribe to receive top agriculture news
Be informed daily with these free e-newsletters
You May Also Like
---