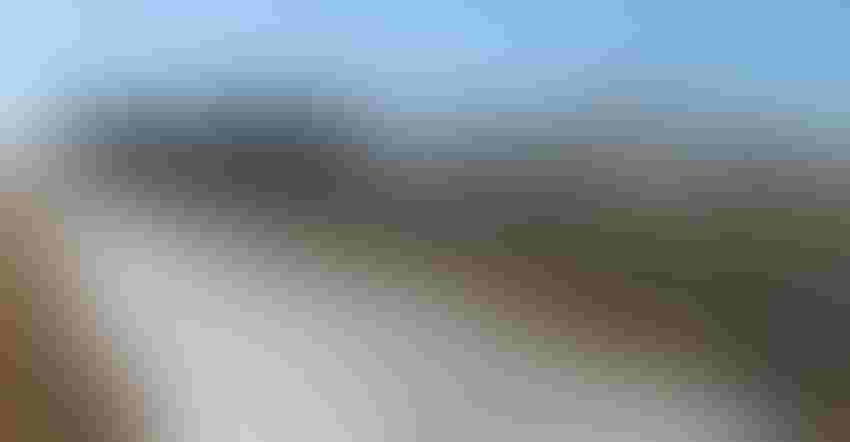 LATE START: Little if any fieldwork has been done this spring due to cold, wet conditions, says USDA's first 2018 weekly weather and crop report.
Just four-tenths of a day. That's all that was suitable for fieldwork last week in Iowa, says USDA's first weekly crop progress report of the 2018 season. It's based on conditions for the week ending April 1. In other words, a couple hours sometime last week it was fit to work in the field somewhere in the state.
Cold, wet weather with snow in some areas of the state this week, continues to keep farmers out of fields. "It's April 3, and in many years we've had all our spring-applied anhydrous knifed-in by now," says George Telsma, farming in Sioux County in northwest Iowa. "Not this year."
Only 2% of Iowa oat acres planted
"When the oats crop is behind, you know it's going to be a late spring," Telsma says. So far, it's four days behind last year's progress and three days behind the five-year average. The good news in this report is topsoil moisture is rated 3% very short and 9% short, but 73% adequate and 15% surplus. That's quite an improvement over a month ago.
The weekly Iowa Crop Progress and Condition Report is compiled and released by USDA's National Ag Statistics Service, weekly from April through November.
Iowa Secretary of Ag Mike Naig comments on this first of the 2018 season report: "The cool, wet weather has kept farmers out of the field and created challenges for cow-calf producers who are in midst of calving. It looks like this weather pattern could stay in place this week and continue to prevent farmers from getting a start on spring fieldwork."
The weekly report is available on Iowa Department of Ag and Land Stewardship website IowaAgriculture.gov or on USDA's site nass.usda.gov/ia. The report summary follows.
Crop report
A cold, wet week prevented fieldwork across most of Iowa during the week ending April 1, says USDA's National Ag Statistics Service. Statewide there was just 0.4 day suitable for fieldwork.
Topsoil moisture levels rated 3% very short, 9% short, 73% adequate and 15% surplus. Subsoil moisture levels rated 4% very short, 14% short, 74% adequate and 8% surplus. Northwest Iowa reported the highest surplus subsoil moisture level at 22%, while parts of south-central and southeast Iowa remain in abnormally dry to moderate drought conditions, according to the March 27 U.S. Drought Monitor.
Only 2% of the Iowa oats crop has been planted, four days behind last year at this time and three days behind the five-year average.
Livestock conditions varied across Iowa as of April 1. Heavy snow and muddy lots have both presented challenges for calving in many areas.
Weather summary for week ending April 1
According to Michael Timlin, regional climatologist, Midwestern Regional Climate Center, the past week was cool across Iowa and drier than normal for the northern half of the state. Precipitation totals were near normal in the south and drier than normal to the north. Most of northwest Iowa had less than 0.25 inch for the week, less than 50% of normal. Light rains were reported early in the week and again the morning of March 31.
On Sunday, snow began in southwest Iowa and spread along the Iowa-Missouri border through the day. Primghar, in O'Brien County, recorded no precipitation for the week and many stations in neighboring counties reported just a trace or a few hundredths of an inch. The two wettest stations were in Page County in southwest Iowa, at College Springs with 1.88 inches and at Clarinda with 1.75 inches.
Drier, colder than normal
Weekly average temperatures ranged from 6 to 10 degrees F below normal across Iowa with daily maximum temperatures particularly below normal. Warmest readings in the state came from Sioux City on March 28, reaching 64 degrees. Temperatures also climbed above 60 degrees in the southeast tip of Iowa on April 1.
Coolest readings were recorded in the northern portion of Iowa midweek, with temperatures dropping to the mid-teens. Cresco, in northeast Iowa, fell to 13 degrees March 29. The entire state had minimum temperatures in the teens or low 20s on April 1. Soil temperatures April 1 were reported in the 30-degree range across the state with readings near freezing in some northern locations.
Subscribe to receive top agriculture news
Be informed daily with these free e-newsletters
You May Also Like
---