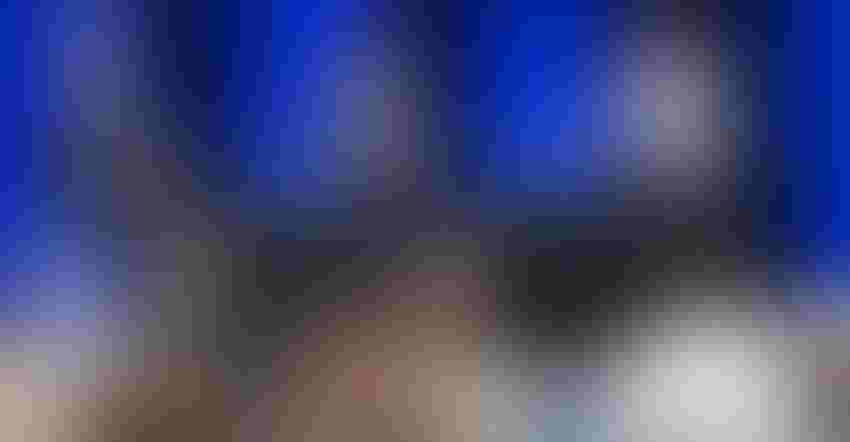 Kurt Shultz, Ramy Taieb and Alvaro Cordero speak about the Middle East's demand for U.S. grains products at a panel in Denver.
Emerging markets for grains and ethanol provided a bright spot for U.S. farmers, agribusinesses and industry officials at the U.S. Grains Council's 58th Annual Board of Delegates meeting in Denver.
The Council's Middle East and Africa Director Ramy Taieb and Manager of Global Trade Alvaro Cordero spoke on a panel moderated by the Council's Senior Director of Global Strategies Kurt Shultz, highlighting the Middle East and North Africa as a 10 million metric ton (394 million bushel) market for U.S. grains in all forms.
They focused on new demand in Saudi Arabia for U.S. sorghum and distiller's dried grains with solubles (DDGS), near-term opportunities developed following years of work by Council staff and members to set the stage with local customers.
"The Middle East and North African is a vast area with a lot of complexity," Taieb said to the group. "However, from the perspective of the U.S. producer, it's an important area of the world that encompasses 17 countries importing grains products valued at more than $1.8 billion." 
The Council has a regional office in Tunisia and consultants in Turkey, Pakistan, Morocco, Algeria, Egypt, Saudi Arabia and Jordan, who also covers Oman and the United Arab Emirates.
"Regional imports have been growing over the past five years from 2.5 MMT (98 million bushels) in marketing year 2013/2014 to 8 MMT (315 million bushels) in marketing year 2016/2017. We are expecting to reach 10 MMT (394 million bushels) of grains in all forms to the region this year," Taieb said. "The U.S. Grains Council has focused on being flexible and responsive to the shifting market opportunities as they arise in the region."
U.S. corn sales to Saudi Arabia totaled $383 million in the 2016/2017 marketing year, a 150% growth over the previous marketing year.
Council Chief Economist Mike Dwyer updated delegates on the industry's ethanol market development efforts. The U.S. is the world's largest producer, consumer and exporter of fuel ethanol and is the most cost-competitive ethanol supplier due to large-scale production, industry innovation and access to competitively-priced feedstock.
"No other grain-in-all-forms category comes close as a driver of growing corn demand," Dwyer told the delegates about ethanol exports. "U.S. exports of grains in all forms could rise to a record 138 MMT by 2022 if we meet our ambitious goals." 
According to a recent USGC and National Corn Growers Association study, grain-in-all-forms exports accounted for $55.5 billion in economic output in 2015, the most recent year with full data available, with more than 262,000 U.S. jobs connected to these sales.
More from the Denver meeting is available on social media, using the hashtag #grains18. 
Source: U.S. Grains Council
Subscribe to receive top agriculture news
Be informed daily with these free e-newsletters
You May Also Like
---