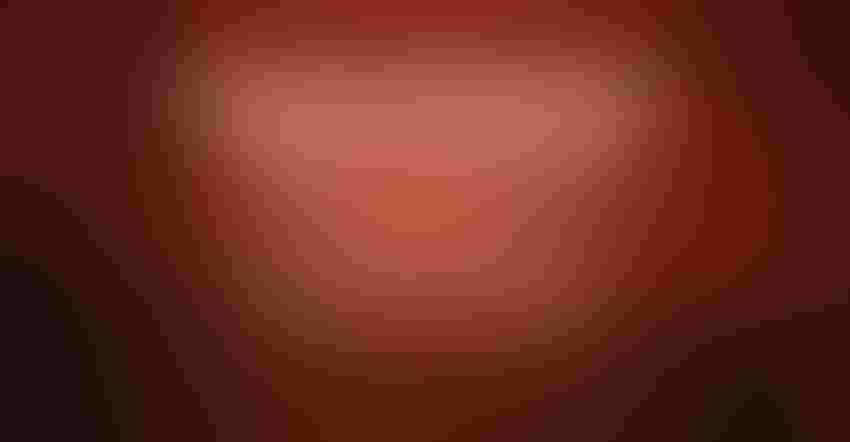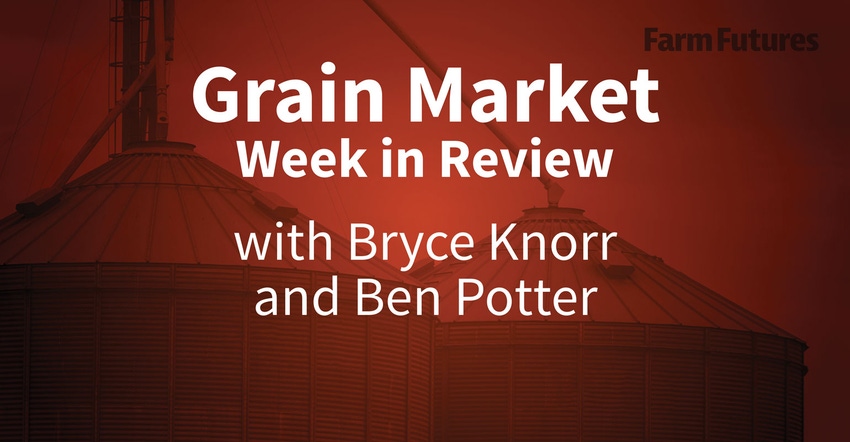 Missed some market news this week? Here's what Bryce Knorr and Ben Potter reported.
Audio
Red ink flowed in markets around the world today with selling spurred by increasing fear over the trade war between the U.S. and China. After President Trump threatened another 10% tariff on $300 billion in Chinese imports last week, Beijing retaliated today by stopping any further purchases of U.S. farm goods. Lack of a weather threat in August forecasts kept traders on the sidelines or sent more out of long positions, even though there's much uncertainty looming ahead of USDA's Aug. 12 production estimates.
Tensions in the trade war between the U.S. and China escalated dramatically Monday, sending financial markets sharply lower but stocks turned higher overnight after China appeared to halt weakening of its yuan currency. Grain futures are mixed with corn unable to hold on to all of yesterday's gains despite lower crop ratings this week.
Trade estimates are out for USDA's Aug. 12 reports, and while not as bullish for corn as Farm Futures survey results, they confirm our forecast for lower production and carryout. Soybeans and wheat may not see much change, keeping the focus on corn and helping prices firm overnight as financial markets try to calm down after this week's volatile trade.
Markets are breathing easier this morning because tensions in the trade war appear to be easing. China let its yuan strengthen a little today, raising hopes that currencies won't be the next front in the dispute. China also imported more soybeans in July though purchases from the U.S. remain on hold. With international tensions retreating from the headlines, traders can focus on Monday's USDA reports and potential for bullish news.
Soybeans continued their rebound overnight, after getting a lift Thursday on short-covering from bearish funds liquidating positions ahead of USDA's big reports Aug. 12. Despite more tension in the trade war between China and the U.S., dry weather in parts of the Midwest and forecasts for more spurred buying.
Crop progress
Growers posting Feedback From The Field last week noted overall stable conditions for corn and soybeans. But at the same time their assessment of yield potential was lower as slow development and a drying trend take a toll on crops. Average yield estimates so far remain below forecasts churned out by other methods, including USDA's weekly ratings, key state weather and satellite maps. Growers last week rated corn a little lower and soybeans a little higher, but both were below average.
Six years in a row of above average corn and soybean yields look ready to end in 2019, following challenges from weather and trade disputes. Farm Futures latest survey of growers shows sharply lower production of both corn and soybeans due to a combination of reduced acreage and lower yields.
USDA lowered its assessment of 2019 U.S. corn quality by a point for the week ending Aug. 4 while keeping U.S. soybean quality steady from a week ago. Spring wheat crop quality was narrowly scrambled. Sorghum's crop quality slipped from 71% rated good-to-excellent a week ago down to 68% as of Aug. 4. For winter wheat, USDA marks 82% of the crop now harvested, up from 75% a week ago but moderately behind 2018's pace of 89% and the five-year average of 92%.
Exports
Even with trade war rhetoric heating up between the U.S. and China over this past week, Chinese buyers appear to be following through on earlier soybean commitments on deals made during a brief cease-fire as a goodwill gesture.
Another week, another mixed round of export sales data from USDA. All eyes were on China, which told its soybean industry last week to stop buying from the U.S. in retaliation of President Donald Trump's threat to trigger more tariffs on Chinese goods.
Market recaps
Grain futures are mostly higher this morning, getting a lift from warmer and drier weather forecasts and positioning squaring ahead of Monday's USDA reports. Gains to end the week came despite more tension in the trade war with China.
The next monthly supply and demand report from USDA comes out Monday morning, and traders spent Friday's session squaring positions ahead of that data dump. The results were mixed, with corn and some wheat contracts slip-ping slightly lower, while soybean and Chicago SRW futures climbed higher. Soybeans were the day's biggest winner after gaining nearly 1.25%.
Outlook
Basis outlook - The cost of shipping grain into position at export markets continued to rise again last week. With supplies plentiful and demand spotty, that meant farmers absorbed the difference in the form of mostly weaker basis.
Fertilizer outlook - Most fertilizer dealers don't update offer sheets often, because they aren't in the business of constantly buying and reselling products. It's a seasonal enterprise, just like agriculture, and now is the season to be buying. Whether it's for immediate shipment into on-farm storage or for fall delivery and application, buying now avoids a potential rush later because lots of fields need replenishment.
Corn outlook - Most years the biggest question headed into USDA's August crop reports is what the corn yield is. That estimate will be watched on Monday for sure, but it's not the big data point the market needs to know right now. Acreage is the number of the moment for 2019 corn due to the unusual growing season. Our Farm Futures survey found growers planted 83.5 million acres, compared to 89.1 million in 2018 and the 91.7 million plugged into USDA's July WASDE report.
Soybean outlook - As usual, there are a wide range of estimates in the trade about what USDA will say about soybeans in its Aug. 12 reports. But most observers, myself included, see a crop of around 3.8 billion bushels. I'm a little more bearish on production and carryout than the average, but not really by enough to make much of a difference.
Wheat outlook - USDA's Aug. 12 reports are the focus of the grain market right now. Wheat is an afterthought in most of the discussion right now, but likely will feel the fallout from bullish or bearish numbers about corn and soybeans.
Subscribe to receive top agriculture news
Be informed daily with these free e-newsletters
You May Also Like
---