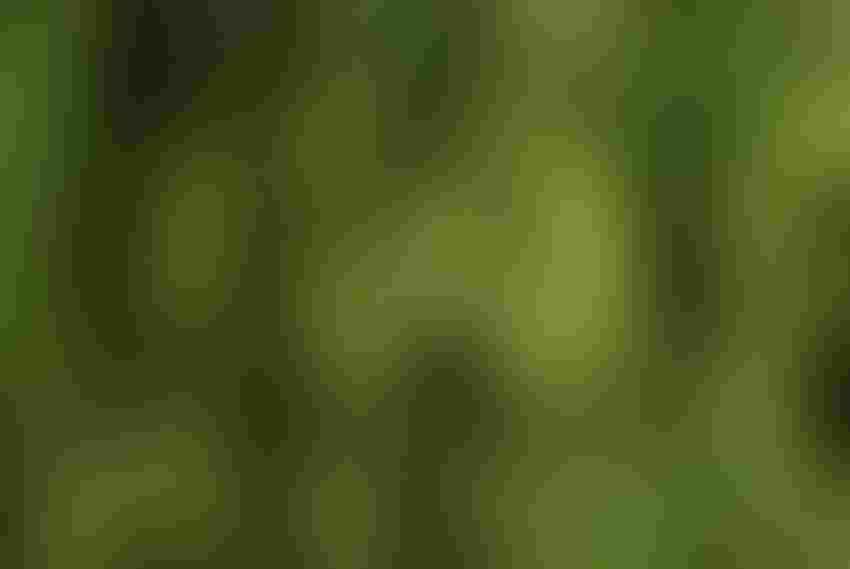 LOOKING GOOD: While some fields were flattened by tornadoes in a few areas of central Iowa last week, the state's corn crop overall is rated 79% good-to-excellent.
Some farmers have been spending time surveying their tornado-damaged crops, as twisters touched down in several areas of central Iowa July 19. But statewide, Iowa's corn crop is rated 79% good-to-excellent and the soybean crop is 76% good-to-excellent, according to USDA's latest weekly survey, released July 23.
Iowa's 2018 corn crop is now 88% silked, 11 days ahead of the five-year average. In south-central and southeast Iowa, which are having problems with drought this summer, corn is even more advanced — 95% of it has silked.
Northwest, north-central and northeast Iowa, with 84%, 83% and 82% of the corn in those areas, respectively, having reached silking stage by July 22, are lagging the rest of the state. But keep in mind, the five-year average for the state is 61% of the corn silked by July 22.
U.S. crop conditions hold steady
The U.S. corn and soybean crops' good-to-excellent ratings came in better than the trade had expected for the week ending July 22. USDA's weekly survey ratings for the nation's corn crop maintained the previous week's levels, while soybeans gained, which is the opposite of what the trade had estimated prior to USDA's report.
The latest USDA Crop Progress Report pegs the U.S. corn crop at 72% good-to-excellent, unchanged from the previous week. USDA says 81% of the corn is in silk stage compared to a 62% five-year average. Also, 18% of the nation's crop corn has entered dough stage, compared with an 8% five-year average.
For soybeans, USDA says the U.S. crop's condition is 70% good/excellent, which is above the previous week's rating of 69%. Also, as of July 23, USDA says 78% of the U.S. soybean crop is in blooming stage vs. 63% for the five-year average. And 44% of the nation's soybean crop is now setting pods vs. a 23% five-year average.
The weekly Iowa Crop Progress and Weather Report is available on the Iowa Department of Ag and Land Stewardship at iowaagriculture.gov or on USDA's site nass.usda.gov/ia. The report summary follows.
Crop report
Iowa farmers had 5.3 days suitable for fieldwork during the week ending July 22, according to the latest survey by USDA's National Ag Statistics Service, complied and released July 23.
Some farmers had to spend time examining damage from tornadoes, high winds and hail that struck parts of the state July 19. However, regular farming activities in Iowa last week included harvesting hay and applying chemicals.
 Topsoil moisture for the state is now rated 3% very short, 12% short, 77% adequate and 8% surplus. Subsoil moisture is running 5% very short, 13% short, 74% adequate and 8% surplus. Flood-related nutrient loss and crop damage remain a concern in the northern two-thirds of Iowa while subsoil moisture in south central and southeast Iowa is near 75% short to very short.
Corn 11 days ahead of average
Iowa's 2018 corn crop, now 88% silked, is a week ahead of last year and 11 days ahead of the five-year average. USDA's weekly survey shows 7% of the corn crop has reached dough stage, three days ahead of last year and two days ahead of average. Corn condition is rated 79% good-to-excellent.
Iowa's soybean crop is 81% blooming, with 40% of the crop setting pods. That's 5 days ahead of last year and six days ahead of average. The condition of the Iowa soybean crop is rated 76% good-to-excellent, according to USDA's weekly survey.
Iowa hay condition 69% good-to-excellent
As of July 22, 90% of the Iowa oat crop was turning color or beyond that stage, with 35% of the crop already harvested for grain. Oat condition is rated 77% good-to-excellent. Second cutting of alfalfa hay reached 86% complete, 10 days ahead of average. Drier conditions last week were favorable for harvesting hay. Hay condition statewide is rated 69% good-to-excellent.
Pasture conditions declined slightly to 58% good-to-excellent statewide last week. Cooler temperatures have provided livestock with some relief from high temperatures experienced in previous weeks.
Weather summary
According to Justin Glisan, IDALS climatologist, this past week began with a series of fast-moving cold fronts charging across the state July 16-17, bringing measurable rainfall to eastern and southern Iowa. Fairfield in Jefferson County reported 0.59 inch on the July 16; Lee County had accumulations between 0.01 and 0.05 inch on the July 17. Cooler air moved in behind the fronts, bringing below-normal to normal temperatures rest of the week.
Average highs were in the low-to-mid 80s for much of Iowa, with Oskaloosa reporting the week's high temperature of 94 degrees on July 16. On July 18, a thunderstorm complex moved into the state during evening hours. Pottawattamie, Fremont and Taylor Counties all reported rain over an inch. July 19 was an active day as a strong low-pressure system over Minnesota and a warm front draped over central Iowa fired up discrete severe supercell thunderstorms.
Tornadoes rip through 3 towns
There were over 27 preliminary reports of funnel clouds and tornadoes, with Bondurant, Marshalltown and Pella taking direct hits; these locations had catastrophic damage and some injuries. The Pella and Marshalltown tornadoes were rated at EF3, with estimated peak winds at 144 mph; the Bondurant tornado was rated at EF2, with estimated winds of 115 mph. The storms sped through Oskaloosa and Ottumwa into Van Buren and Lee Counties, where heavy rain and hail were reported.
Widespread measurable rain was also observed in Iowa's northeast quadrant, with Waukon in Allamakee County recording 3.03 inches of rain, the week's highest total. Conditions calmed down on July 20, as low pressure moved into Wisconsin through early in the morning on July 21. Lingering isolated thundershowers brought rain to Clayton, Dubuque and Jackson Counties; Guttenberg had nearly an inch of rain. July 22 was cooler and mostly dry. Average temperatures were variable across Iowa, with eastern Iowa up to 8 degrees below normal.
Subscribe to receive top agriculture news
Be informed daily with these free e-newsletters
You May Also Like
---