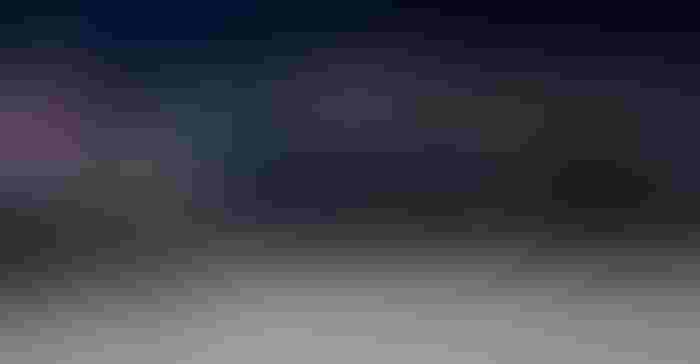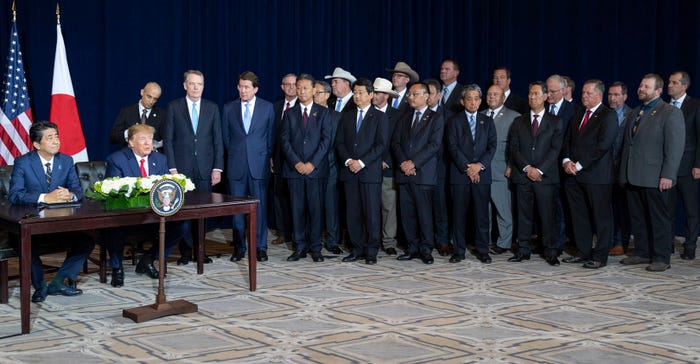 When something needs doing, Doug Goyings isn't the type to pass a job off to someone else. When he needed fields drained, he figured out how to mount a trencher on a tractor and started installing drain tile. When his house needed to be rewired, he rewired it. When a windstorm wrecked his grain legs and bins, he and his family rebuilt them.
And, when wheat buyers around the world need a little encouragement to buy U.S. wheat, Goyings gets on an airplane, flies off to meet with potential buyers and tells them about his farm, his family and the superior quality of U.S. wheat. "They all like to know it comes from a family farm," he says. "Around the world, it's that way."
Goyings, who farms in Paulding County, Ohio, with his family, has been a board member of U.S. Wheat Associates (USW) since 2009 and is currently the USW board chairman. The organization works to develop export markets for wheat and is funded with checkoffs from 17 wheat-producing states, along with cost-share grants from the USDA Foreign Agricultural Service. Wheat grown in the U.S. has a reputation for consistent high quality and reliable supply, but it faces competition from other wheat-producing countries on price, Goyings says. Trade restrictions and tariffs also complicate export marketing.
In his role as USW chairman, Goyings represents wheat growers around the U.S. and promotes all classes of wheat. An important part of that effort is face-to-face meetings with grain buyers and trade officials around the world, so Goyings has become a world traveler. "They want to speak to the farmers," he explains.
Memorable meeting
The trip Goyings took to New York City this past September was particularly memorable, he adds. He was one of eight farm leaders on hand as President Donald J. Trump and Japan Prime Minister Shinzo Abe signed a trade deal that reduced Japanese barriers to U.S. wheat and other farm products. After the signing, Goyings was able to shake hands with both world leaders.
The Japanese market is important for U.S wheat producers, because about 10% of the wheat the U.S exports goes to Japan. That adds up to about $600 million in wheat exports to Japan each year. That trade was at risk when the U.S. withdrew from the Trans-Pacific Partnership (TPP), leaving U.S. wheat at a competitive disadvantage compared to Canadian and Australian wheat. The new trade agreement with Japan removes that disadvantage.
In all, about 50% of the wheat grown in the U.S. is exported. Even though most of the soft red winter wheat grown in Ohio stays in the U.S., exports are still important for Ohio wheat growers, Goyings stresses. When other classes of wheat are exported, the market expands for everyone, he explains. "Wherever we move wheat, it's going to help farmers."
Just since he took office as chairman of U.S. Wheat Associates last summer, Goyings has traveled to Montana, Spain, Brazil, New York City, Missouri, New Mexico, Texas, Japan and Mexico. All that traveling wouldn't have been possible without his family picking up his workload, he notes. His son, Jeremy, farms with him full time; and his wife, Diane, and Jeremy's wife, Jessica, also help out during busy seasons. The family relies on several full- and part-time employees to keep the farm running as well. This year, Jeremy called in extra help from friends and family members, and Diane took time off from her off-farm job to drive a grain truck during harvest. Goyings helped wherever he was needed when he was home, but sometimes had to catch up on his sleep as he flew off to another meeting.
Farm focus
The Goyings family farms about 4,500 acres, growing corn, soybeans and wheat. They use strip tillage for corn, and they use no-till for wheat, soybeans and double-cropped soybeans following wheat. They've also started planning cereal rye as a cover crop, adding crimson clover to the rye if they are able to plant early in the season. That combination of practices is making a noticeable difference in the quality of their clay soils, Goyings says. "You have a growing crop on it all the time, and it seems like it's getting better — the soil is alive."
Part of the ground the Goyings family farms is in a two-year corn-soybean rotation, but most is in a three-year rotation that includes wheat. On its own, wheat might not offer the highest profit potential; but when the value of straw and double-cropped soybeans is considered, wheat works well in the family's production system, Goyings explains.
They farm far enough north that double-cropped beans are generally considered risky, but they've had good success planting medium-season varieties. Even if the soybeans are killed by frost before the plants fully mature, the soybeans are mature enough they can be dried down after harvest. They've harvested soybeans as wet as 28% moisture and dried them successfully. Short-season varieties might mature fully before frost, but the plants seem to end up smaller, with lower yields, Goyings says.
The Goyings family also typically harvests wheat at higher moisture levels so they can plant double-crop soybeans earlier. They have the drying capacity to handle all their crops and enough on-farm storage for everything they produce. Intensive management has helped the Goyingses boost their wheat yields; and for the last three years, they've been state winners in the National Wheat Foundation's yield contest. Their contest plots yielded 100.5 bushels in 2017, 126 in 2018 and 109 in 2019.
Including wheat in the crop rotation increases the summer workload, which is a barrier for some farmers, Goyings points out. However, growing wheat opens a summer manure application window, and it also gives farmers a chance to maintain or install drainage systems. Water quality incentive programs favor production of wheat, as well, he adds. Although wheat acreage in Ohio has been dropping in recent years, he doesn't expect to see it drop much more because of the long-term benefits the crop offers as part of a total farming system.
"It's all about profitability in the end," he explains.
Keck writes from Raymond, Ohio.
Subscribe to receive top agriculture news
Be informed daily with these free e-newsletters
You May Also Like
---