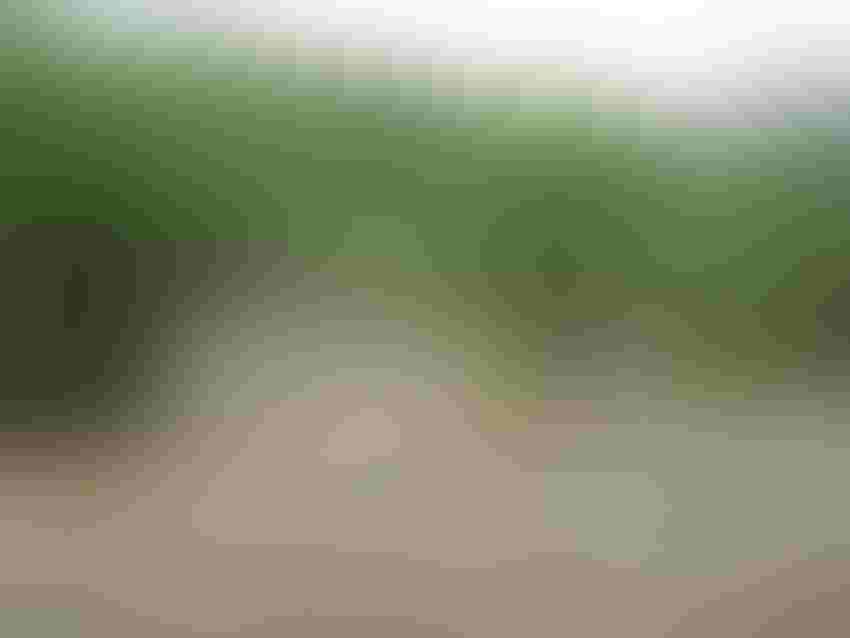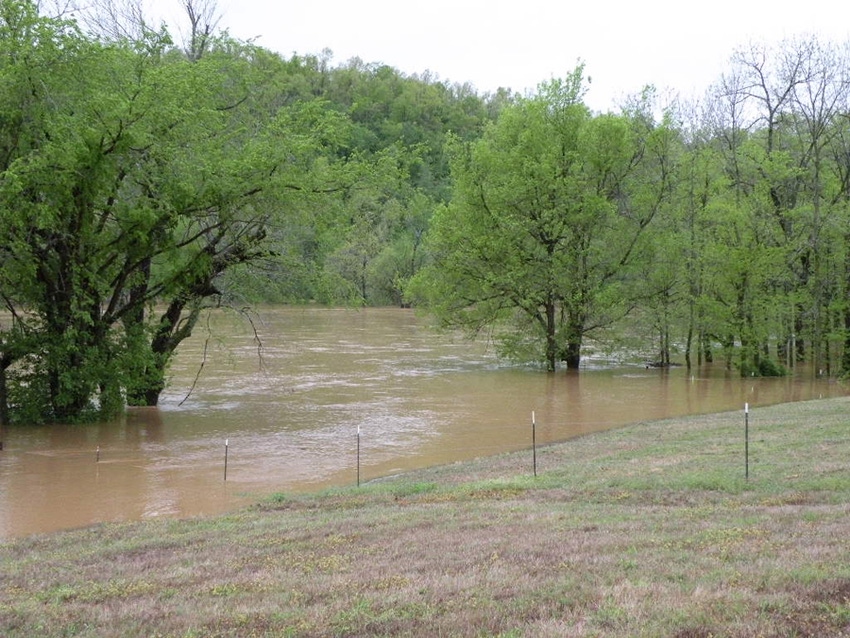 Following torrential late-April rains, northeast Arkansas once again faces surging river levels and rising floodwaters. As the Black and White rivers spread far outside their banks, some area residents are being evacuated as helpless growers watch their land going under.
And with more rain in the forecast for Wednesday (May 3) and Thursday, the situation is expected to worsen.   
Jerry Morgan, who farms around Cord and Lynn in Lawrence County, Ark., is all too familiar with the current scenario. Last year, Morgan and neighbors faced two floods (http://bit.ly/2qsq4sR) that many never recovered from.  
On Tuesday afternoon, Morgan recounted the last few days:
"This flood will be bigger than what happened in 2011," says Morgan. "They're predicting a crest of 31.5 feet for the Black River and it's at 28.8 now. Flood level here is around 16 or 17 feet. For comparison, last year, the water level got up around 24 feet in the spring and 23 feet in August. That was enough to have to replant in the spring and then badly damage the rice later.
"This time, the flood came very early. I got in bed at 3:00 this morning. We took all four of our grain trucks up just south of Pocahontas last night and were loading up around 10 p.m. We got a call from a grower with bins up there. He said the water was about to get his bins. Just trying to be neighborly, we went up there to help, loaded up and hauled his grain to Newark to keep it from being ruined.
Related:2017 Mid-South Rice: Floods sink crop
"I asked him how high the water got in 2011 and he said 'chest-deep.' Well, this flood is going to be way above that.
"That's what we've been forced into. This is a big flood and will get worse. Water from the Black River is all around Portia and they've evacuated the East Pocahontas. They only let us through the barricade because we were hauling grain out. When we were hauling grain we had to go a crazy route because so many roads are closed. You have to pick your way through."
Note: the levee at Pocahontas has since been breached in six places.
Lost acres 
"They're already estimating 25,000 acres will be lost in Randolph County alone. Something like 100,000 acres of rice could be lost. For the last few years, Lawrence County has been the largest rice county in the state.
"Coming off Crowley's Ridge at Bono, the Cache River is out big-time. By the time you get to Hoxie, the Black River runs parallel and there's no telling how many acres are underwater.   
"From Saturday through Sunday morning, I got 6 inches of rain at my house. West Plains, Missouri, got right at 16 inches. All that water still has to come through.
Related:Farmers move out of Missouri River bottoms as floodwaters rise
"They've opened the gates at Clearwater and are letting it flow and it's coming down the Black River. And water is coming over the levee at Pocahontas.
Is there flooding in your area? Send us your photos of the flood to [email protected].
"We had about 1,400 acres of rice planted. My son put a boat into the fields yesterday and it's supposed to start raining again (Wednesday and Thursday). The forecast is for another 2 to 4 inches."
They've been working on the railroad all night going along Highway 63 — from Black Rock to Portia to Hoxie. They're hauling and dumping rip to put on the north side of the railroad track to try and hold it down. They know the river is coming."
Note: After the original interview on Tuesday, Morgan provided the following update late Wednesday morning. "The water is coming over the railroad tracks at Portia now. The tracks are higher than the city and they're evacuating Portia, Coffman and Clover Bend. Since the levee was breached, the water is coming through much faster. It's headed towards Walnut Ridge. Right now, it's thundering from the west and it looks like the rains are about to start back up."    
Area-wide
"It's the same story all over the area. We're all running hard, trying to get as much done as possible before the waters rise too high. This flood will be worse than anything we saw last year. That's because it isn't just the Black River but also White River. They have the dam open at Norfolk Lake – it was at 32 feet at Calico Rock two nights ago. This is going to hit Batesville. There's a lot more farmland that's going under.
"Right now, I'm on 63 and just left Portia. To the south of the road, the White River is coming through the tiles and covering acres upon acres of farmland. Those weren't covered last year in either May or August.  
"The White River is so swollen it'll hold the Black River back. We won't be in the field in May – it'll be June before we can think about getting back in. Who knows? There's still a lot of water up in Missouri that has to come through here. We know it'll take the rice out and we'll have to go with soybeans as much as we can. Last year, after the May flood, it was June 19 when we got back in. June 15 is the normal cut-off when yield loss begins.
"After all the flooding, people were forced out of farming this year, people I know. They couldn't get a loan. Last year, we told our (congressional delegation) that would happen. Well, it's happening again and it'll take more people down. Folks are dejected because the writing is on the wall.
"We have a high pad situated for when the river comes up. We can pull equipment onto it right up to the levee, at the foothill. We can leave equipment there and be confident 97 times out of 100. After it rained so much last Saturday night, we went and moved the equipment up the hill and out of the bottoms.  
"While I was at the pad, a neighbor — a well-respected farmer — drove up. He said 'Hey, last year, we planted rice and got paid a bit. We went back in with beans but couldn't insure them. Then, the river came in and took them anyway. Now, we have the rice planted and the levees pulled and this happens?' He was shaking his head and worrying like all of us."
About the Author(s) Associate Editor, Delta Farm Press
David Bennett, associate editor for Delta Farm Press, is an Arkansan. He worked with a daily newspaper before joining Farm Press in 1994. Bennett writes about legislative and crop related issues in the Mid-South states.
Subscribe to receive top agriculture news
Be informed daily with these free e-newsletters
You May Also Like
---