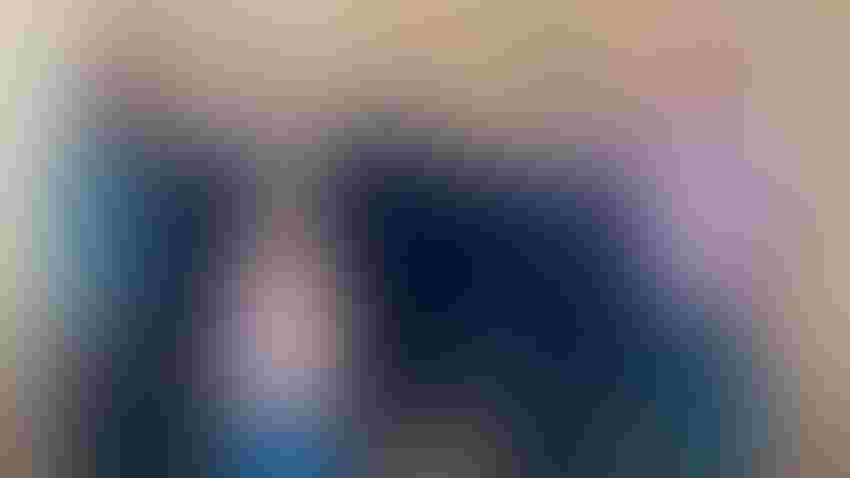 FAMILY STORY: Jess and Tony Heiden are proud to be raising their children Kail (left), Jora, Emma and Archer on their farm near Rushford, Minn. The young Heidens represent the eighth generation on the Heiden Century Farms.
Courtesy of Heiden family
Selling quality meat products isn't new to Jess and Tony Heiden, as Heiden Century Farms has been supplying family and friends with Black Angus beef quarters and halves for decades.
Starting in about 2015, the Heidens have refined their meat sales by selling individual cuts at farmers markets, as well as continuing to sell to family and friends. With the new sales outreach came Hart Country Meats, paying homage to Hart Township in Winona County, the location of Heiden Century Farms in southeastern Minnesota.
"The retail side has been growing since then [2015]," Jess says.
COVID timing a coincidence
Then 2020 came, and with COVID seemingly shutting down a lot of the world, Jess says she "really dived into Hart Country Meats as a focus of selling meat." She doesn't see COVID as a reason for the growth of Hart Country Meats. "It was just a coincidental timing, … We've been selling the quarters and halves, and then start selling by the pound. Hart Country gave us another channel of selling our meat."
From attending farmers markets and meeting word-of-mouth sales demand, Hart Country Meats added an online presence to make it easier for customers to find the Heidens' meat products. That also made it tough for the Heidens to meet the demand as well as maintain their family and their farming operation.
The Heidens, along with Tony's folks, Kerry and Faye Heiden, grow corn and forages for their Black Angus cow-calf herd. Emma, Jess and Tony's oldest daughter, also raises a few Red Angus. An occasional group of feeder pigs is also raised outdoors for the family's use. In addition to Emma, who is a freshman at South Dakota State University, the Heidens keep busy with son Kail, a high school junior; son Archer, an eighth grader; and daughter Jora, a third grader, all in the Rushford-Peterson School District. They represent the eighth generation of Heidens on the farm.
As with any farm family, the Heidens often feel short on time running the farm and keeping up with family activities, but they didn't want to let any part of the operation go, especially as Hart Country Meats gains strength.
"Being a small farm, there are only so many hours in a day," Tony says, "and Jess does a great job running Hart Country Meats — but she's still only one person to do all of this."
They found help from another southern Minnesota family with rich agricultural ties to help sell Hart Country product to an even broader audience.
"Meathusiasts"
Enter The Meatery, an e-commerce site started by the Drager families from the Minnesota Lake and St. Clair areas in south-central Minnesota.
Mackenzie Drager says the families "always talked about starting something together, but when the pandemic hit, a lot of people were saying 'There's a meat shortage.' While being producers ourselves, we knew that that was really far from the truth. There was just a supply-chain issue."
Seeing that producers couldn't get their market animals to slaughter at the proper times, "that's kind of where The Meatery started … how can we cut out the middleman?" Drager says. "How can we get really good meats from here in the Midwest directly to the consumer, so that they wouldn't have to wait for it in grocery stores and you can actually know where it's coming from?"
In addition to Hart Country Meats, consumers visiting The Meatery website get to meet a collection of beef, pork and chicken producers and meat markets throughout Minnesota. Some of these entities, such as Hart Country Meats, have their own websites, while others do not — but the offerings from each can be found through The Meatery's website.
"They [The Meatery] bring a level of expertise and quality to help us as a small farm, get our product out," Tony Heiden says.
It's all in the details
The Meatery team provides each of the partner shops with the materials they need to ship meat products properly and safely across the country. Each partner shop ships its product directly to the consumer, often including a note of thanks and appreciation — as well as possibly a recipe with the ordered product.
"We're trying to help small meat shops and producers be able to expand their offerings beyond their reach," says Bill Drager, Mackenzie's uncle. "But then on the online portion, where we've made a significant effort to try to foster a community of 'Meathusiasts,'" connecting good food with good people.
In addition to providing the shipping materials, The Meatery team, consisting of the families of brothers Bruce and Bill Drager, carefully selects its partners. Jess Heiden credits Bruce and Bill's wives — Jodie and Colette, respectively — as being integral to the success of The Meatery and Hart Country Meats.
"We're really setting them [The Meatery partners] up for success," Mackenzie says. "We taste-test everything and ensure a number of standards are met. Packaging is a big one. Producer products must travel well nationwide. We really pay attention to these details, because we want the customers to have a great experience."
Back on the farm, the Heidens have worked to improve their beef product, starting from the ground up.
"I think the help from the Heftys [Seed Co.] has translated into the quality of our meat," Tony Heiden says, "all the way from what we do with our soil, through our feed, to the flavor of the cattle. It's amazing how that has come full circle."
With the upcoming holidays, The Meatery and the partner shops anticipate offering special packages. Visit themeaterymn.com for more information.
Subscribe to receive top agriculture news
Be informed daily with these free e-newsletters
You May Also Like
---