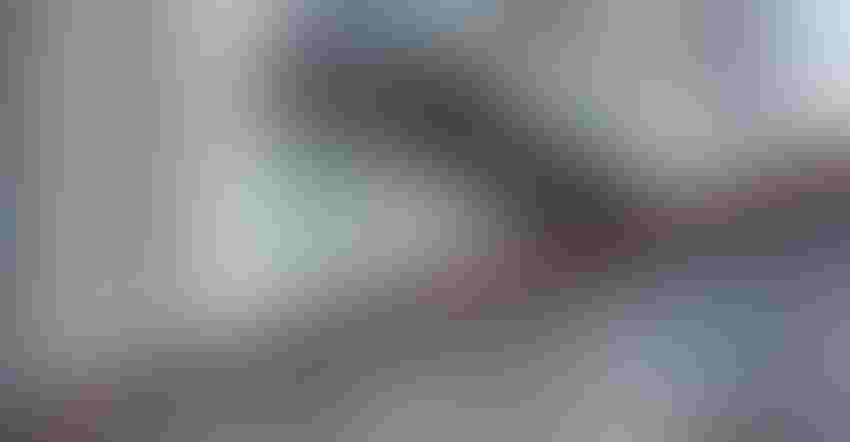 With production costs at record or near record highs, some grain farmers might consider cutting back on in-season inputs to save money.
That strategy could backfire, says Texas A&M AgriLife Extension economist Mark Welch, College Station.
Welch, in a recent tag-team webinar with AgriLife Extension Economist John Robinson, who covered cotton, said making profitable grain yields demands adequate inputs, especially fertilizer. But applying more than the increased yield will cover hurts the bottom line.
"We've been dealing with a surge in fertilizer prices and many of the other input costs since last fall," Welch said.
Fertilizer costs
He used anhydrous ammonia as an appropriate proxy for many input costs.
"We've seen anhydrous ammonia trade at a very stable range of $400 to $600 a ton for four or five years. We watched that price quadruple to more than $1,600 a ton in the early part of the 2022 growing season," Welch said.
Natural gas makes up a big part of the cost of anhydrous. Corn is the number one user of nitrogen fertilizer. "As corn prices started to go up in the fall of 2020, higher natural gas prices and then higher anhydrous ammonia prices followed," Welch said. "It's hard to imagine that the price of anhydrous is going to fall significantly without seeing some reduction in the price of natural gas and some reduction in the price of corn.
"It is also hard to make a case for much lower prices in either one of those components, when it comes to the corn market."
He said global disruptions such as the war in Ukraine create uncertainty in energy markets. "It is hard to see those prices moving much lower in the short term, short of some type of resolution of that conflict."
Uncertainties concern producers
And those uncertainties, he said, concern farmers who might think they can't afford as much crop nutrition, especially in dryland situations. "Many say they are not willing to pay for that much fertilizer; they're just going to cut back completely."
He suggests instead that farmers look at a corn/nitrogen rate calculator developed by several Extension services across the country.
He cited data from Iowa State University that evaluates the maximum return to nitrogen given $1,600 per ton anhydrous and $7 corn.
See, NCC's Gary Adams talks cotton planting, farm bill, exports
"Using those factors, what would be the most profitable level of nitrogen fertilizer or anhydrous ammonia given these parameters: corn following a soybean rotation in the Southeast Iowa corn producing region?"
He said that region reflects what's happening in the heart of the Corn Belt. "At $1,600-a ton anhydrous and $7 corn, the price for anhydrous is right at a dollar a pound per unit of nitrogen. What would be the most profitable level of anhydrous ammonia to put on that corn crop?"
Maximum return
Welch said a maximum return to nitrogen occurs at an application rate of about 135 to 150 pounds of nitrogen. "If you go from 175 pounds of anhydrous up to 200 to 220, to 240, the additional cost of nitrogen does not yield enough grain, given the price of corn even at $7 a bushel, to pay.
"There is a point at which you don't see an additional yield advantage, given the cost of that extra unit of nitrogen, relative to the price of corn."
He said the analysis shows the most profitable level of nitrogen is not the maximum and doesn't return maximum yields. "The percent of maximum yield at this nitrogen rate is a 98% yield."
The point, he said, is that producers can cut back from maximum application rates. "But be aware that the yield loss and profit potential fall quickly at rates substantially below 135 pounds of nitrogen.  Above 150 pounds, little yield advantage occurs given the additional cost."
Use the tools
Welch said producers should look at these calculator tools to assess what they can afford to invest to maximize returns.
He said looking back at 2020 could be instructive for the 2022 season.
See, Uncertain cotton market supports price
"We were seeing a downturn in corn acres in 2020; the price ratio between soybeans and corn began to increase dramatically from the middle part of March into the planting season. Projected net returns from soybeans relative to corn in the Corn Belt began to favor soybeans. I think that can be associated with the shift in acres that year.
"What did we see this spring? The exact opposite. The market signals indicate the profitability of planting corn, even in this high input price environment, shifted much more strongly to corn compared to soybeans.
"Given the restrictions and uncertainty around fertilizer and other input supplies, will farmers make that switch?
"I don't know, but I think the economic signal has been there. We will find out on June 30 what farmers have done in response to that and other situations."
Welch said if producers can get the corn crop planted, acres could show an increase by June 30.
Management will make a difference in this volatile cost/price environment, he said. Producers should consider the wisdom of economics 101 as they manage the current market.  "Lord Alfred Marshall told us in 1890, that prices will go to the cost of production. In this case, will prices fall back to the cost of production or will cost of production rise to current prices?"
Managing the margins will be challenging, he said. "Production and marketing strategies fall into two significant categories. Number one is to keep costs under control, maintain production that is profitable at the highest level of efficiency and productivity, that is  extract every ounce of production from every penny of input.
"And then how about managing profitable prices? Do you know what that price is? Do you have the tools and resources to manage that price when it becomes available? 
"I think a management strategy would be what I've heard called the 5% rule year-to-year-to-year. Can you control your cost by 5%? Can you increase your productivity by 5%? And can you do 5% better marketing?
"Bump your yield, cut your costs, and increase your marketing price all by about 5%. I think that's kind of management strategy that's absolutely key in this thin margin, high risk, highly volatile environment we're in right now."
Subscribe to receive top agriculture news
Be informed daily with these free e-newsletters
You May Also Like
---