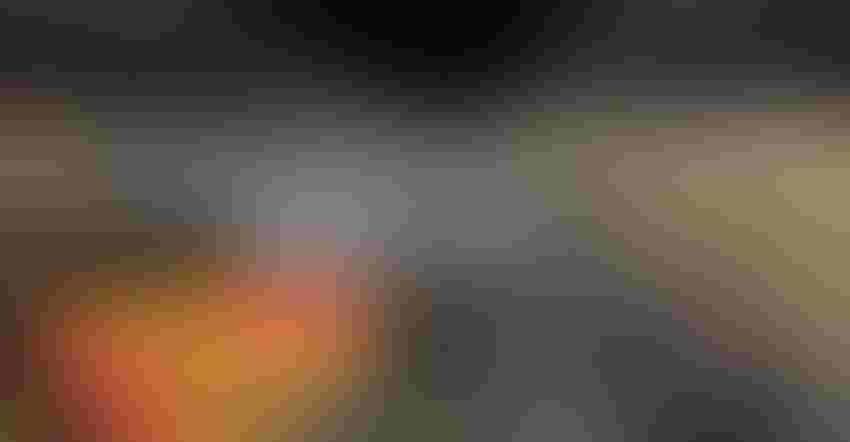 JUST FARMERS: After years on the leadership team at the National Association of Wheat Growers, this year's Commodity Classic was a chance to experience the event as "just farmers" for Paul and Deborah Penner. One benefit was the change to visit the trade show without having to work around meetings and obligations.
mindy ward
Last February, Deborah and I made the journey to San Antonio, Texas to attend the 2020 Commodity Classic. We booked a room at the historic Menger Hotel, located across the street from the Alamo. From our room we could actually see into the grounds surrounding the old mission site.
My first visit to the classic in Texas was in the early 2000 decade, staying in this hotel with board members from Kansas Wheat. Fast forwarding to 2015, I attended the classic as an outgoing member of the officer team at National Association of Wheat Growers, serving on the classic planning team prior to its engagement.
This time around, we were just farmers, paying our own way and enjoying the visit. We do what we want, we choose which meetings to attend, and we relax and enjoy a leisurely meal. Plus, we get to see the actual trade show, on our own schedule.
Best of all, we can reconnect with people who have become friends over the past two decades, provided they, too, have chosen to attend the classic as well.
That said, it has been a wonderful opportunity to compare notes while reflecting on our time there, to see what has changed, what the mood of agriculture is and where we may be headed.
The week was more than just a feeling of deja vu. We were drawn to the NAWG's board meeting Feb. 27, as well as the National Wheat Foundation meetings held the next day. The best way to describe our reasoning is this: After investing a significant portion of one's energy and effort ensuring the successful management on behalf of the nation's wheat farmers, one cannot have just a passing interest in the organization's affairs.
I will also add, yours truly is not the only one who shares this view. I counted nine past presidents of NAWG attending the meeting. In summary, this august body of prior leaders is cheering our current leaders on, encouraging them to move forward, advancing the pressing interests of the wheat industry.
That said, one notable anecdote shared by a participant of one of the meetings was frustration of having to adapt and change strategy — after a tweet, or even mid-tweet. Rapidly changing circumstances and increasing uncertainty is fast becoming the norm, rather than the exception.
As if that were not enough for the week, the Dow lost over 10% of value amid growing uncertainty of the coronavirus and its potentially devastating effects on the global economy, which also negatively affects commodity markets and trade.
As for the farm show and learning sessions, it was well attended, with a reported record number of farmers and families attending. Even though one expects a large turnout at the opening and general sessions, luncheons and the like, except for those times, it did not feel crowded, which was a good thing.
Finally, one of our favorite things to do while winding down at the hotel is to watch local television shows or listen to local radio broadcasts. On one such broadcast, the subject was the changing demographics of the Texas landscape and how this would likely impact the outcomes of future state and national elections.
As Latinos, African Americans and other ethnic groups move beyond traditionally urban areas, they are becoming bluer in their political nature. Large cities such as Austin, San Antonio, Dallas and Houston are already moving in that direction. In addition, the beltway between San Antonio and Dallas, which corresponds with and surrounds the I-35 interstate system, is fast becoming an urban region. Few communities in between actually fit the definition as predominantly rural.
Soon, within an election cycle or two, or three, these regions in Texas may well become the top influencers in national politics. In time we may likely face similar challenges in Kansas. The most populated counties are trending towards the blue end of the spectrum.
What does that mean for not only American-style politics, but also for American agriculture, and more specifically, for Kansas agriculture? What does that mean for commodity groups who represent American agriculture? Are we preparing for that eventual outcome and how will we change and adapt our strategies to ensure agriculture's interests are not only represented, but how will we build alliances with our urban cousins as we seek new ways to remain relevant within our sphere of influence in Congress?
These questions will remain at the forefront for the foreseeable future.
Penner is a Marion County farmer and past president of the National Association of Wheat Growers. His email is [email protected].
Subscribe to receive top agriculture news
Be informed daily with these free e-newsletters
You May Also Like
---